Abundance, family, prosperity: these are all the elements that make Lunar New Year so exciting each year.
There's nothing more auspicious than charging into the new year, food first. From family meals to individual delights, we are celebrating with a feast of foods here to help usher in the new year!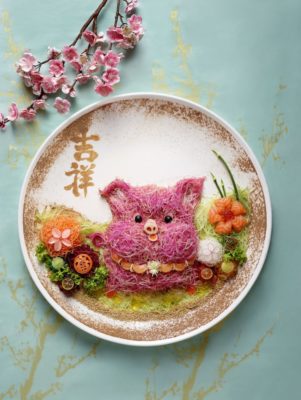 If Year of the Pig means feasting like one, then Fullerton Hotel's Jade Cantonese restaurant is at the top of our list with not one, not two, but six menus culminating in the eight-course Grand Fullerton Golden Feast. Family gathering are often made up of different generational palates, but Executive Chef Leong Chee Yeng's festive offerings, a masterful blend of modern taste and refined tradition, will be sure to delight across the table.
Get your phones (and stomachs!) ready for the Gold Rush Yu Sheng, featuring lobster, Australian abalone and Norwegian salmon, all in the shape of a kaleidoscopic piglet. Also in line with the festivities, the Triple Bliss Braised and Roasted Pork Belly with Steamed Bun and Crispy Suckling Piglet Skin, topped off with caviar, is delicate but explosive in flavour.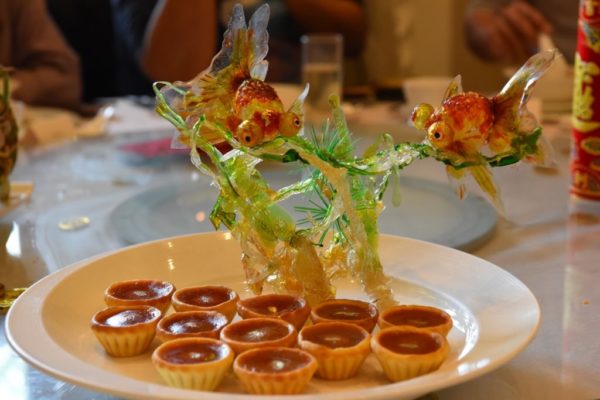 Perhaps the most exciting dish for us comes at the end, Jade's Baked Golden Pig Pineapple Cookies and Baked Yam Paste "Nian Gao" Tart. The first has quite the price tag ($33 for nine pieces) but it is simply divine. The buttery, salty crust and fragrant pineapple filling, plus the adorable piglet faces, puts it in a league of its own. While less cute, the dainty, sweet tarts present a thoughtful way to have both the sticky rice cake and eat it too.
When? 21 Jan — 19 Feb
$88 onwards per pax for Individual & Vegetarian set menus, $118 onwards for groups of 6 pax and above for Family Style set menu
The Fullerton Hotel Singapore, 1 Fullerton Square, Singapore 049178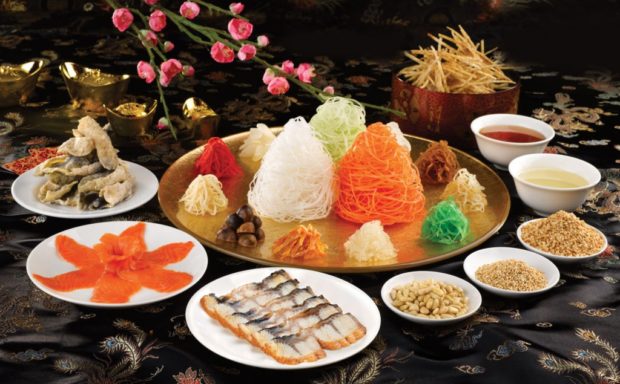 This Lunar New Year, Din Tai Fung brings back their wildly popular Prosperity Smoked Salmon Yu Sheng, a classic made special with their house-made plum sauce and crispy yam strips. In addition, from only $2.80 onwards, diners can top up for fried salmon skin, pine nuts, smoked unagi slices, and even double servings of the yam and smoked salmon!
For those with a sweet tooth, do not miss their exclusive Lunar New Year Edition Taiwan Pineapple Cakes, which are baked in their central kitchen in Taiwan and then air-flown to Singapore. Anyone who knows Taiwanese cuisine will be familiar with the nation taking pride in the delectable quality of their pineapple cakes, so expect each golden nugget to be thick, buttery, and faintly sweet.
When? 11 Jan — 19 Feb for yu sheng, 25 Jan onwards for pineapple cakes
Operating hours may vary across restaurants from 4 — 6 Feb; all restaurants will resume regular operating hours from 7 Feb onwards
Even as we celebrate the Pig Year in style, there is one group of diners that should not be left out anymore. Vegetarian friends will be pleased to know that there is an equally tasty option for one to indulge in a little gobbling action, especially since it is a set tailored for one! Modern vegetarian restaurant elemen whips up an inventive eight-course set that is wholesome, nutritious and most importantly, brings tidings of abundance and good health.
It features dishes such as Sour Plum Cherry Tomatoes in special homemade plum sauce, Double-Boiled Truffle Soup, and Charcoal Yam Ring with Assorted Vegetables. Our favourite is the luscious Homemade Soft Edamame Tofu with Pan-fried Oyster Mushrooms, a lovely emerald cake contrasted with a crispy roll of golden beehoon on the side. Wrap the feast up with fried Nian Gao and coconut ice cream, and you will have a whole celebration in your stomach!
When? 8 Jan – 19 Feb
$42.80 onwards per pax for an eight-course menu
Elemen is located at Millenia Walk, Thomson Plaza & Harbourfront Centre
Usher in the new year with a decadent feast by Park Hotel Clarke Quay's Chef James Wong, their in-house culinary specialist with nearly four decades of experience in the kitchen. Traditional Cantonese dishes are given a facelift in this year's menu, starting with The Auspicious Abundance Yu Sheng, where its usual leafy suspects are paired with freshly-flown in yabbies and Parma ham instead of fish.
Aside from the staples such as Stir-fried XO Seafood and Slow-cooked Pork Trotter, Chef Wong's skills really come through in his interpretation of the Money Bag. The dish consists of meticulously constructed golden brown beancurd pockets, stuffed with succulent chicken, mushroom, bamboo shoot, and Jin Hua Ham, a cured delicacy that elevates the otherwise standard gravy. Chef divulges that he hand wraps each "bag" to meet strict proportions, ensuring that the filling remains moist even after deep-frying.
While the hotel does not have a Chinese restaurant, diners will get to enjoy their meal in the hotel's elegant ballrooms and the menus are inclusive of free-flow red date tea and soft drinks, as well as a CNY gift bag with red packets and mandarin oranges!
When? 25 Jan —19 Feb
$378 onwards per table of 4 pax and above for a six-course menu
Park Hotel Clarke Quay, 1 Unity Street, Singapore 237983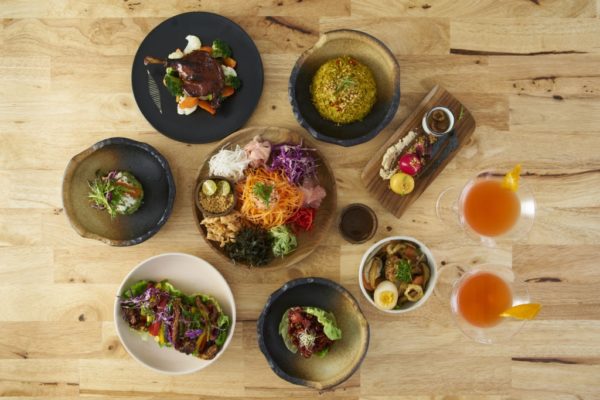 For those looking for a more unique take on Chinese reunion dinners, The Sampan has an eight-course menu featuring a Pan-Asian twist on familiar dishes. While it is a relatively new restaurant along Boat Quay, the food is as daring and delicious as its unparalleled river view.
Kickstart the meal with Sesame Crusted Salmon Yu Sheng, then creative dishes such as Kuah Hee Pio (ceremonial fish maw soup), Chuka Idako (baby octopus) tossed in fiery Szechuan Chilli Oil, Kung Pao Chicken Salad, and Duck Leg Char Siew with Pineapple Fried Rice. Saving the best for last, the Ying Yang Orange Ginger Tang Yuan is served with homemade almond paste, black sesame pesto and aromatic citrus tea, ensuring a balanced end to the meal.
When? 28 Jan — 8 Feb
$198 onwards per two pax for an eight-course menu
The Sampan, 63 Boat Quay, Singapore 049851
Casual local eatery Fat Chap will be offering a new six-course menu, starting with the Ear of the Pig Yu Sheng! The literal name of the yu sheng is a nod to the restaurant's signature, so be prepared for a generous portion of the curry-spiced Crispy Pig's Ears to top off the usual vibrant greens, sashimi, fruits, seeds, and nuts. Following a sharing platter concept, the festive menu features various appetisers, soup, their fabulous Grilled Fish or Chicken, porridge, and their house rendition of pineapple tart parfait with sorbet and butter biscuits.
When? 21 Jan — 19 Feb
$48 onwards per pax (min. 4 to dine) for a six-course menu
Fat Chap, 3 Temasek Blvd, Suntec City East Wing, #01-643, Singapore 038983
To ring in the new Lunar New Year, One-Michelin-starred Alma by Juan Amador has prepared a modern take on Yu Sheng: the Alma Yu Sheng. What sets it apart from others is its use of the 'chutoro', one of the fattiest and most tantalising parts of the tuna. This is tossed with green papaya, fresh beetroot, carrots, daikon, turnip, and topped off with French seaweed, Japanese myoga (young ginger), and their house-made plum and black truffle vinaigrette. Pre-order is recommended, and each set comes with two complimentary glasses of wine.
When? 28 Jan — 12 Feb
$88 onwards for yu sheng
Alma by Juan Amador, 22 Scotts Rd, Goodwood Park Hotel, Singapore 228221
Perennial favourite fried chicken chain 4FINGERS is celebrating their big 1-0 in conjunction with CNY, so they have whipped up something hot and loud with Singaporean celebrity chef and Masterchef Singapore judge, Bjorn Shen: the Firecracker Chicken. Liberally coated in a special sauce before tossed in an addictively spicy rub containing not only the freshest spices, but also cumin and Szechuan peppercorn, the result is a glorious fire-bomb in the mouth.
Chef Bjorn shares that heat, in particular, is important in his creation: "I dare say that the spice level of these wings are one of the strongest across crispy chicken brands in Singapore, and I'm excited to see Singaporeans try it for themselves." Hesitant diners will also be able to mix two chicken flavours in one meal, making it a great alternative to potluck and door gifts this year!
When? Now till otherwise specified
$8.45 onwards for à la carte items, $10.95 onwards for meal bundles
Available across all thirteen 4FINGERS outlets islandwide
==
Stay updated and social with Popspoken: Telegram| Facebook | Twitter | Instagram