It is an incontrovertible fact that, as Asians, we love to eat. November is a month of non-stop eating. This month's spotlight features a plethora of new restaurant openings, from Japanese tendon to French oysters.
Perhaps what we are most excited about is also the fact that Singapore welcomes a popular cheese tea brand that hails from China, delighting tea-lovers everywhere with its attractive array of thirst quenchers and local-inspired ice cream flavours.
Tucked at a corner of town, Pacific Plaza is home to a number of renowned restaurants from overseas, one of which is Kam's Roast. Bustling, busy, and yet cozy, the restaurant is helmed by Chef Wong Kwan Sang, who started working in the kitchens from the age of 16 until he became what the world now recognises him as: a respected roast chef of a Michelin-starred restaurant in Hong Kong.
While his Pipa Duck, roasted crispy with premium 23-year aged orange peel and then served with handmade chocolate sauce, remains high on our list, his latest creation, the Princess Chicken, takes a different direction to steal our hearts.
Using very young chickens to ensure its tenderness, the meat is poached in alternated rounds of cold and hot premium soup stock with rich ingredients such as luo han guo, shaoxing wine and Chinese rose wine; ensuring that it will be succulent and flavourful.
And celebrating its second anniversary, Kam's Roast will be having a promotion where customers get to buy 2 signature roasts and get the 3rd one at 50% off. Do not miss out on their saccharine signatures, our top choice being the Iberico Char Siu, where the meat is marinated and seasoned with a secret blend created by the Kam family, and then roasted until slightly charred.
For those looking for something more bite sized, their new Bao Buns houses three of the restaurant's signature meats: Roast Duck, Toro Char Siu, and Crispy Roast Pork. The buns go for $3.50 onwards for one, with anniversary sets of the trio starting from $9.80 for takeaway orders.

Kam's Roast 2nd Anniversary
When? Now till 30 Dec
Pacific Plaza, 9 Scotts Road #01-04/05/06/07, Singapore 228210
There is nothing as tantalising as a mountain made of gold, stacked above a bed of pearly white rice. Perennial favourite Kohaku Tendon releases their exclusive Autumn Tendon, with special seasonal harvest, some flown from Hokkaido, addictive cheese, and fluffy Hokkaido Nanatsuboshi white rice.
Those who frequent tendon eateries will know that the flavour of the batter tends to overwhelm the palate after a while, but not for this well-balanced bowl. The fish pieces sealed the deal for us, firstly the Hokkaido Autumn Salmon, where two pieces of tender salmon are sandwiched with a layer of Hokkaido cheese and tempura; and then the delicate dory fish tempura.
Other notable items that are also tempura: maple leaf, mushrooms, sweeten chestnuts, and renkon chips, which are thin slices of lotus root fried to perfection. With so much elements to this bowl, be sure to ask for an extra bowl of their special tendon sauce for an extra kick. Along with the usual signatures of prawn and chicken, the bowl definitely embodies Fall's mantra that change is beautiful, and delicious. 
When? Now till 16 Dec
Available at all Kohaku Tendon outlets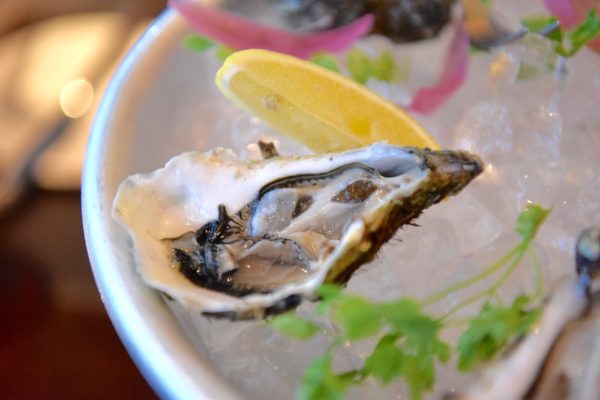 There is nothing as indulgent as a good, creamy oyster, especially if they hail from Brittany. Ginett spotlights an exclusive stock of oysters this month (or until these delectable morsels run out), selected specially by the respectable Jean-Jacques Cadoret, from the northwest of France.
Termed as the world's best, the three variants are Spéciales de Carantec, Perles Noires and Spéciale Verte; which, albeit looking a little smaller than the Australian breeds we are familiar with, is much sharper in flavour and delivers a strong milky aftertaste. Their rarity is supported by the fact that they are only harvested during full moon.
Other than oysters, Ginett is also all geared up for the festive season. Their annual set menus carry an attractive selection of new seasonal specials, from Beef Rossini Filet Mignon to Pan-Seared Boston Maine Lobster. Signatures such as their Rib Eye from the Grills or pasta creations will also be available for à la carte orders.
While evenings at Ginett do not break any new ground, they serve up these crowd-pleasers particularly well. Our personal recommendations are the L'Os à Moelle, Échalottes et Poivre Noir (or Bone Marrow), a well-constructed dish of perfectly roasted marrow, rendered buttery and well-seasoned with a liberal amount of salt and onion; and for appetisers, go for the Duo Foie Gras as the terrine is outstanding in terms of texture and flavour.
Brittany Oysters Showcase
When? Now till 30 Nov
Christmas Period Dinner
When? 24 and 25 Dec
$88 onwards per person for a four-course menu
New Year's Eve Dinner
When? 31 Dec and 1 Jan
$98 onwards per person for a four-course menu
Hotel G, 200 Middle Rd, Singapore 188980
Teochew cuisine is making a comeback, thanks to Paradise Group's newest Teochew restaurant in VivoCity. Nestled in the middle of Crystal Jade and Tung Lok, the Paradise Teochew has already proven they are willing to go the extra mile to stand out from its fellow competitors.
It starts with their showstopper, the Teochew-style Roasted Suckling Pig. The 25-day-old piglet is marinated in an aromatic spice blend, roasted, and then carved out, before presenting each sliver like supine domino pieces. By presenting the crispy skin and tender meat together, it makes each bite so much crunchier and satisfying.
Their other signature, the Pan-fried and Braised Live Soon Hock, is served in thick creamy broth that was cooked entirely from fish bones, without the addition of milk or cream. Do not sleep on the radish that accompanies the dish, for each bite will result in rich, milky collagen squirting into your mouth.
For this outlet, there are 13 new dishes exclusively available to showcase Chef Cheng's innovative interpretations of traditional Teochew dishes. One of these is the Steamed Diced Abalone and Shrimp Wrapped in Egg White Crêpe, which looks inconspicuous but actually houses diced abalone, chicken, mushroom and water chestnut, in an ethereal egg white crêpe— all the warm flavours of home-cooking in a ball.
When? Now till otherwise specified
1 Harbourfront Walk #01-53, VivoCity, Singapore 098585 
In case you haven't heard: HEYTEA, pioneers of the cheese foam tea, is in town. A popular name hailing from China, their outlet in ION Orchard already sees snaking queues of fans in its first week (although nothing beats the infamous seven-hour queues).
There are two aspects to HEYTEA that marks it apart from its local competitors: it uses high-quality tea leaves and ingredients in their drinks, and it sees itself as a lifestyle brand, not just a beverage store. With an adorable, memorable logo and strong marketing tactics, it is no wonder the queues are reminiscent of Apple stores on launch days.
View this post on Instagram
Between the Cheezo Tea, Fruity Bloom, and Berry Mango, there are a myriad of choices for first-timers. The Cheezo range is, as its name suggests, premium tea with a salty layer of cheese foam atop. We particularly enjoyed the King Fone, which is a blend of high-grade, smoked Taiwanese oolong tea leaves with the smooth, cold cheese cream. The delicate tea itself is already quite sweet, so we suggest going for a quarter or no sugar.
Under the fruity category, the Grapefruit Boom is a summertime hit, an ice-blended concoction of jasmine green tea and slightly bitter grapefruit elements. In addition, HEYTEA has two Singapore exclusive ice cream flavours: Durian Ice Cream, made with real D24 flesh, and Salted Egg Yolk Ice Cream, which will please any local palate with rich salty flavour.
When? Now till otherwise specified
ION Orchard Mall, 2 Orchard Turn, #B4-29, Singapore 238801
==
Stay updated and social with Popspoken: Telegram| Facebook | Twitter | Instagram