As the third month of the year, March is often overlooked when it comes to planning outings, celebrations, or even a great night out, as school and work start to move into full swing.
This month's list is curated to highlight a variety of new restaurants, promotions, and the return of MICHELIN Guide Street Food Festival, in order to make sure your belly is kept as full as your calendar.
Cheese connoisseurs rejoice as the month kicks off with an extra cheesy, extravagant experience at Ginett Restaurant & Wine Bar.
France's Official Cheese Ambassador, Gérard Poulard, will be hosting two one-hour masterclasses at the restaurant premise, featuring five types of cheese paired with unique wine and spirits. For those who prefer a wider selection beyond what the Maître Fromager will be offering, there will also be two exclusive cheeseboards decked out with a unique range of washed rind cheese. We are particularly excited for the stronger contenders, such as the Brillat Savarin with Black Truffles – triple cream Brie with a luxurious twist, and the Delice de Pommard, a rare and piquant triple goat cheese.
Gérard Poulard's Masterclasses
When? 9 — 10 Mar, 2pm and 7pm
$30 onwards per person
Limited seats available, register via ginettsg@randlab.com
Ginett Restaurant & Wine Bar, 200 Middle Rd, Singapore 188980
What do buttery sea urchin on farmer's eggs, seared wagyu beef, and creamy Japanese oysters have in common? They are all part of Caffé B's tapas menu, available over at their new location at Singapore's highly-happening food street. After six popular years at Marina Bay Sands, the Italian-Japanese restaurant has since moved out to a stunning three-storey building, with each level dedicated to different avenues of dining: bar, restaurant, and private events. While the menu has been largely refurbished, the restaurant's focus, helmed by Executive Chef Masanao Saito, will retain the same fusion of technique and ingredients from East and West cuisines.
When? Now till otherwise specified
Caffé B, 64 Club Street, Singapore 069438
If Asians are inclined to feature rice as a classic staple in most of their dishes, then what counts as the European equivalent? Bread.
Or rather, an entire array of freshly baked bread from the incredible trolley at Tablescape, located within Grand Park City Hall. Like the name suggests, the restaurant features hearty, comforting European dishes in a neoclassical interior setting, merging tradition and modernity in a delectable manner. We recommend the Monkfish and Maine Lobster on Risotto in Armagnac Lobster Bisque; the monkfish is wrapped in a thin layer of prosciutto and pan seared, before absorbing the rich, crustacean essence from lobster broth and French butter. Another highlight is their rendition of the classic Steak Tartare, marinated with consummate red onions, gherkins, parsley and caper, then topped with a golden-fried poached egg.
Those who are looking to celebrate their Easter weekend in high style, Tablescape will also be preparing an exclusive afternoon tea set featuring house-made desserts such as Spicy Mango Cake, Raspberry Lychee with Almond Cake, and Camembert Cheesecake.
Easter Weekend High Tea
When? 31 Mar — 1 Apr, 3pm to 5pm
$24 onwards per person for afternoon tea set
Tablescape, Level 3, 10 Coleman Street, Grand Park City Hall, Singapore 179809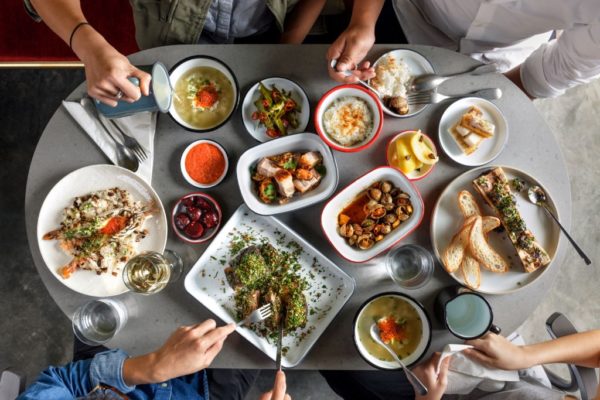 There is something brewing just around the offbeat Jalan Besar neighbourhood roads: if you happen to chance upon an unassuming door marked by a huge white balloon, you will find yourself at the quirky, rule-bending alittle tashi. Giving a whole new dimension to zichar and/or Asian dining experiences, the restaurant represents a mixing pot of culture, art, and food. Diners will be able to save on service charges as all orders will be placed directly with the open counter-kitchen staff, and all dishes will be served in the tradition of tapas.
Menu highlights include deep-fried Brussels Sprouts, coated in charred miso and served with sour cream; chargrilled garlic and fennel-spiced tender Pork Skewers; as well as their alternative to rice, a fried rice-cake that perfectly complements a wide spectrum of indulgent flavours.
When? Now till otherwise specified
alittle tashi, 39 Tyrwhitt Road, Singapore 207538
Despite only starting last year, the homegrown MICHELIN Guide Street Food Festival has quickly risen to become one of the most anticipated food events for passionate gourmands. This year's edition will be held at Resorts World Sentosa, and the line-up includes new additions such as Man Man Unagi, New Ubin Seafood, Traditional Haig Road Putu Piring, 168 CMY Satay and Zhong Guo La Mian Xiao Long Bao.
The entire festival will feature 15 different establishments that made the esteemed list since last year, each offering their signature dishes at special prices. If your idea of fun is avoiding long, determined queues, enthusiastic crowds, and extensive travel times, then the festival presents a unique opportunity to have fun while enjoying some of the best offerings from the local dining scene.
When? 30 Mar — 1 Apr, 6pm onwards
Minimum $30 credits purchase person to enter the festival
VIP Passes and tickets can be purchased here
The Coliseum, Resorts World Sentosa, 8 Sentosa Gateway, 098269
==
Keep culture journalism alive, at just the price of a kopi. For a little bit more, get access to exclusives and a monthly gift box. Support us at patreon.com/popspoken
Stay updated and social with Popspoken: Facebook | Twitter | Instagram