(CURRENTLY CLOSED)
Orchard Road has always been remembered as a bustling place for locals and tourists alike. At every hour, the streets are filled to the brim and getting past pedestrian crossings are almost an athletic feat. Then you have a place such as Palais Renaissance. Being quieter and towards the end of the road, this is one place that might go unnoticed every now and then. But with P. Bistro, this food discovery might make your trip down worthwhile.
The brand offers bistro-style dining, and they take pride in simplicity, quality and affordable dishes. The menu has a variety of dishes – be it French, Italian or Asian-Fusion, they seem to have it all. A dining place driven by passion, the head chef has earned a Le Grand Diplôme and Master Certification from Le Cordon Bleu Paris and Ecole Lenôtre. They even take on suggestions from their customers, and with constant improvement, it is no wonder that they have earned regular diners.
The ambience is really relaxing, and it is a comfortable place to have a meal with good friends. Light music plays in the background as you take your mind off work, and share a conversation or two with company. The service is quick, polite and helpful. Experiential-wise, it was pleasing and I was able to thoroughly ease in the environment to enjoy the food.
Crab Avocado Mango is a salad dish. It consists of crab meat chunks, sliced avocado, diced mango and romaine rocket with Japanese sesame dressing. At first, the mix of ingredients seem a bit curious but after having your first bite, you will understand how this combination works. This dish is a wholesome gastronomical journey – from crunchy to creamy texture, from slight saltiness to sweet, each bite brings a new discovery to its taste.
The portion is generous, and it can easily be your main course for the day for just S$18. It is no surprise that this is one crowd favourite that is retained from the previous menu.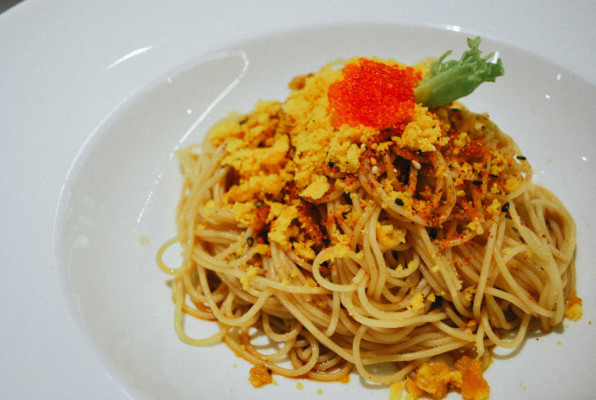 If you are into the salted egg craze that took Singapore by storm, this will be a refreshing take. This Cold Salted-Egg Pasta (S$16) might seem simple, but it is actually a complex mix of tobiko roe, salted duck egg york with thin capellini pasta. To balance out both types of salted egg, the pasta is tossed in sauce made of sherry vinegar and spicy herbs together with truffle oil. This dish is one that grows on you, especially with the subtle taste of herbs in its aftertaste.
One Asian surprise on the menu would be the P. Bistro Beef Noodle Soup (S$15). This is a Vietnamese-styled dish and served with Thai basil, sprouts and lime. Less peppery and more flavourful with broth slow cooked over two days, this brings comfort to the Asian in you. It is a simple dish that tastes good, and for a little extra spice, dip your beef slices with the chili and sweet duck sauce. It truly makes all the difference.
As its name suggests, Nonya Dory (S$18) is a Peranakan-inspired dish. The premium dory fillet is generously slapped on with the chef's special Peranakan sauce. This dish will lean towards the spicier side, and it goes well with their Iced Kumquat Soda. Served together with egg, brown rice and sweet and sour archar, it is filling and a good alternative to pricey Peranakan food elsewhere.
The Braised Beef Cheek is one of the pricey dishes on the menu at S$20, but it is well worth the money. The beef cheek is slow cooked to tenderness, and it is not tough to slice through. The braising sauce complements the meat, and does not overwhelm its natural flavour. It comes with creamy mashed potatoes and sautéed vegetables. If you are into meats, this would be a good option to go for.
Here's our personal favourite from the entire tasting session: Sorrentina Pasta (S$16). Consisting of chicken, spaghetti, tomato sauce and basil, it might sound like common ingredients. However, it has a rich taste and this dish is easily one of the better pastas we have tasted in Singapore. The secret is indeed in the marination of the chicken itself. It is also a great touch to top the pasta off with generous amounts of mozzarella cheese to give it further testure and chewiness.
Besides offering fresh mains, pastas and salads to diners, P. Bistro makes their own desserts from scratch as well. They are not afraid to dedicate time to making sure that they serve quality foods to diners from their starter to their dessert. Using classic French methods to create their pastries, they are testaments to promising fusions of Western and Eastern tastes.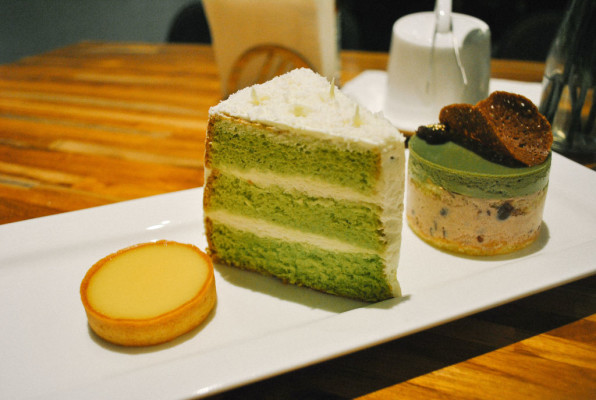 The Passionfruit Tart (S$4) took us by surprise with its smooth passionfruit puree filling within its crisp shell. Most tarts from bakery shops islandwide have harden or frozen fillings, but this is an exception. The sweetness and custard-like quality makes it a favourite among diners. Instead of boring your tastebuds halfway through the tart, the portion served is just right and a sweet finish to your meal.
If you are into pandan and coconut, then the signature Coconut Pandan Chiffon Cake with Fresh Coconut Mousse will be for you. Going at S$7.50 per slice, the cake is made from freshly squeezed juice of pandan leaves, coconut milk and organic coconut oil. Each bite melts in your mouth, and really is a headturner. It might look unassuming, but trust us, this combination is a good spin-off the typical pandan cake.
Matcha Azuki Entrement (S$7) is one of P.Bistro's Japanese desserts. The cake tastes more like ice-cream with its interplay of mousse layers. Between layers, you will be able to taste the vanilla genoise sponge and the white chocolate feuilletine base. Both soft and crispy textures go well with the azuki beans hidden within the entrement.
Besides pastries and cakes, there will be cookies that are made-to-order. Their pineapple tarts (S$35 per bottle) and Jo Cookies (S$10 per bottle) are popular treats that customers order in advance.
An interesting tidbit is that Jo Cookies came to creation because a customer named Jo told the chef what he wanted in their original butter cookies. So after adding some hazelnuts, chocolate powder, butter and fleur de sei together, these sweet and savoury cookies are born.
–
From the tasting session, we have discovered many loves and it was quite a gastronomical experience. Besides great food, P. Bistro even offers lunch and dinner promotions. Check out their website or Facebook page for more details.
Currently, they are donating 10% of all dinner proceeds in support of the Singapore Children's Society OCBC-TODAY Children's Fund. Why not dine in for a good cause?
---
This is an invited tasting. Thank you to P. Bistro for their kind generosity!
Photography Credits: Darren 'Merovign' Tan
==
Stay updated and social with Popspoken: Twitter | Instagram | Facebook