The food rebellion starts in the 'Kitchen', an organic, gluten and dairy free cafe, Kitchen by Food Rebel, in the heart of the CBD.
The cafe bistro gives off the vibes of an independent healthy cafe in health capitals Melbourne or San Francisco, while setting itself apart and catering to local tastebuds with a generous dose of the regions' vibrant flavours and spices. Headed by the passionate Elika Mather, the cafe not only offers freshly prepared wholesome yet flavoursome food, but also strives to educate its customers on healthy nutrition since we count with the dietician's glowing endorsement and a balanced lifestyle. The colourful and varied menu successfully dispels the myth that healthy eating is boring or bland.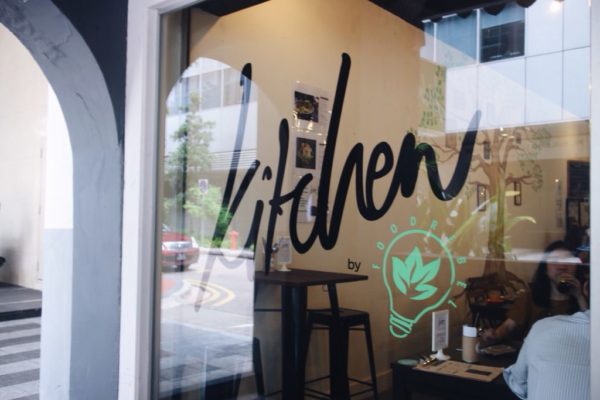 The menu is a collaboration between Elika and Head Chef Yuliya Tyschenko and incorporates ingredients that are either organic, hormone-free, sustainable or locally sourced. Quan Fa Organic Farm is a family farm and one of the sources of Kitchen's vegetables, a key component in many of the bistro's dishes, providing produce that have been organically grown using no pesticides or chemical fertilisers.
The Vegan Sweet Potato and Chickpea Bowl ($19) is a crowd favourite. It comprises of beetroot hummus, quinoa, tofu-avocado mix and tahini dressing. A dash of cumin in the tahini dressing and masala mixed with the chickpeas gave the whole dish a lovely kick.
If you're looking for some lean protein, go for the Chicken Protein Bowl ($19) with hormone-free chicken, hummus, avocado, pumpkin and tahini dressing. What I loved about these bowls was that it was medley of different tastes and textures and it also meant that you could try a bit of everything! They're also packed to the brim with nutrient-dense foods that provide the body with everything it needs. For something a bit lighter, try one of the organic salads such as the Baked Pumpkin Salad ($16) with creamy feta, pumpkin seeds, and beetroot or the Super-Food Salad ($17) with pomegranate, cranberry, sprouts, mixed nuts and seeds and spirulina-crunchies.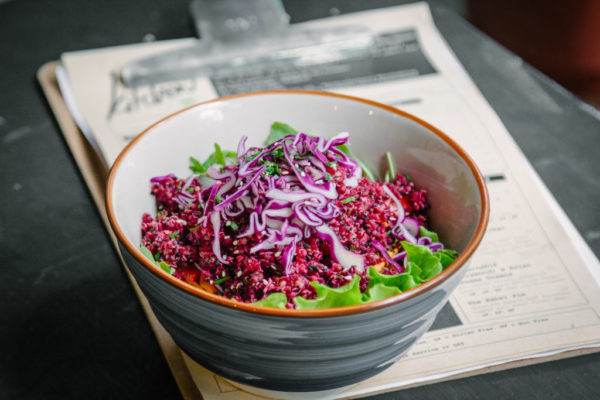 While the Buddha Bowls and the Rebel salads were very impressive, my favourites were definitely the Hot Rebel Meals because of each heartwarming bite and the artistry injected into each creation to make it delicious and good for you. The fish and meat served at Kitchen are also produced sustainably without the use of hormones and antibiotics.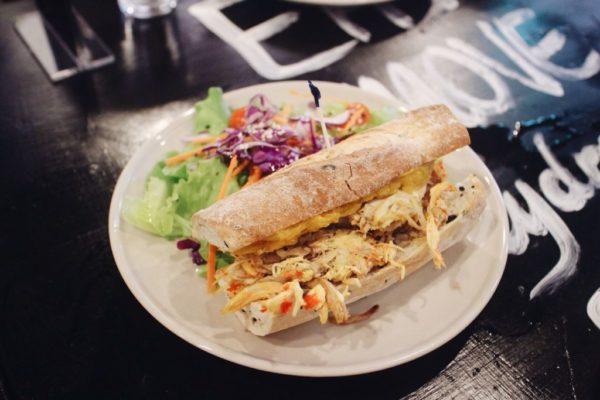 The Chilli-Padi Chicken Sandwich ($17) in an Austrian wheat flour olive baguette with baked chicken and a homemade spicy paste (there is also a gluten free bread option). The meat is flavourful and falls off the bone by the end, which is not a surprise when the chicken has been roasted and steamed under a foil for five whole hours with tumeric and himalayan rock salt. 
The zoodle bolognese ($18) was also a highlight, a glorified and healthy version of the classic. As an owner of a spiraliser myself, I truly admire the simplicity of turning vegetables into noodles and am very happy that Kitchen has embraced it as well. The Australian grass fed minced beef is simmered in a homemade tomato and fresh herbs sauce ensuring that the dish is as good, if not better as the original.
My ultimate favourite, however, was the Pan Seared Barramundi fillet with Asian Sesame Greens ($21). Melt in your mouth barramundi, carrot ribbons and bak choy: the dish was a simple yet sophisticated marriage of east and west.
Going one step further, Kitchen by Food Rebel provides a place for customers to learn about the impacts of foods and to understand the issues caused by modern-day processed food production. Hosting events and workshops, the Kitchen carries an inclusive community feel, where those who are already well-informed rub shoulders with those just beginning their health journey.
---
This was an invited tasting. 
Kitchen by Food Rebel 
Open Monday to Friday, 8 AM to 6 PM
Bookings can be made by calling 6224 7088
---
Stay updated and social with Popspoken: Twitter | Instagram | Facebook