When you think of Sentosa, usually plenty of beaches come to mind as well as the tourist attractions – Universal Studios Singapore, S.E.A. Aquarium and the Trick Eye Museum. And when you think of these places, naturally the memories of queuing long hours and squeezing with the crowds at every corner will come back to you. After all, who would not remember waiting an hour to board the monorail back to mainland after a long day at the beach?
However, you would be surprised to find out that not everywhere in Sentosa is filled to the brim with people and that you can have a quiet weekend by the sea – surrounded by boats, greenery and a lot of resting space. We were pretty skeptical at first, but Quayside Isle @ Sentosa Cove is nothing short of peaceful and relaxing.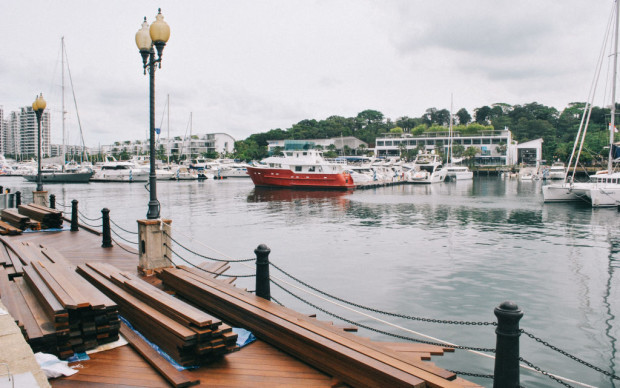 Boasting more than twelve marina-facing dining concepts of different cuisines and retail outlets, the only hard time you will have is probably picking just one place to spend your entire afternoon. In general, the vibe is definitely more relaxing compared to the city and we find it impressive that the aesthetics of each unit to be carefully curated – from cutlery to furniture to music choice. It is almost like walking into different atmospheres, and you can pick them according to how you feel that day.
Recently, three new additions joined the existing list of places to dine at. Here is the low-down of our experience with Joe & The Juice and Greenwood Fish Market.
Known as a dynamic social space, Joe & The Juice commits itself to serving only made-to-order juice and organic coffee with its baristas putting on a show with every step of the process. With its spacious chairs and groovy music playing, the good vibes definitely reminds Starbucks of what could have been without all the cramped up space and reserved seats in the form of textbooks.
The staff are friendly and fueled by zest. Together with the aesthetic quality and the attitude in which the staff carry themselves, it feels like being part of a new environment; almost like an immersive performance. And you enjoy all these perks while being healthy. Who's complaining?
We tried at least seven different types of juices that came with different health benefits. All were tasty and refreshing, even though some were made of ingredients we are not fond of. Think celery, spinach and ginger. But to our pleasant surprise, each juice was easy to drink – smooth and without the clumpy fruit fibres left behind after a good blend.
A good plus is that you can witness the entire process of how they make the juice, since the baristas never turn their backs to you – a guarantee of no flavouring usage, added sugar or basically anything that is not healthy.
If there are two drinks that you must try, we will recommend the ginger shot and the powershake.
The ginger shot  is basically two gingers blended with half an apple. You should drink it all in one gulp before taking the apple slice that comes with it. The shot is spicy and invigorating, but the apple slice will cool the after taste right down. We had our reservations on this one in the beginning, since traditional Chinese medicine made of ginger cannot be described as delicious, but trust us. This is worth a shot.
The powershake, on the other hand, is the very definition of milky heaven. It is effectively a milkshake blended with strawberry, banana and vanilla milk (exclusively shipped in from Denmark). It is sweet and almost like a dessert. No surprise that it is a complete hit with children, and sweet-loving adults alike.
Greenwood Fish Market has an outlet along Greenwood Avenue, but this new space is a massive 4,100 square feet with dining space, a fresh produce market, bakery and oyster bar. You will be surprised to discover how varied their ingredients are and where they get their ingredients from.
From all-time-favourites to only seasonal dishes, this gourmet dining place has something for everyone. Even for those who are not so keen on seafood, they might just change your mind (like how they changed our opinion on fresh oysters) or provide you with other options to choose from. After all, if we may choose only one thing to describe Greenwood Fish Market, we will say that this place gives the customers plenty of options.
Besides beating the alcohol taxes with all-day Happy Hour, this dining concept offers seasoned fish for purchase, seafood platters and a takeaway menu apart from the dine-in options. Do not even get us started on the wine collection, wine pairing events as well as the cooking classes. I did manage to get an insight and found the same grill they use when I read this article online. Denifnetily ordering it as soon as I reach home.
For the quality of freshness and service, this place is affordable and non-isolating, which is contrary to popular belief about the nature of Sentosa Cove itself. The atmosphere and dining experience is as welcoming as the dishes served hot to your table. It is a taste of life at sea, and how apt is that when you dine right next to the waterfront.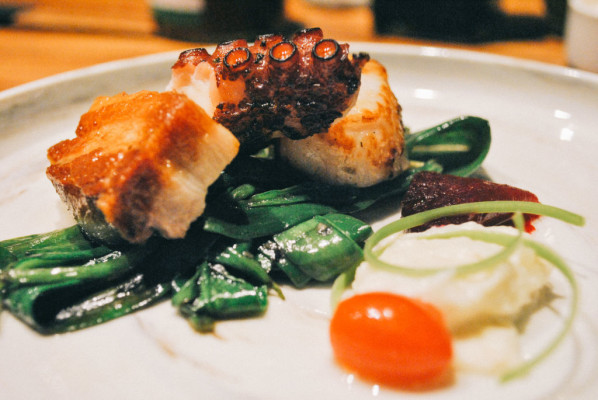 Of course, we will recommend having the seafood since they are mainly known for having great seafood from all over the world. Besides that, be sure to try their signature pork belly as well as beef. They are tender and worth savouring, especially when pairs with the right condiments.
And top it off with their brown sugar cake with gula melaka. It is the bomb.
Do drop by Quayside Isle @ Sentosa Cove the next weekend if you are up for a gastronomical adventure. Perhaps you will find yourself enjoying the alternative experience to what Sentosa is about, and can give.
---
This is an invited tasting. Thank you to Joe & The Juice and Greenwood Fish Market for the kind hospitality. 
Photography credits: Darren 'Merovign' Tan
Stay updated and social with Popspoken: Facebook | Twitter | Instagram