If you enjoy your food at a restaurant, it's exciting. If you lick your plate clean at a restaurant, it's better — it's euphoric. But if you are like me, a proud carnivore with a passion for steaks that still go "moo", ducks with more game than yourself, and seafood so clear that you can see through them, it's all of the above when you end up eating all the um, greens. At Humpback, the newest member to join the cool kids Jigger & Pony and Sugarhall – we were peppered with vegetables, and seriously, they are bloody delicious vegetables.
A quick (and accurate) assumption about Humpback would be its focus on freshly shucked oysters. You'll be greeted immediately by buckets of fresh oysters on the bar, filled to the brim and proud of their suggestive appearances. Inspired by their Hama Hama oyster farm trip in the Pacific Northwest, the founders decided on the good vibes of Seattle to pair with the whole oyster-ific experience: small plates and cocktails that seamlessly merge quick-bites to dinner and into late-night drinks; perfect for first dates.
To start off the meal, we had one of each oyster selection: Totten Inlet, Blue Pool, Shigoku Fat Bastard, and Sea Cow. The taste of Shigoku Fat Bastard was the least appealing out of all (despite its fascinating name), but perhaps it's because of its cleaner cucumber nature when compared to its creamier cousins.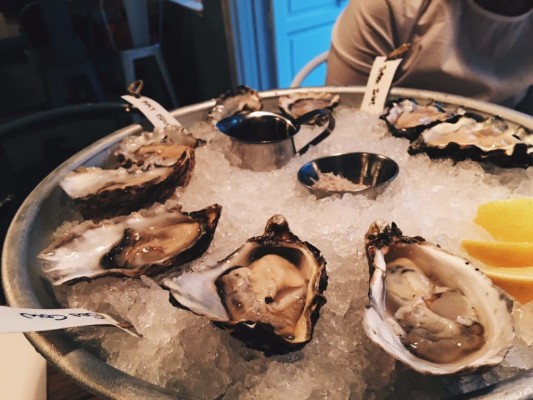 Prices are super friendly, ranging around $10 to $20 for shareable sides and mains, and more importantly, only $6-$7++ for a huge juicy oyster. Even more importantly, there is a Happy Hour promotion from 5pm to 7pm (Tuesday to Saturday) and all night from 5pm to 12 midnight every Monday! That means it's $2-$3++ for a huge juicy oyster — and that's about the best deal you'll find in our little red dot.
For pre-meal snacks, the Carrots is one that everyone's been talking about, and they go really well with the yoghurt and cumin salt (deceivingly simple-looking). They are pickled, crunchy and you get reminded of Bugs Bunny (more on the cocktail later). The Gruyere & Feta orbs are much more fun. Stuffed with tapioca and cheese, the balls are chewy, bouncy and have just the right amount of blandness to bring out the Vadouvan aioli sauce.
While there is a good selection of dishes in meat and seafood, stick to the Garden selection. The superfood Kale are done perfectly in two ways, crisp and fresh, and both ways are too good when tossed with buttermilk, pear and pecan nuts. It comes in a very generous portion for the price, so be prepared to share or end up eating kale until the end of the meal. Also, you remember the joke about Brussel Sprouts being the nastiest food that you can serve to relatives during Thanksgiving and that no one eats them because they smell funny and they are shaped that way because all they do is become plate balls? Order them here because they are considered sexy now.
But the highlight, the absolute star, is the Cabbage. Actually we didn't even think to order it, but midway through the kale, caramelised pumpkin and plateballs, the chef himself swerved up to the table and introduced the Cabbage proudly. Perfectly grilled so that each bite is soft and tender, it goes perfectly and addictively well with the herb cheese, the crispy quinoa (omg the texture) and chilli oil. It's like eating stars because each mouthful is so satisfying: salty, crunchy, tender, smokey and sweet because of the cabbage itself.
Back to reality, the seafood dishes are also equally delectable. Highlights here were the Rainbow Trout, an artwork by itself with almond milk and mustard seeds drizzled over the delicate slices, and the Maine Lobster. The latter is a generous portion of lobster meat tossed and covered with tobiko, mozzarella, honey mango, making it a buttery creamy mess that can only be carried to your mouth on toasted brioche. Talk about sinful.
For the drinks, go for the sly Bugs Bunny (because the gin only peers from under the egg white and carrot) or if you prefer something stronger with a touch of bull, the Hemingway. Finish the meal with the dark Valrhona Chocolate Mousse, and if you want more drinks, we recommend just trying the Fernet Panna Cotta. A soft and silky dessert paired perfectly with fernet. The flavour profile of the fernet makes this intentionally strong, but don't let that distract you from the silky smooth texture of this dessert.
Humpback is the perfect mix of causal, fine and delicious when it comes to picking a place to be with friends or even alone (I mean, with that cabbage? I'll be alone every time.) The atmosphere is laidback, the location accessible, and the prices are super reasonable for seafood and craft cocktails. Everything about it is a jumble to bring out the best in the simplest, like eating fresh oysters straight from the ocean, pants rolled up. Be there for the oysters, but be prepared to eat your vegetables.
—
This was an invited media tasting.
Humpback
18/20 Bukit Pasoh Road
5 minutes away from Outram station, right opposite New Majestic hotel
Singapore 089834
Tel: +65 6750 4461
Monday – Saturday: 5pm – 12am (Last order 11.30pm)
Closed on Sunday
Stay updated and social with Popspoken: Facebook | Twitter | Instagram