Call us #basicAF, but we just can't resist the allure of a good brunch. So when we heard that Argentinean restaurant BoCHINche recently revamped its brunch menu, we naturally had to make our way down to check out the new dishes.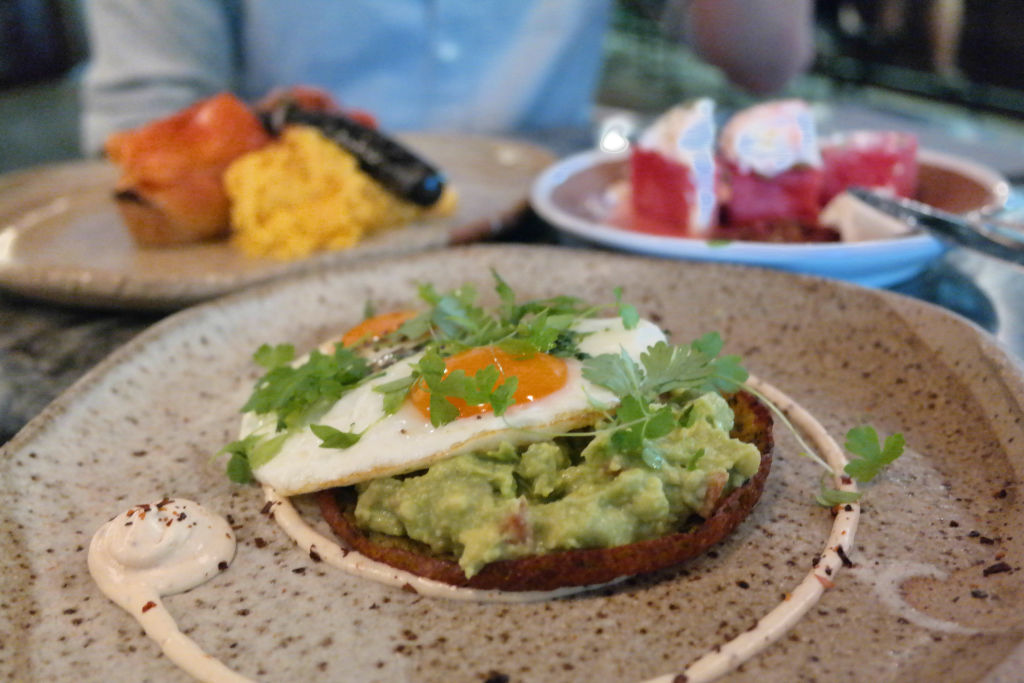 Our favourite dish was hands down the Faina & Fried Eggs with Crushed Avocado, Coriander & Aji Molido Creme Fraiche ($22). Even though Faina (a flatbread made with chickpea flour) is a classic Italian dish, Chef Diego Jacquet explained that Argentinian cuisine draws a lot of influences from Italian food, hence its inclusion in this new brunch menu. It was our first time trying Faina, and it was fragrant, delicious, and a great accompaniment to the heaping mouthful of avocado piled atop it.
We also enjoyed the Smoked Salmon & Scrambled Eggs, Grilled Peppers Salad & Our Sea Black Pudding ($26). Smoked salmon and scrambled eggs are always a killer combo in our books, and for those of you who aren't too sure about the Sea Black Pudding, you'll be glad to hear that it's a thoroughly harmless, non-offensive fusion of seasonal fish, squid, coriander, lemon juice, aji molido and squid ink.
Rounding up our meal on a refreshing note was the Sea Bass Ceviche, Lemon Curd, Coriander & Pickled Radishes ($16). The tart, zesty flavours make for an unexpectedly addictive dish.
Fancy a tipple or two to pair with your food? Check out BoCHINche's Weekend Brunch Boozster, which runs every Saturday from 11am to 1pm. For $25++, you'll get a free-flow of Argentine wines, Mojitos or signature Chimichurri Bloody Mary cocktails along with your food.
This was an invited tasting.
BoCHINche
22 Martin Road, #02-01, Singapore 239058
Tel: 65 6235 4990
Website: http://www.bochinche.com.sg
Stay updated and social with Popspoken: Facebook | Twitter | Instagram
Featured image by BoCHINche, all other images by Cherie Foo.