Recently, Eggs and Berries launched a revamped menu that features a range of new and healthier dishes. By attempting to give patrons the feeling of indulgence without guilt, Eggs and Berries opts for more nutritious ingredients like olive oil as well as freshly made fruit juices.
We were lucky enough to sample a range of their new dishes and we definitely have some new favourites on this new menu. Eggs and Berries has two outlets that can be found in Westgate as well as Changi City Point.
Eggs and Berries kicked off our meal by giving us both a taste of their smoothie as well as their healthy fruit tea. There's a real range of flavours to choose from for both the smoothies and tea. From our experience, whatever you pick will probably taste extremely fresh and refreshing.
The Yuzu Crab Salad (above, $10.90) can be praised for its fresh chunks of crab which were extremely flavourful. It went well with the hard-boiled eggs and tart yuzu sauce that was drizzled over the salad. This dish is definitely a refreshing and rejuvenating way to start one's meal here at Eggs and Berries. 
The Eggs Florentine (above, $13.90) was one of our favourites. A generous serving of smoked salmon topped a pair of toasted breakfast buns. This was complemented well by the runny poached eggs that were cooked perfectly. The asparagus and hollandaise sauce that accompanied this dish added additional textures to the dish and helped to liven the plate in general.
The dish was seasoned well throughout and the balsamic vinegar dressing added a touch of sourness that was just right for our tastebuds. Both the Yuzu Crab Salad and Eggs Florentine are two of the most reasonably priced and value for money dishes that we tried at Eggs and Berries.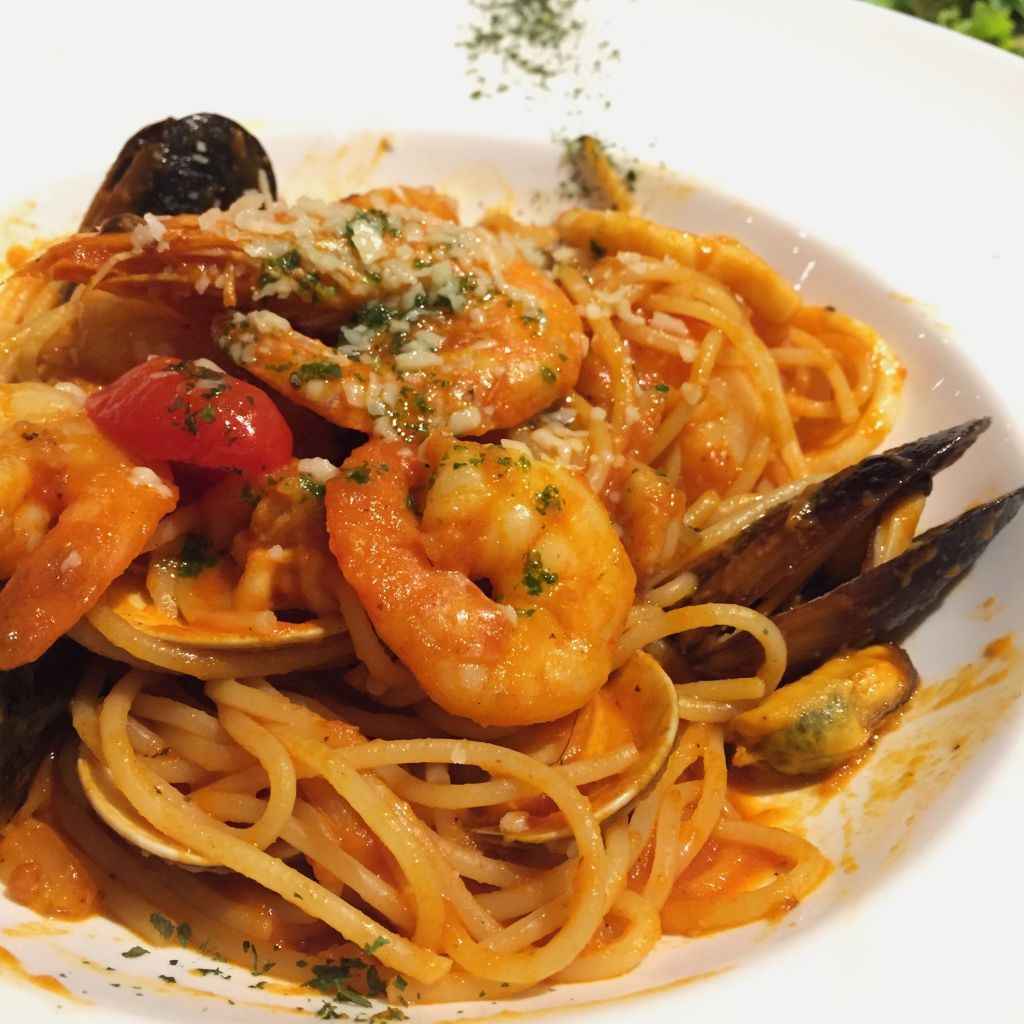 Frutti Di Mare (above, $15.90) The portion for this dish was generous and although Eggs and Berries is not necessarily known for their pastas, this dish was flavourful and the seafood was extremely fresh.
The Fisherman's Basket ($16.90) features seafood ranging from fish to prawns that are placed a top of a bed of fries. While the seafood tasted sweet and the batter was light and crisp from the olive-oil deep fry, the fries below the seafood were a tad bit soggy once we had worked our way through the seafood on top.
We finished off our meal with a Passion Fruit and Banana Souffle ($9.90). While the dish may tend towards the small side, it bursts with banana flavour and the soufflé was a perfection combination of light and airy. The passion fruit flavour gets slightly masked over by the banana flavour, so be sure to manage your expectations when ordering it. There are definitely a few dishes on this list that we would come back for!
Stay updated and social with Popspoken: Facebook | Twitter | Instagram