As someone who has tried, and forsaken, many fad diets over the years (hello Atkins and Paleo), any diet that promises to be the ticket to a better body starts sounding too good to be true. I can't see how I wouldn't lose weight subsisting only on kale, or whichever super food is having a moment, but I know that that weight is going to pile right back on when I inevitably crack and binge eat my misery away with Oreos and Kit Kats.
And so it certainly felt like the ghosts of my failed diets past were finally nudging me in the right direction when I heard about Lean Bento, a new eatery at Raffles Place that promises guilt free yet full flavoured meals. Very aptly named, Lean Bento offers good-for-you bento sets that are #HIGHPROTEIN #LOWCARB #LOWFAT and #LOWCALORIE (hashtags theirs). Despite each bento set being well under 500 calories, portion sizes are surprisingly generous to keep you feeling full and satisfied for hours afterwards.
There is also none of the usual healthy food has to be boring nonsense. Depending on your preference, or weight loss goals, you can choose high-protein, low-carb or low-calorie options from their menu. We tried the Honey Mustard Chicken ($11.90) and Shoyu Salmon ($13.90) and were pleased to find that despite the healthy positioning, our bentos actually looked yummy. Learn how to make the most of what you've got at home with this ultimate home workout program. You'll be surprised how much you can accomplish with next to no space and equipment!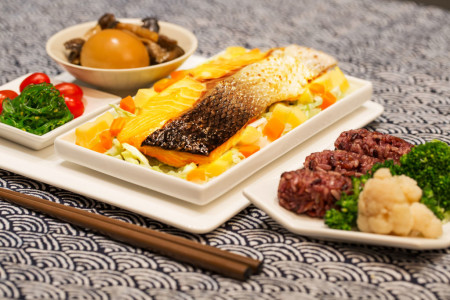 The mains were all served atop a colorful mélange of chopped carrots and tamago; sides included cutesy balls of purple sticky rice, steamed broccoli and cauliflower, a mix of cherry tomatoes and wakame for a festive pop of color, marinated mushrooms, and my absolute favourite: a perfectly cooked ramen egg complete with a soft custardy center.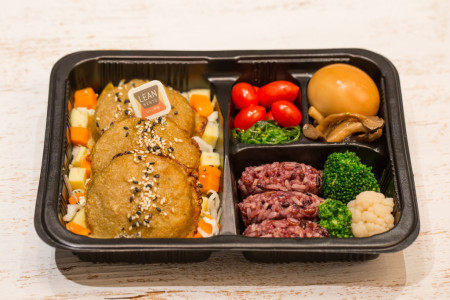 Pretty hard to believe all these add up to fewer than 500 calories, huh? But they do, and Lean Bento founders Charles Ng and Dionis Chiua can stand by their claim having listed out the nutritional information for all items on their menu. By standardizing preparation methods and portion sizes, they ensure that each bento produced adheres to the nutritional values stated. The chicken patties in the Honey Mustard Chicken bento for example, were all identical, having being formed by the same special mold used to make all the chicken patties. It is such fanatical attention to detail (right down to the sauces used), coupled with the months of experimenting and perfecting their bento recipes, that make each mouthful truly guilt free.
The same care and thought also goes to their muffins, designed as either a post-workout snack or a meal replacement for those on the go. Now I've got a ferocious sweet tooth weaned on a lifetime of cakes and chocolates, but even that was sated by their gluten free, high protein muffins. And get this, no sugar or flour was used at all in those muffins. Zero, zilch, nada, nothing. Instead, the muffins are baked with oatmeal and almond butter, and flavoured naturally with chocolate chips as in the case of the Chocolate Chip muffin ($4.90) or strips of winter melon for the Melon & Cheese muffin ($4.90). I can't believe I'm saying this, but I think I may have found a new favourite chocolate muffin (psst… don't tell Starbucks).
There is also protein powder in the muffins but not the sort used in sports shakes or by bodybuilders: this is plant-based protein powder that is one of the most expensive in the market and cleanest to suit all body types and diets.
The admirable aspect of the company is the ethics and hard work they pride themselves on. As an equal-opportunity workplace, the founders take time to educate their staff on healthy living — staff eat the bento sets and muffins for staff lunches and are encouraged to top up their water intake with the alkaline water served in-house. (By the way, alkaline water helps counter all the acidity one ingests daily. And no, it doesn't taste funny at all.)
Every morning, at 6am, the staff get to work cutting everything fresh for the bento sets, ready for lunch service. Almond butter is churned in-house, and vegetables are blanched with ionised water. The attention to detail and quality is even more apparent in the double-sealing of their drinks (we had a smooth Alkaline Matcha and Paleo Coconut Water) and muffins. With a recently-launched delivery option, office workers trapped at their desks will no longer need to call a fast-food chain for an unhealthy lunch take-out.
Now, who needs gym when you can eat yourself lean?
—
This was an invited media tasting.
Address: 11 Collyer Quay #02-02, The Arcade, S049317
Opening Hours: Breakfast from 8 am, Lunch from 10.30 am
Photos: Lean Bento
Additional reporting by Kyle Malinda-White
Stay updated and social with Popspoken: Facebook | Twitter | Instagram