Since its opening two years ago, Violet Oon's Kitchen has been dishing out Nyonya fare with a delectable mix of textural elements that has its roots in Chinese, Indian, Malay and British dishes. Her menu is more than just about serving her classic Peranakan creations. Executed with aplomb, she incorporates various flavours of Singapore, which boast of Singapore's cultural diversity and history.
Stepping inside, the interior of the bistro is awash in colonial style. Picture light-coloured walls, paired with marble-topped dining tables and black wood chairs against tiled flooring in monochromatic tones. Refined but not too overdone, it's a modern interpretation of a British Colonial kitchen, imbued with a speck of minimalist flair.
Celebrating its 2nd anniversary this year, Violet Oon's Kitchen springs back into our radar with five new Nyonya delights for us to try. We started the evening with a refreshing specialty fruit soda – Honey & Kalamansi soda ($6). Just when I have a hankering for something sweet and refreshing on a balmy evening, my new favourite drink makes the perfect cooler, a unique combination of zest and flavour to quench my thirst. Apart from Honey & Kalamansi soda, the menu has other delicious specialty fruit sodas to offer – Mint & Lime ($7), Mango Strawberry & Mint ($7) and more.
The Babi Chin with Sambal Nanas ($15) makes a delightful appetiser that whets our appetites for more dishes to come. This dish is a platter of sliced stewed-and-braised pork belly, which is incredibly addictive. The flavour of the pork is tender and moist. Wrap the pork belly with a crispy lettuce leaf, and Sambal Nanas, a Pineapple and Sambal Belachan, this appetiser brings an adequate blend of tang and heat to your taste buds. I will recommend that it's best eaten whole and in one mouthful.
The next dish, Gado Gado Salad ($17) is a traditional Malay salad perfect for sharing as a starter. It is served with a mix of friend Tempeh (fermented soya bean cakes) Lontong (pressed rice cakes), hard-boiled eggs, potatoes, blanched cabbage and long beans, cucumber and lettuce leaves. Garnished with deep fried shallots and topped with prawn crackers, drizzle the rich and thick Gado Gado peanut sauce over the salad for a wonderful contrast of flavours.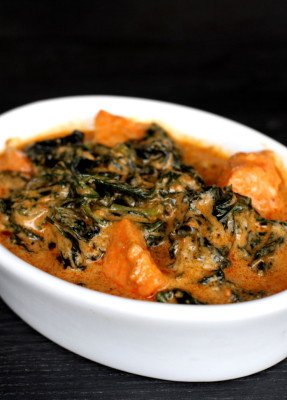 Vegetarians or not, here's a dish that is packed full of flavours. The Kledak Masak Lemak ($10) is a classic Nyonya dish, served with sweet potato leaves and chunky sweet potatoes. This dish has won me over, with its wonderfully thick and addictive coconut milk gravy. In fact, I would drink up the entire bowl of gravy on my own.
Unfortunately, I was feeling less enthusiastic about the Sambal Udang ($28). They were big and tasty prawns, but they were slightly overcooked. Nonetheless, I was impressed by the well-handled balance of spice and flavour that detracts from the prawn's overcooked texture.
We have a contender on the menu. If you love spicy food, this is the dish for you. The Garam Assam Fish ($24) consists of Spanish Mackerel fillets smothered in sour and spicy gravy, which has a nice kick of Nyonya spices, balanced out by the refreshing tamarind juice and pineapple slices.
After chowing down a good amount of savoury dishes, we definitely need desserts to end the evening with a sweet finish. The Bubor Cha Cha Panna Cotta ($11) was the winner. The elements of Bubor Cha Cha, accompanied with the Panna Cotta, it makes a deliciously light and creamy dessert. The Sticky Toffee Date Pudding with Vanilla Ice Cream ($13) is a classic English dessert, drenched in rich and thick toffee sauce. It's certainly not for the faint-hearted, as the flavour was a little too sweet for my liking. The Kuay Beng Kah (Tapioca Cake) with Gula Melaka and Coconut Cream ($10) was my least favourite among the three desserts. It makes a palatable dessert, nonetheless.
These dishes exhibit Violet Oon's culinary approach that is drawn towards the traditional, infused with contemporary touches. Violet Oon has brought an interesting combination of flavours to the table. Above all, it was a good dining experience. Sure, the place is worth a visit.

This was an invited tasting.
Violet Oon's Kitchen
Address: 881 Bukit Timah Road
Tel: +65 6468 5430
Opening Hours:
Tuesdays – Thursdays : 11.30AM – 10PM
Fridays & PHs : 11.30AM – 11PM
Saturdays : 10.30AM – 11PM
Sundays : 10.30AM – 10PM
Mondays : Closed
Reservations can be made here.