With a moniker such as Ding Dong, we honestly didn't quite know what to expect from the Asian/Fusion restaurant. Tucked in a nondescript location along Ann Siang Road, its dim neon-lit entrance proved to be further mystifying.
Nevertheless, we were eager to explore what Ding Dong had to offer, especially when we found out that chef Ryan Clift of The Tippling Club has given additional input on the menu. Under the helm of Malaysian head chef Jet Lo, Ding Dong definitely did not disappoint, serving up a platter of innovative dishes that tantalized our taste buds.
We started off the afternoon with several of Ding Dong's signature cocktails. The Fujiyami ($18) was evidently a crowd-pleaser, with refreshing yoghurt sake, fresh strawberries and yuzu liquer. If you're in the mood for something stronger, the Pe Pa Kao ($22) consisting of dark rum and Chinese herbal syrup) is worth a try as well.
Next up were several small plates such as the Homemade black miso tofu with daikon and ginger salad ($15). This dish had us off to a good start, as the tofu proved to be smooth and silky, and was well complemented by the salad and Japanese dressing. We were also pleasantly surprised by how much we enjoyed the Crispy pig ears with Sichuan pepper and lime ($14). Served in a paper bag with chop sticks, the fried ears were well seasoned, slightly chewy on the inside and extremely addictive.
Unfortunately, we were not as enthusiastic about the Roasted duck dumpling and shitake mushroom with duck consume ($18). Though the duck consume was filled with spices such as cinnamon and cloves, it failed to make up for the dumplings which were rather mediocre and lacking in flavour.
Thankfully, other starters swooped in to save the day. Revised from Ding Dong's earlier menu, the Carbon-battered prawn tempura red curry marinade & soy wasabi mayonnaise ($16) was savoury and well-executed. Health conscious diners will also be glad to know that the mayonnaise is absolutely oil-free, allowing you to indulge without clogging up those arteries. Another hit was chef's favourite Homemade pancake with spiced pork minced & kaffir lime yoghurt ($15). This offering had an interesting South-Asian vibe reminiscent of North Indian cuisine, and very much reminded us of tacos more than pancakes. Surprising, yes.  Crunchy and satisfying, most definitely.
With such a diverse selection from just the starters alone, we were hyped up to see what was in store for the main courses. A nod to head chef Jet Lo's Malaccan roots, the 48 hour beef cheek rendang ($23) was served with a rendang paste exclusively cooked by Lo. And boy was it delicious, so much so that we found ourselves scrapping up every last bit on the plate. Served with puff rice and crispy herbs, the beef itself was superbly tender.
The Asam pedas with salt water barramundi, okra and baby eggplant ($20) was another culinary highlight. One of the restaurant's recent best sellers, the barramundi (or Asian seabass) was deliciously crispy on the outside, with soft flesh on the inside. A perfect combination of sweet, sour and spicy, this dish was undoubtedly one of our favourites.
As for the desserts, an immediate standout would be the Gula Malacca with sago pudding and coconut ($16). Featured a myriad of ingredients such as dehydrated Gula Malacca Meringue, coconut ice cream and even popcorn, this concoction was refreshingly delightful.  We especially enjoyed the flavourful sago pudding and meringue.
However, the cake and chocolate desserts were somewhat less inspired. The Asian spiced gluten free cake ($16) did not go well with the extremely sour Taramind sorbet, and the Textures of chocolate & kaya ($17) was nothing to shout about either.
Fortunately, Ding Dong's signature Frozen bibimbap ($17) was a risk that paid off well. A modern interpretation of the Korean dish, this clever dessert reflected similar textures and colours seen in traditional bibimbap. All mashed together, the slightly spicy mixture with cherry undertones was aesthetically pleasing and palatable.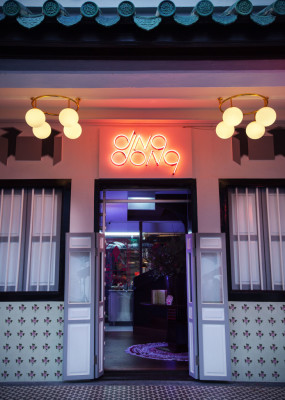 All-in-all, Ding Dong's unique and adventurous menu makes it a place well worth visiting, be it for a casual lunch or a romantic dinner date. Needless to say, we'll be back for more.
Photo Credits: Ding Dong
===
This was an invited tasting.
Ding Dong
23 Ann Siang Road, Singapore 069703
Mon – Fri: 12-3pm
Mon – Fri: 6pm-12am
Sat: 6pm-12am
Closed: Sun
Tel: 65570189