For those with a sweet tooth, you may have heard of the upcoming confectionery spectacular that's about to hit Marina Bay Sands next month. And by confectionery spectacular, we're talking life-size figures made entirely out of chocolate and other sweet, sweet delights. Led by world-renowned pastry chef couple Christian Escriba and Patricia Schimdt , the event promises much more than just chocolate as well.  Here are five reasons why Fantasia by Escriba is THE culinary event of the year that shouldn't be missed.
1. A Real Life Version of Willy Wonka's Chocolate Factory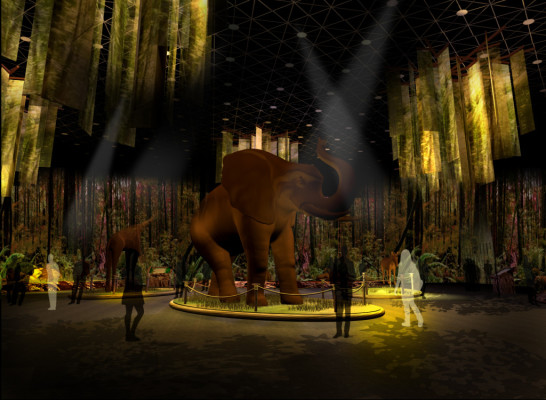 Ok, admit it. Who didn't wish they were Charlie in Roald Dahl's beloved classic, surrounded by more chocolaty treats than you could ever imagine. Fantasia by Escriba might just be the real-life version of Willy Wonka's magical lair, with eight themed pavilions featuring larger-than-life chocolate masterpieces.
Expect to see displays such as an edible zoo, a remodeled version of a shopping street in Barcelona, and other painstakingly crafted pieces by both chefs. An attempt will also be made at setting a Guinness World Record with Callebuat Falls-an astounding 8.5 m tall chocolate waterfall. Willy Wonka would be proud.
2. Escriba's Mark on the History of Chocolate
Besides being the owner of the highly-raved Pasteleria Escriba in Barcelona, head chef Christian Escriba has an impressive ancestry when it comes to chocolate making. His father Antonio Escriba was dubbed the "magician of chocolate", with chocolate sculptures so incredibly constructed that they attracted the likes of Pablo Picasso and the Pope. Christian himself is a fourth-generation pastry maker and no less skilled, having won numerous competition titles.
3. A Live Theatrical Experience
There's much more than chocolate to keep you company too. Europe's most colourful theatre group Comediants will be making an exclusive appearance at Fantasia. Led by artistic director Joan Font, the award-winning company is known for their lavish productions, having performed at events such as the 1992 Barcelona Olympic games. They're more than just actors though-you'll also be treated to a stunning display of acrobatic feats. How's that for entertainment?
4. Naughty or Nice? You Decide
The folks at Escriba understand all too well the kinky side of chocolate lovers, and we love them for that. If wholesome family fun isn't really what you have in mind, we present to you Midnight by Escriba. This sexy alternative to Fantasia by Escriba will run on the 23rd of August from 10:30pm to 2am.
Party the night away with two of Ibiza's best DJs, scintillating performances by go-go dancers, and cocktails from some of the best bartenders in the local scene. Needless to say, this show is strictly adults-only.
5. A Meaningful Social Cause
In collaboration with the Community Chest of Singapore, there will also be an entire show dedicated to charity staff, caregivers and the underprivileged in Singapore . Recognizing the effort and commitment of charity staff, Sweet Gesture@ Fantasia offers them a discounted rate of $48 per ticket. The "Gift a Ticket" drive also allows the public to sponsor $48 tickets as gifts for underprivileged beneficiaries, with $10 from each ticket being contributed to ComChest charities.
Get your tickets for Fantasia by Escriba here.
Event Details
Dates: 22-24th August 2014
Timings: 7pm-11pm(22nd), 11am-3pm; 5pm-9pm(23rd), 11am-3pm; 5pm-9pm(23rd)
Price: $88(Child), $128 (Adult), $388 (Family bundle of 2 adults and 2 children)
For more information on the respective shows , Sweet Gesture@Fantasia and Midnight by Escriba, click here.
Photo credits: Escriba Asia