It has been nearly 2 months since Manhattan Bar opened its doors to the public. You probably heard of the bar from a friend, colleague or whilst trawling the interweb for new haunts to invade.
Since Day 0, we visited the bar and were charmed by the plush interior reminiscent of a film still from Great Gatsby, as well as the charming flower arrangement that shed its skin every week. What won us over, though, was the meticulously planned drinks and food menu fashioned after the five boroughs of NYC. Despite it being just a bar, talented young Chef Nicholas Trosien who spent some time honing his craft at Four Seasons (Palm Beach Florida), made exceptional effort to ensure the food served alongside the drinks were Instagram worthy too.
In Nicholas' words "We didn't want food that takes a back seat. We wanted a pairing.. A twist."
Since its inception, the concept alone of an NYC-inspired bar with the imported well-loved cocktail maverick from San Francisco, Ricky Paiva, caused ripples in the Singapore F&B scene. Compounded by the housing of the first-ever in-hotel rickhouse where spirits new and old are mixed into a delicious house blend, Manhattan Bar was at the tip of everyone's tongue. As a result of rave reviews, Manhattan Bar quickly rose to cult status, making it hard, or we daresay, impossible to make a reservation on a weekday, much less on a weekend.
Having throngs of curious people piqued by the uprising of 'The Hottest New Bar in Town' is surely a blessing, but at the backend, Manhattan Bar's staff had to cope with the insatiable demands of the crowd. Majority of the crowd, after hearing spectacular reviews, were expecting Michelin Star quality food and drinks, and service staff at the click of their fingers. Such sky-high expectations are always a challenge for any newly-opened F&B outlet, which the staff of Manhattan Bar strived their best to meet. 
A combination of the ambience, pleasant staff, intriguing cocktails and fantastic selection of whiskies makes Manhattan Bar one of our top choices to imbibe. Oh, throw in the addictive popcorn munchies laced with paprika powder that come free-flow, and we are all set for a boisterous night out.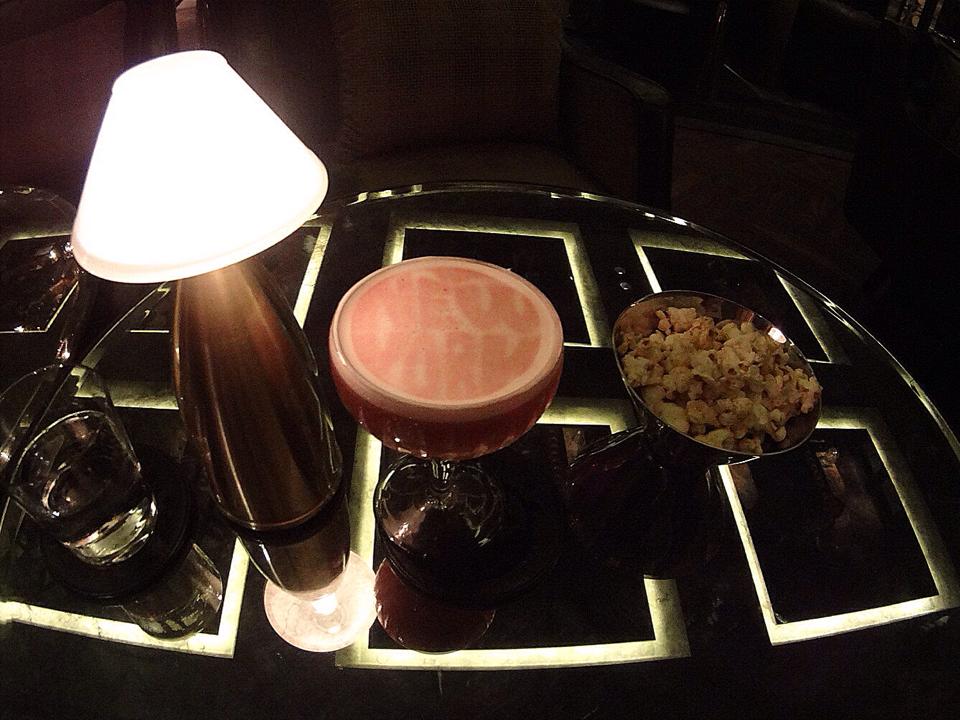 Let's begin with one of my favourite cocktails on the menu: New York Sour ($23). The first thing that strikes you would be how literal the drink is, with the words New York neatly crafted over the top of the egg white foam. Comprising St George Bourbon, house-made lavender, maple syrup, fresh lemon and plum bitters, this cocktail has depth. The Box Office Smash ($23), is a crowd favourite too, as it is not only pleasing to the eye it is also refreshing, with a dash of organic mint.
Put your drink in the hands of the able waitstaff and opt for the Manhattan Guided Tour ($35), for a personalized tableside trolley service, featuring their staggering list of whiskies, bourbons, vodkas, rums, gins, bitters and more. To put things in perspective, their spirit menu has around 250+ types of alcohol to choose from.
For those with tighter purse strings, swing by during "The Violet Hour" from 5pm-7pm where all imbibing guests are treated to complimentary gourmet sandwiches. "Violet Hour" happens to be a 1919 NYC based play staged at the Manhattan Theatre Club, no prizes for guessing why they chose to name their happy hour as such.
Deliciousness didn't use to be a priority for bar snacks, but things are different here. The Street Style Hot Dogs ($15) served with knickerbocker mustard, which is concocted from black mustard seeds found in the ingredient room housed within Manhattan Bar. Also worth trying are the Rebellion Burgers ($20) with juicy agnus topped with a paprika flavoured bun – although, these burgers should be more appropriately termed sliders because of the bite-sized portions.
Finally, the life-changing House-Made Kettle Chips ($12) made of sliced potatoes soaked in cold water and honey, with a cold dip that is made with foie gras and onion is divine. People have commented that they don't taste the foie gras in the dip, but we are not a stickler for names, because what matters to us is the end result and it is undeniable that the dip is remarkably flavourful. We had a friend who couldn't stop at one plate, she had to get a second serving.
For dessert, the Cappucino Numero Uno ($12) is highly recommended. Dip the chocolate brownies in coffee sauce mixed with chantilly cream for a burst of flavour. What could be improved were the coin-sized Bourbon-Infused Doughnuts ($10), as they were a tad dry, and lacking in flavour. The typical fluffiness in doughnuts we love so much is compromised because of the smallness of it all.
Manhattan Bar's mission to greatness is clear from its tipple right down to its nibbles. We'll be back.
==
Manhattan Bar
Located at the Second Floor of Regent Hotel Singapore (Part of the Four Seasons Hotel Group)
1 Cuscaden Rd, Singapore, 249715
Opening hours: Monday – Sunday, 5pm – 1am
Check out the the Regent Hotel website here.
For reservations, click here.