Whether you love PSY, SNSD Girls Generation or the Brown Eyed Girls, you know that they K-Pop and the Korean tsunami is here to stay. Fortunately for us, that means Korean food too!
While Korean food boasts strong and tangy flavours that might not be for the faint-hearted, those who have milder palettes will be pleased to know that the new Sarang Korean bistro caters to the local preferences without giving up the familiar Korean flavours that are associated with soul food. In the Gangnam District of Seoul, the dynamic and trendy youths have influenced the dining culture where streets are filled with al fresco contemporary bistros and cafes where crowds flock to see and be seen. As a reflection of its Korean roots, the newly rebranded Sarang is the first Korean bistro in Singapore nestled amidst the hustle and bustle of the metropolitan streets on the 7th floor of Orchard Central, overlooking the island's cityscape.
Like contemporary architecture, its al fresco dining quarters is roomy and open with trees and wooden tables, benches and booths from Korea to give the impression of dining in the park. In the day, soft sunlight peeks in the al fresco area and after dusk, mild lighting housed in cage-like structures hang form trees and the booths to add to the ambience. If you're afraid of the sweltering weather that we've been facing recently, fret no more. The ever thoughtful owners of Sarang installed huge fans like those you see in the MRT stations so that diners will be able to enjoy dining outdoors in comfort and ease. You could almost say that dining at Sarang is… a walk in the park (pun intended).
Sarang is the first dining establishment to embrace the Korean Tapas concept. It is a step away from the smoky Korean BBQs toa launch a modern take on classic Korean cuisine and drinks by fusing both Korean and Western concepts together.
Tapas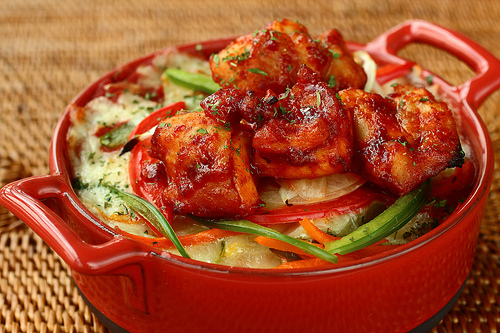 The Spoon Pizza was a personal favourite of the night. The unique combination of oozy cheese and potato left a heavenly warm and moist feeling in the mouth. We would have preferred if the volcanic chicken topping was inside the dish as it seemed as though it was two separate dishes. We're sure the volcanic chicken could've done with some cheesy potato lovin'.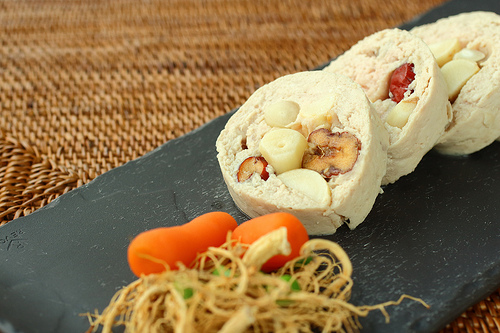 Main Courses
This isn't the typical Nachos with Cheese you find in the cinemas. Besides the toppings you would find in a Mexican styled Nachos starter such as tomatoes and jalapenos, the Korean counterpart comes with tender marinated beef with generous heaps of cheese and mayonnaise. And yes, we washed it down very satisfyingly with the Korean beer.
While we're all for fusion food, this Korean-Western mash up known as the Big Bang Bulgogi Burger (try saying that 5 times quickly) was not particularly successful. Bulgogi beef is usually cut into tender, thin strips that are as well loved as thick patties from its Western counterpart. Thin strips however, do not satisfy in the burger-to-meat ratio and we found that too much bun left our mouths feeling pretty dry while the meat was all falling out. The beef on its own though, was lovely.
Besides that, Sarang also introduces Korean cocktails in its menu as opposed to the traditional alcoholic beverage staple of Soju (rice based, clear and colourless) and Makgeolli (pronounced Mak-ko-li; an alcoholic beverage from a mix of wheat and rice, usually a cloudy off-white colour) to compliment its Tapas and Mains. While you enjoy your drinks and food, Sarang also has a mega screen that may feature Korean shows or pictures of Korea to stir that wanderlust within you.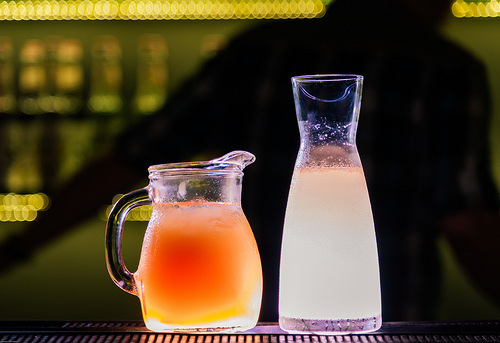 Sarang's the ideal gateway to Seoul, without having to leave the country at all. So why don't you heed PSY's advice and bring your "mother father gentleman" down to try today?
Sarang Korean Bistro
181 Orchard Road, #07-01 Orchard Central
Sun – Thu: 12:00 – 22:00
Fri – Sat: 12:00 – 23:00