THIS IS SPATHE (cue Sparta meme)
Well not really, but doesn't the name bring to mind King Leonidas leading his 300 Spartans with that war cry? While the Bohemian vibes emulating from the dining area is miles away from the prominent city-state in ancient Greece, there are certain similarities that transcend time and space to land in our sunny shores.
To avoid future Spartan references, here's the first clarification. It's pronounced as "Speyth", named after large leaf-like bracts surrounding a flower cluster that signifies the blossoming of new beginnings. But what are good things, if they are not shared? In line with the increasingly popular European communal style of sharing plates with friends, Spathe has created some signature dishes to come in 'mammoth' portions to feed groups of families and friends.
Spathe's interior is rustic and inviting. While most eateries boast white and pristine walls, we're pleasantly surprised to see exposed bricks and bright graffiti sprayed over in the form of a hummingbird in flight. The first thing to catch our eyes is also the gardening tools and watering cans to replace the conventional utensils and jugs.
Our food varieties were akin to taking a trip around the world without leaving our seats.
The first appetizer was a Hawaiian style yellow fin tuna poke with crispy shallots, avocado, shiso and yuzu vinaigrette. The vinaigrette was not too overpowering and the pairing of the creamy avocado and the yellow fin tuna was just the right combination to whet our appetites.
The next dish that was served was the Spanish Sous Vide Octopus Salad. When we were told that Spathe's signature creations were mammoth, they were not kidding. The sharing salad was served in a whimsical oversized tea cup and saucer that was filled with colourful greens, tomatoes, croutons and octopus served with wholegrain mustard vinaigrette. Octopus is usually tricky to prepare because it can be extremely tough and chewy. However, our octopus was tender and moist, providing the perfectly unlikely protein to complement the garden greens.
A twist on the French favourite that's the Confit Duck Puff was paired with an amazing slab (yes I do say slab but I mean it with my highest compliments) of foie gras that Chef Claudio generously added for us. While the puff was light and flaky, I do prefer something more substantial with my duck, i.e. the old school pairing of hearty mashed potatoes. That said, the foie gras was cooked to perfection and oddly, the accidental star of the show. The foie gras is a supplement to the Confit Duck Puff, but at $9 for an individual portion and $18 for sharing, we say GO FOR IT.
Next we introduce Spathe's chef specialty, the Mohamed Sultan Metre Dog. Paying homage to its location, the novelty lies in its metre-long veal and spicy chicken curry wurst that is specially customized at their butchers. It is paired with just a hint of wasabi mayonnaise, caramelized onions and field greens. After the flurry of smartphones whipped out to shoot the vertically blessed dish, the waitresses very nicely cut them up in regular sizes for our consumption. And in the spirit of bringing friends together, Spathe's in-house dining competition awards you the Metre Dog for free if you can finish it within 10 minutes! So get all your friends together while you cheer some brave soul on.
We were then served the Chicken & The Sea, a twist on the classic Surf & Turf combo as well as the Spathe Australian Angus Burger. By the end of all the mains you could say we went around the world in eighty… minutes.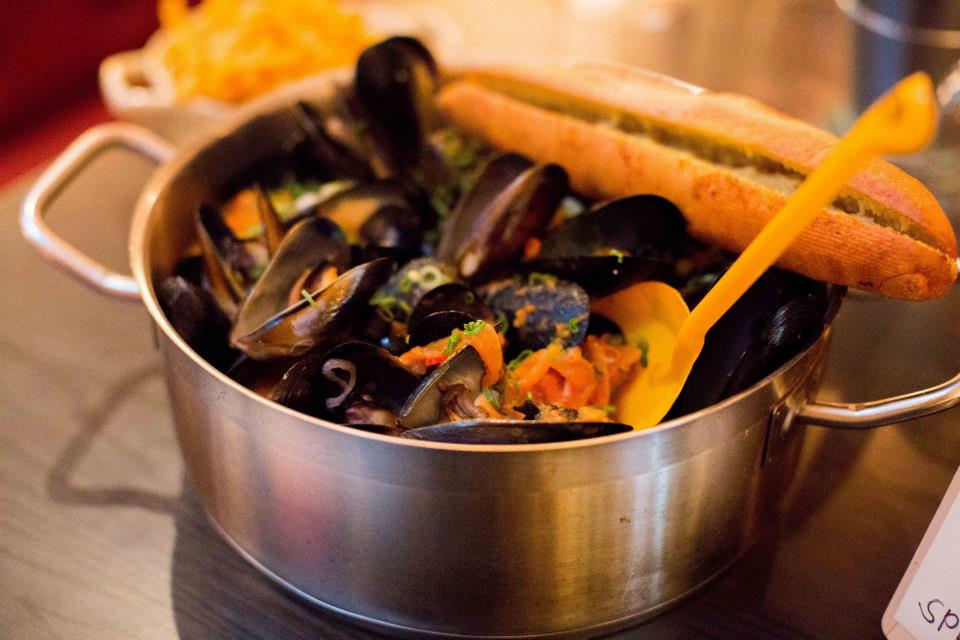 While some say a good dessert is often the hardest to perfect, Chef Claudio does not disappoint. The Poached Pear Charlotte Royal was shaped in the prettiest of roses made out of custard with warm chocolate sauce on the side.
Feeling thirsty? Spathe's social pitchers The Gardens Pimms packs a punch with Pimms No. 1, gin, basil and cucumber which is refreshingly tantalizing for a hot afternoon. Or you can go for the Spathe's Special for sharing!
Spathe is a delightfully unassuming place that is straightforward good mood and a reflection of how metropolitan our city has become (stop screaming 6.9million already guys) and the variety of food that each culture brings.
We are sure King Leonidas of Sparta would approve.
—-
This was an invited tasting.
Spathe Public House
Address: 8 Mohamed Sultan Road, #01-01, Singapore 238958
Opening Hours: 
Monday – Friday: 11am – 11pm
Saturday: 9am- 11pm (Brunch from 9am to 5pm)
Sunday: 9am – 5pm (Brunch from 9am to 5pm)
Tel: 6735 1035