A new poll Yahoo Singapore-commissioned poll released today by Blackbox Research showed that more than half of young respondents are more receptive to proposed rules to have provisions for a minority-race Singapore president.
Nearly two-thirds of respondents aged 15 to 34 believed such proposed laws should be added into the law books, as opposed to 44% of respondents aged 50 and above.
This comes amid Parliament convening today, with a bill on the new presidency criteria rules expected to be tabled in the chambers. The new rule states that a minority-race Singapore president be considered for the post after five consecutive terms, or 30 years, of majority-race presidents in Singapore.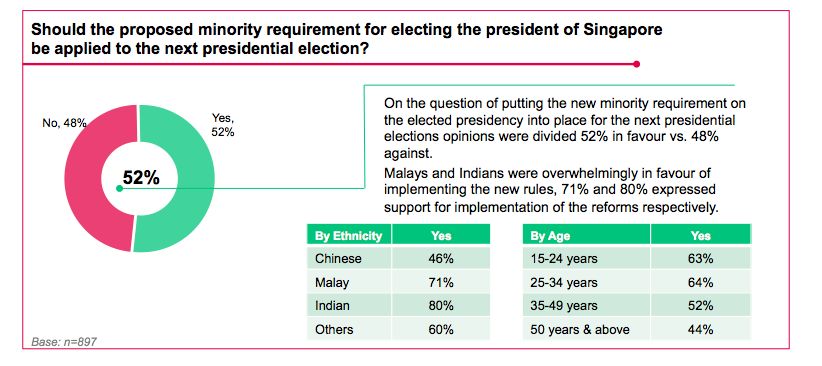 This adds to earlier research in recent Blackbox polls which revealed that more than a third of respondents aged between 15 and 24 believe equal opportunities for minorities were "absolutely necessary", as compared to only 13% of respondents aged 50 and above who believed so.
Earlier studies conducted by broadcaster Channel NewsAsia in partnership with the Institute of Policy Studies showed that younger Chinese and Malay respondents were more favourable for a minority-race president and prime minister as compared to older respondents of the same race.
Such debate puts the question of race front and centre of the race to the presidency, especially since a whopping mandate for deputy prime minister Tharman Shanmugaratnam has emerged (which he has since addressed and the opportunity, declined).
In his analysis, Mothership's Martino Tan alludes to unwritten rules concerning age instead of race as a reason for Tharman's no-go, including how younger ministers from the ruling People's Action Party will choose the "first among equals" in the fourth-generation ministerial batch.
However, the question of race remains a sensitive topic among Singaporeans today. A privilege walk by student-led arts collective UNSAID showed that participants who were of a minority race in Singapore did not receive privileges that their majority-race counterparts received, such as financial headway from parents and equal opportunities in job employment.
==
Featured image: Jorge Cancela via CC BY 2.0
Stay updated and social with Popspoken: Facebook | Twitter | Instagram