The whole concept of Singaporean food culture has always been based on the premise of fusion, on the melting pot merging of flavours. This hybrid nature is physically emulated in our hawker centres with the rows upon rows of stalls serving delicacies with Chinese, Indian, Malay and Peranakan roots – food establishments that have undeniably come to define Singapore identity.
However, in recent years there seems to have been a outbreak of a herd mentality when it comes to trends, especially in the food scene.
We unthinkingly buy into certain food fads because we've seen them on social media, and in the process we downgrade hawker centres to somewhat less than fashionable. Indeed, we still frequent hawkers to get our comfort food fix and perhaps ride the wave of nostalgia, but it's never really with the aim to be able to say "been there, ate that" as is the case with other food trends (unless it's a hawker stall with a Michelin star, then that's another story).
A handful of chefs have therefore taken on the challenge to reimagine the quintessential flavours of our nation through Mod-Sin cuisine, bringing in fusion flavours, innovative plating and modern culinary techniques. By reinventing iconic Singapore fare, yet still celebrating the heritage and tradition of the hawker dishes, the chefs are reclaiming our national identity.
Jet Lo is one of these chefs.
Head Chef of Ding Dong, Jet Lo pays tribute to his childhood favourites in his menu featuring dishes such as Wagyu Beef Char Siew and Nan Ru Pork Ribs with Ginger Apricot. Chef Lo offers a playful and eclectic take on Asian cuisine, joining the Mod-Sin movement, which was coined by Chef Willin Low and seeks to give a modern twist to local dining and redefine Singaporean cuisine.
The head chef believes in the importance of research, breaking down critical ingredients to figure out how it can be presented differently. In his audacious experimenting he is also careful to respect tradition, exploring both nostalgic and modern textures and ingredients. The newly launched menu at Ding Dong adds on to the local flavours, encompassing a wider range of Southeast Asian flavours which were inspired by his recent travels.
At Ding Dong, we started with the cold plates: Hamachi Sashimi with Betel leaf, green mango and chilli relish ($18), which was an intense mouthful of sweet, zesty, and spicy flavours, with the thai-style sambal and the green mango complementing each other.
The Hokkaido scallop tartare with coconut, pickled ginger and sea grapes ($19) was cradled in a Kueh Kapit cup with ground-up charred bamboo. I really liked the twist on the traditional love letters which gave a sweet hint to the whole dish, though I would have preferred it a bit crispier.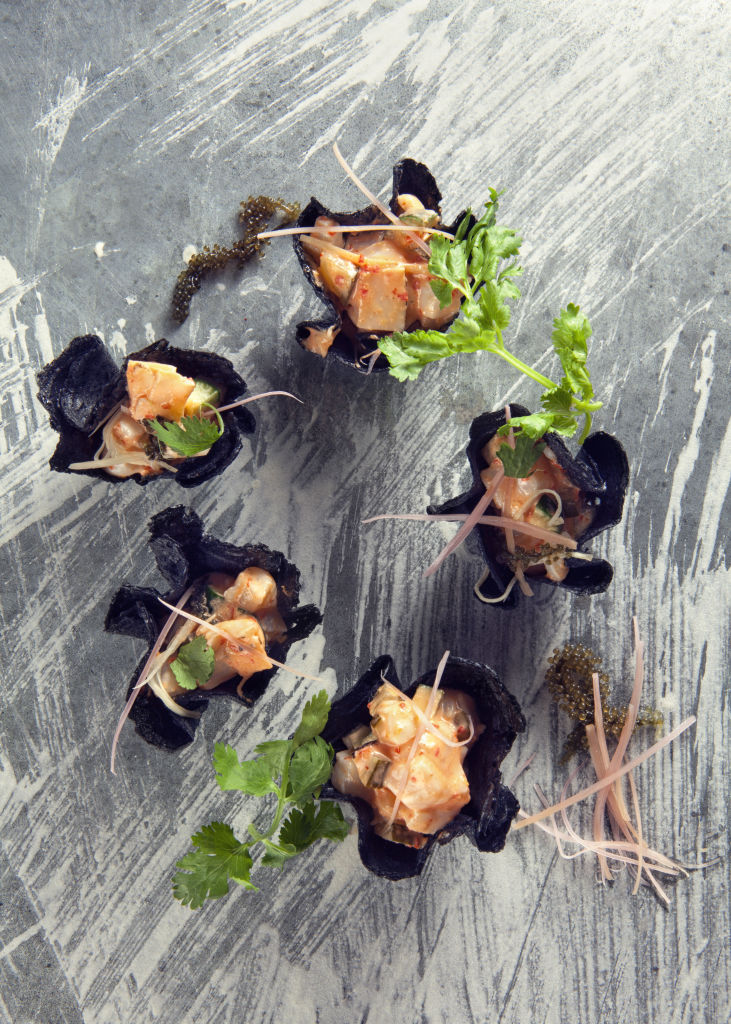 The homemade rice noodle roll with pork sausage and bean sprout salad ($17) is a Thai-Vietnamese inspired dish. The pork sausage, with a sesame oil and fish sauce marinade, tastes similar to ba gua and works well with the lemongrass and tamarind dressing. The rice noodle roll, however, was a bit stiff and thick.
Moving on to the small plates, we had the Thai basil quail with crispy garlic ($19) is marinated in garlic, chilli padi, sweet soy sauce, fish sauce and Thai basil. It is then cooked sous vide for three hours and immediately deep fried to give satisfyingly crispy skin, incredibly tender meat, and deliciously juicy flavours.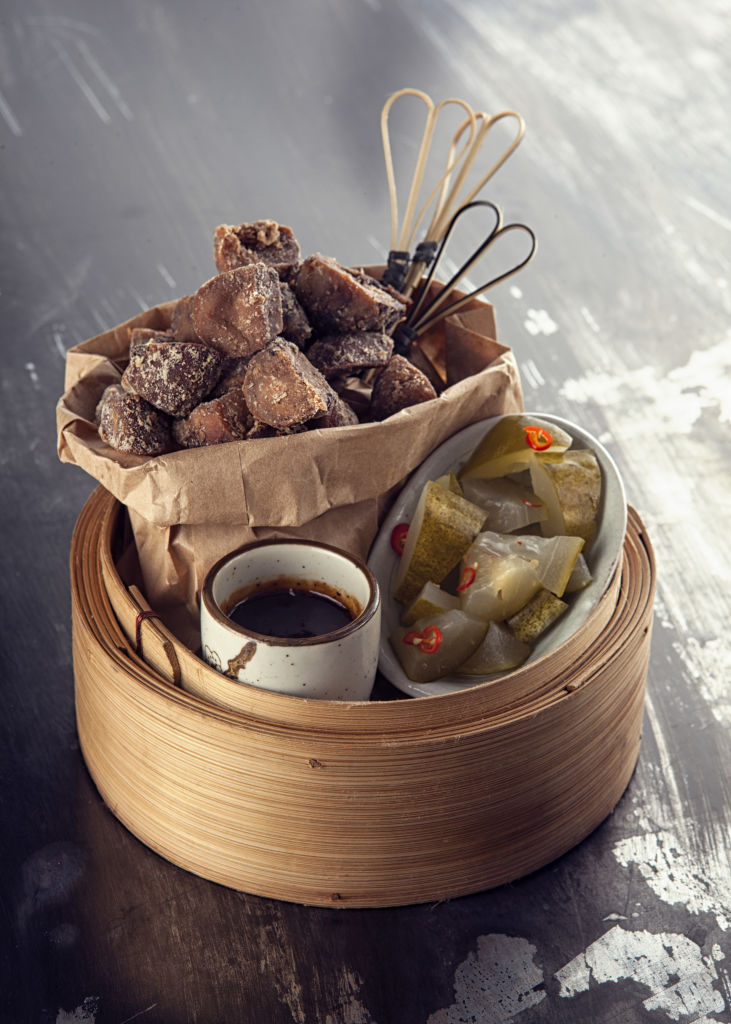 The Five Spice Lamb tongue with pickled cucumber and black pepper sauce ($17) and the Homemade banana bread with duck liver and kimchi ($25) are both plates for the more adventurous. The intriguing combination of subtly sweet toasted banana bread made from Malaysian Pisang Amas bananas and tangy kimchi, topped with creamy savoury pan-fried foie gras, is the perfect gourmet treat.
Pushing Mod-Sin to the extreme, this dish is possibly one of the strangest combinations I've ever tasted but it definitely worked and was my favourite out of the small plates.
On Ding Dong's big plates menu, we had the Chargrill ocean trout with spiced quinoa and green mango salad ($24), which is cured overnight and then grilled over charcoal, and the Ayam masak merah (red cooked chicken) with cucumber salad and onion purée ($22).
The New Zealand ocean trout's meaty texture is wonderfully paired with quinoa spiced with turmeric, cardamom, cumin and coriander seed. The trout was a tad on the salty side but was balanced with the tanginess of the green mango.
The highlight of the big plates was definitely the Spiced braised iberico pork with poached egg, lime and jackfruit tempura ($26). Inspired by sup tulang, a dish consisting of bones stewed in a sweet and spicy soup, Chef Jet Lo brines the Iberia pork collar overnight before braising it with many spices for 12 hours, ensuring tender and juicy meat.
The flavourful broth is seasoned with pandan leaves and the poached egg adds a certain depth and texture. My favourite element of the dish was the jack fruit tempura, with the slight sweetness complementing the pork.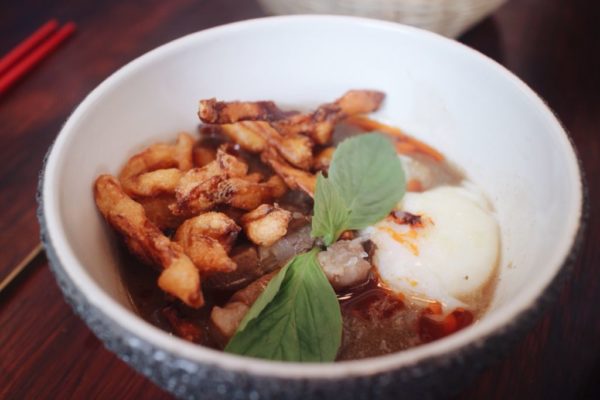 Ding Dong's dessert menu features innovative combinations centred around classic Southeast Asian favourites, bringing a delightful conclusion to the meal.
The Ding Dong mango with Pomelo and sago ($15) is a lighter version of the popular traditional Cantonese dessert, reinvigorated with mango foam sorbet and passionfruit purée. The fresh pomelo and freeze-fried mango chips add an interesting texture but the dessert didn't fuse as a whole and was a bit too deconstructed for my liking.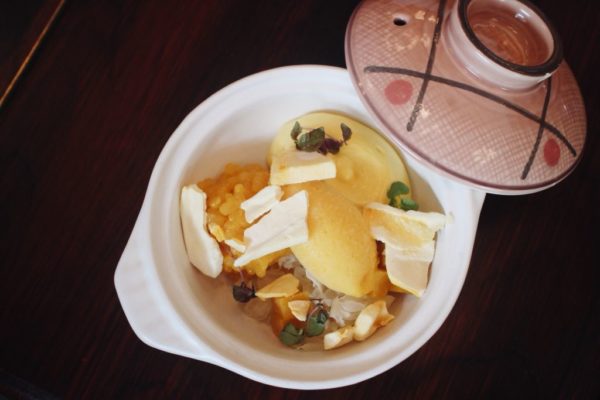 The caramelised pineapple tart with tonka bean ice cream ($19) on the other hand was a lovely deconstructed reinterpretation of the traditional pineapple tarts, with pineapple meat cooked in gula melaka, coconut cream and szechuan pepper. We also tried the vibrantly colourful Kyoto matcha cake with morello cherry sorbet ($16), which played with the slightly bitter taste of green tea and complemented it with the sweetness of the sorbet.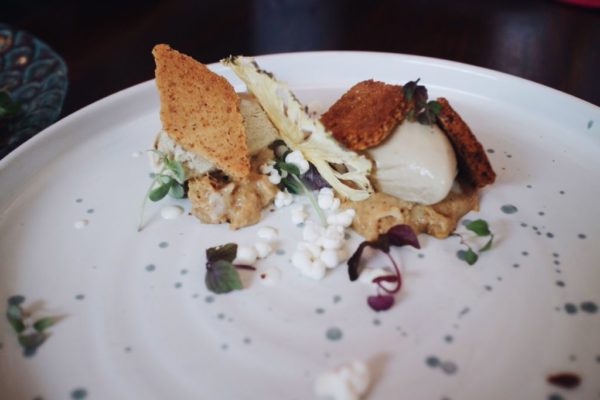 It was so exciting watching the way Chef Lo manoeuvred a perfect equilibrium between respecting the traditional local fare while giving it a modern spin.
Along with the refreshed cocktail menu, Ding Dong's daring creations are opening doors and perhaps paving one of the many paths of Singaporean cuisine's future.       
---
 This was an invited tasting. 
Ding Dong 
Address: 115 Amoy St #01-02 Singapore 069935
Tel: 6557 0189
Operating hours: Monday to Friday from 12 pm to 3 pm and 6 pm to 12 am (last order for food: 10:30 pm)
Saturday from 12 pm to 3 pm and 6 pm to12 am (last order for food: 11:30 pm)
---
Stay updated and social with Popspoken: Twitter | Instagram | Facebook