Winning the Most Popular Radio Personality (Class 95FM) award at the MediaCorp Radio Awards and upsetting hot favourites Glenn Ong and Yasminne Cheng may have been all in good stead for Jean Danker, but her win had more meaning than that.
"It's a silver lining in a year that has been difficult for me because my mother passed away about seven months ago, so it's the good that came out of it," Jean said to Popspoken after her win.
Jean's mother, Judy Foo Eng Wah, was 65 when she passed on. The late Mdm Foo fought a critical illness for two years after she was told she would die within weeks.
Jean stunned in a slinky Bebe dress as she hosted the awards show with much aplomb, including a hilarious sketch where she parodied artist Samantha Lo and pasted "Listen Until Shiok" stickers on Vernetta Lopez's butt and Glenn Ong's crotch.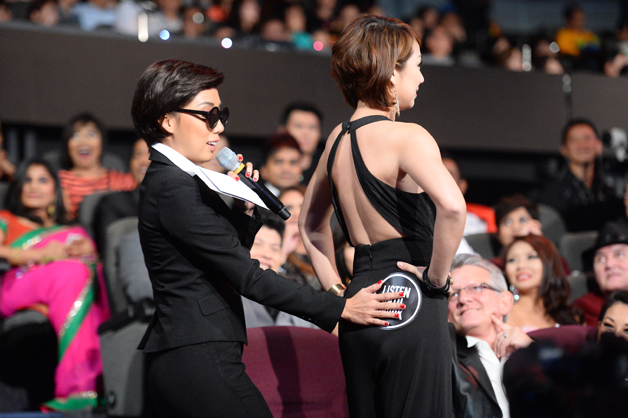 Jean told us that no one on the production team was aware of where she was going to paste the stickers and was initially worried about the reaction she would receive, but she said she was emboldened because it was a 'live' show.
"I just went for it," she quipped.
Risk-taking is also what Jean believes was behind the recent decision to split longtime radio duo Glenn Ong and The Flying Dutchman. She knew about the news and was initially unsure about husband Glenn Ong's new pairing.
http://www.youtube.com/watch?v=6xHY1lYRhnk
"I think with everything, change is inevitable and one thing cannot remain the same for many years. It was a risk to take but hopefully, we will know with the latest ratings whether it pans out," said Jean.
"Initially, I had my doubts if the new pairing of Joe Augustin and Glenn Ong were going to get along. I thought they might not, but it seems that they have a big, blossoming bromance happening that I'm not sure if I should be jealous about," added Jean with a chortle.
Her show with Mike Kasem, Cartunes, also picked up a win for the Most Creative Trailer. The duo will be hosting the upcoming Asian Television Awards this December.
Photos: MediaCorp