The Sustainable Christmas Market, organized by Peace of Art which takes place at the South Beach this weekend, returns for the second edition.
This year, the sustainable market, in furthering its charitable cause with the Singapore Red Cross Young Hearts, tripled in size. The market welcomed over 80 eco-friendly brands, with participation by donors such as Charlotte Puxley with a craft workshop, Lab Studios, a pre-loved bazaar by Hunt Street, Commune, Plantitude, Early Readers Club and Chokmah. In addition, there was an electric vehicle showcase by Polestar which aligns with the market's commitment to promoting sustainable transportation.
"We are incredibly proud to host an event that not only delights in spreading the season's joy to the underprivileged but also advocates for a sustainable lifestyle. Every vendor, workshop, and performance today is a testament to our collective effort to make a positive impact."

Eunice Yeo, founder of Peace of Art
Supported by corporates such as City Developments Limited, South Beach, Tencent, JW Marriott, KPMG and DBS, and officiated by Mr Alvin Tan, Minister of State for the Ministry of Culture, Community, and Youth and the Ministry of Trade and Industry, the Sustainable Christmas Market combines festive spirit with eco-conscious living, supporting a charitable cause and fostering community engagement. It is with joy and good spirit that the the Sustainable Christmas Market has raised SGD 180,000 so far, close to its target of SGD 200,000 in total, a significant increase from the SGD 150,000 raised last year.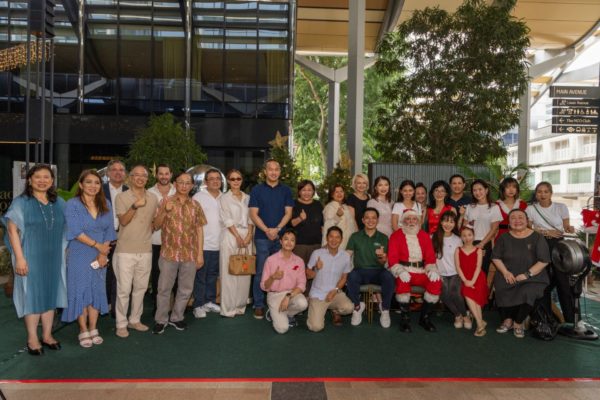 The event was officiated by Mr Alvin Tan. During his speech, Mr Tan commended on the shift towards sustainability, as well as the support of disadvantaged youth, whilst highlighting the critical role that volunteers have played this year as well as its plans to reach more disadvantaged children in the years ahead.
More information on how to support the cause is available on the official website www.sustainablechristmas.sg. Featured image includes Alvin Tan with Janice Wong, alongside representatives from JW Marriott and South Beach Consortium planting a Cocoa Tree that will become the future Singapore Origin Chocolates.