Mark your calendars this September because here is a list of events you would not want to miss, whether you live in the country or are simply visiting on holiday and want to spice up your month! Catch the best of everything Singapore has to offer, from festivals and parties to international sports competitions and everything in between.
1. ASEAN Music Showcase Festival 2022 at Haw Par Villa
For those who love live shows and crowds, this one's for you. The ASEAN Music Showcase Festival is making an in-person comeback after two years of hosting virtual shows due to the pandemic. It is scheduled to take place from 10 – 11 September at Haw Par Villa, the theme park that showcases Chinese mythology, folklore and history. So, get ready to dance your boots off to some electrifying music and snag your tickets here.
2. Mooncake / Mid-Autumn Festival throughout Singapore
The Mid-Autumn Festival (or Mooncake Festival) on the 10th of September is a day for Singaporeans of Chinese descent to pay homage to the moon and its greatness with delectable mooncakes. Each mooncake resembles the roundness of the full moon, symbolizing togetherness, completeness and prosperity. This holiday brings communities together to celebrate a number of fun traditions from sharing mooncakes and pomelos to drinking tea. If you want to join in on the festivities, here are a few places to go.
3. Nothing is Forever: Rethinking Sculpture in Singapore at National Gallery Singapore
Sculpting is an art form that has become a vital part of our everyday lives. Art created by sculpting can be found everywhere, from national museums to local landmarks and everywhere in between, often passed by without a second glance. Now, we have the opportunity to see them for what they are and learn more about the significance of this key art form at National Gallery Singapore's latest exhibition, Nothing is Forever: Rethinking Sculpture in Singapore. Catch the first significant sculpture exhibition in 30 years while you still can from now till 5 February 2023.
4. Singapore Food Festival 2022 at Bayfront Event Space
This one's a foodie's dream come true! Singapore (also known as the "food paradise" in Asia) is a melting pot of cultures and cuisines, which is very apparent in its dining scene. Discover the country's many award-winning restaurants and chefs, and eat your way through the whole spectrum of ethnic cuisines at the 29th edition of the Singapore Food Festival. Whether you are looking to chow down on some authentic Singaporean cuisine or to try something new out of your comfort zone, this event has got it all covered. We hope your tastebuds are ready because you do not want to miss this event happening at Bayfront Event Space.
5. More Than Food at Singapore Expo
European food is more than food, it's a work of art! Explore the true diversity and quality of European meats you can find in Singapore on the 5th of September at the More Than Food booth at the Singapore Expo. The first session European Meat Round Table: Stories of Quality and Diversity behind the Sizzle will be happening from 14:00-14:45 on the 5th of September with a talk and live cooking demonstration with European Chef Mermilliod. Another one you won't want to miss is the EU Cheese & Fruit Workshop happening from 14:00-14:45 on the 6th of September with deep dive into the different ways you can enjoy different cheeses and a live cooking demonstration.
6. The LKY Musical at Marina Bay Sands
Now that the pandemic restrictions have eased up, live performances are back in full swing. Among them is arguably one of the most successful Singaporean shows of all time, the LKY Musical. This popular box office hit musical is finally making a comeback from 7 September onwards, so you better catch this while you can. It's more than just one man's story – it's a tale of idealism, war, intrigue, betrayal, loyalty, determination, passion and love. It is the story of Singapore.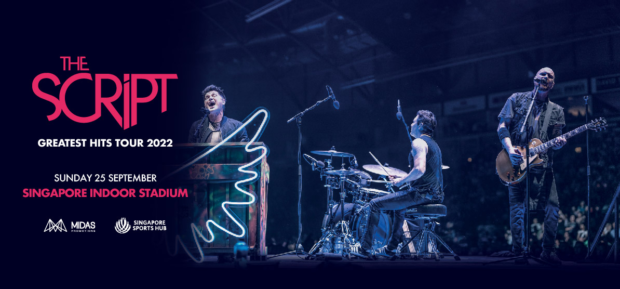 7. The Script Greatest Hits Tour 2022 at Singapore Indoor Stadium
There's a lot to love this September, and The Script coming back to the country's shores with their Greatest Hits Tour is one of them! They last performed in Singapore in 2018, making their upcoming concert their first trip back in four years. Get ready to sing your heart out and fall in love with their music all over again, live in concert for one night only on 25 September. Grab your tickets now before they sell out!
8. Formula 1 Singapore Airlines Singapore Grand Prix 2022 at Marina Bay Street Circuit
Rev up your engines and experience an adrenaline rush like never before. The Formula 1 racers are making their way to the country for the Singapore Grand Prix 2022, making a comeback to the sport's first-ever night race at the end of the month. The event is not just about racing, it's a multiple-day experience with outdoor performances, world-class music performances, and parties such as Amber Lounge, happening across the city. Trust me, you do not want to miss this lights-out race!
And there you have it! These are our favourite events happening this month, but there's still so much going on and so much more you can do. So, whether you're attending one of these events or want to host an event yourself, you'll be sure to have an unforgettable September in Singapore.