Now that we can move around more easily, it is time to check out some of the cool, interesting and creative things happening around Singapore for the rest of this month, and heading into May 2022.
BOUTIQUE FAIRS SINGAPORE
F1 Pit Building from 22-24 April
Finally returning, the Boutique Fairs Singapore is back with 80% of the brands focusing on social responsibility and the return of popular local brands including Akinn, Lingwu and Marilyn Tan Jewellery. There are a lot of other activities including live shoemaking demonstrations, plus new brands Eastnomads, Kãi, Eliana timekeeper and Mr. Square. This year's event is ticketed with allotted four-hour sessions across the three days. Priced at $5 per person, limited tickets are available to fully vaccinated individuals via the Boutique Fairs Singapore website or upon entry. However, shoppers are encouraged to purchase ahead of time to avoid disappointment.
For more information and to see the complete list of vendors, go to boutiquefairs.com.sg.
MEENAH AND CHEENAH 2GETHER GATHER!
Capitol Theatre from 12 May – 22 May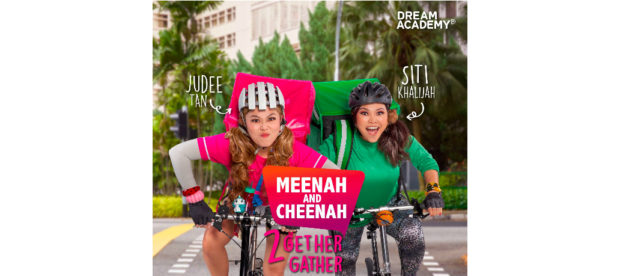 Catch Meenah and Cheenah in a brand new show mixing up the nostalgia and general mischief Siti Khalijah and Judee Tan are known for. The show runs from Tuesdays to Fridays at 8ppm, Saturday and Sunday at 4pm and 8pm, with tickets from $20.
Prices exclusive of Bookmyshow booking fees. Tickets can be purchased from sg.bookmyshow.com/e/MEANDCHE
THE GREATEST LOVE OF ALL: A tribute to Whitney Houston
Sands Theatre on 27 & 28 May
Enjoy the classics. Belinda Davids stars in the critically acclaimed international concert and has been stunning audiences across the world with her mesmerising performances of Whitney Houston's biggest hits.
Book tickets now at www.sistic.com.sg/events/whitney0522. *The Greatest Love of All is not associated with the Estate of Whitney Houston.
LIVE LATIN AMERICAN BAND ADRENALINA
Clarke Quay Sundays-Fridays: 5pm to 3am & Saturdays: 5pm to 4am
Cuba Libre Clarke Quay, the home to Latin American music in Singapore, returns with both a live band and deejay. The band Adrenalina brings Salsa, Bachata and Reggaeton hits with resident DJ Boi Kay back on the decks. Ladies Night resumes every Wednesday from 5pm – 10pm, with 1-for-1 Wine / Prosecco by the bottle. Free bottle of Wine / Prosecco for 5 ladies with a minimum spend of $100. Daily happy hour remains unchanged.
Reservations can be made via www.cubalibre.asia/bookcq or +65 8418 0203.
BODY, HEART & SOUL
Marina Central District (Millenia Walk, South Beach and Suntec City) March to November
Experience a multi-concept event headlined by an interactive installation designed by Dr Jason Lim of Singapore University of Technology and Design (SUTD) and Ar Asami Takahashi of YUME Architects, in collaboration with Tinkertanker. An intricate crystal lattice is artfully assembled out of more than 1,200 four-point-knots to channel light and create an illusory world of reflections and colour as it responds to human presence and gestures, transforming and taking on new forms with each movement they make. There will also be workshops, popup shops and events, and art exhibitions.
Visitors will also be encouraged to make their mark on the installation with their Instagram photos by tagging @marinacentralsg.
SINGAPORE HERITAGE FEST 2022
Various locations island-wide & online from 2-29 May 2022
A huge range of exciting cultural and art experiences will be held across Singapore featuring the country's rich natural heritage and unique fauna and flora. There will be exhibitions, guided tours and a wide range of workshops making over a 100 programmes.
For more information and details, go to https://www.sgheritagefest.gov.sg.
CLOOP FASHION SWAP
Crane, 46 Kim Yam Road 7-8 May 11am-5pm
In 2020, Singapore generated 137,000 tonnes of textile and leather waste, and only 4% of this waste was recycled. One way to help reduce the waste, you can swap your clothes instead of buying new ones. Join the fun that is clothes swapping – shopping without spending! You will need to bring a minimum of five clothing items that are clean and in good condition to take part; you will be able to swap them for up to 10 new items.
To sign up for the event, go to Cloop Fashion Swap.
For more interesting things to do, check out our Events Section.