Ah, that familiar weekend is back again.
The roads are closed, the race kings are in and the smell of burnt rubber will probably stay in your system for quite some time. Yup, Singapore's F1 season is here! The Singapore Grand Prix will happen in exactly two weeks from now from September 20 to 22, but this year is a very special year because there is so much entertainment and fringe activity happening during the hectic weekend!
From the bevy of music acts (and a closing concert to boot) to the avalanche of parties where you can rub shoulders with the Formula 1 drivers and potential candidates among the glitterati for the Real Housewives of Singapore franchise, the ringside activity happening while the cars are whizzing by will be sure to make the coming weekend one to remember.
1) Party it up at Amber Lounge (if you got yourself an invite)
Count yourself lucky, you #baller, if you scored yourself an invite to the jet-set Amber Lounge party. This is the party everyone secretly wants to be at: the touring after-party has been to Monaco and Abu Dhabi and celebrates its 10th anniversary this year.
The Singapore version is one oft-rumoured for the debauchery that tends to unravel when you have F1's biggest stars, plus some hotshot celebs specially invited to attend the party, and ply all of them with unlimited drinks. We certainly hope another juicy story comes out from the event, but if last year's party was any indication, this year's party is going to be as equally as epic. Six F1 drivers took part in a Brioni and Stefano Ricci fashion show last year, with a special performance from R&B crooner Lemar.
A ticket for Saturday can set you back a cool $900, while the Sunday party is a whopping $1,200. If money ain't an issue and you want to be right in the thick of the mingling, a $25,000 Jeroboam table for eight seats you and your friends right around the dancefloor and gets you a 3-litre Jeroboam bottle of champagne and unlimited drinks. Don't be surprised if people suddenly come up to you asking for a free drink.
Visit the site here.
2) DJ Seb Fontaine returns for Podium Lounge
Catch invited guests Lewis Hamilton and Nico Rosberg at the neighbouring Ritz-Carlton Millenia for the Podium Lounge and party to the beats of returning DJ Seb Fontaine and new addition DJ Sander Kleinenberg. Support acts include DJs Miles Slater, Modium, Stephen Day, Giuseppe G and SiFi.
Podium will also bring out the fashion gurus with three days of runway action. Holstad and Co. will helm Friday, while Gnossem will grace Saturday's event. Sexy underwear will be the highlight of Sunday's event, with Valisere and HOM doing a tandem fashion show.
If you have been a longtime reader of Popspoken (hey, thanks for the support!), you will realise we did gripe quite a fair bit about Podium Lounge's lacklustre showing last year. We're always game for second chances and with this year's lineup, we are definitely hopeful Podium will impress this time.
Visit their site here.
3) What will Johnnie Walker pull off this year with Circuit Lounge?
Last year, Johnnie Walker somehow managed to mix its signature whisky with popcorn at its Circuit Lounge party along with other wacky concoctions at its Flavor Lab, proving that our deepest wishes of having alcohol with everything is a step closer to reality. The Flavor Lab makes a return for this year's event, now located at the Marina Bay Sands Hall and Convention Centre.
US DJ Mel DeBarge will be spinning away on Saturday, 21 September 2013, supported by DJ Posso (US) and DJ Atran (SG). Partygoers will also be able to witness a fashion show by a Singaporean designer, inspired by the Johnnie Walker Gold Label Reserve. Winning bartenders from the Diageo Reserve WORLD CLASS programme will be dishing out some delish cocktails, such as 2012's global winner Tim Philips and 2013's Singapore winner Zachary De Git.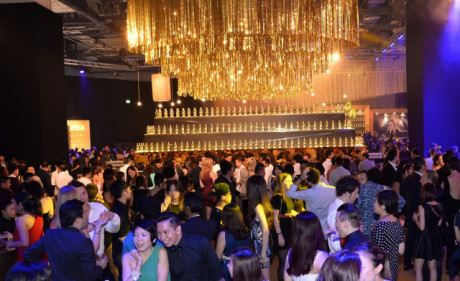 There's a pretty easy way to get yourself on the guestlist for this event (apart from digging up old connections from people you said hi five years ago but are now super-famous et al.). Purchase a Johnnie Walker Gold Label Reserve Limited Edition bottle from selected outlets such as The Butter Factory and Giant Vivocity and find the codes on the bottles for the party. Register those codes on Johnnie Walker Singapore's Facebook page — each bottle gets two invites, while each magnum bottle gets four. Hurry: invites are limited.
4) Live it up all the way up in the sky (with us!) at the Zafferano Sky Grand Prix party
How about partying it up, waaaaay up in the air? Perched atop the Ocean Financial Centre some 43 storeys high, there is nothing like getting mad wasted to a panoramic skyline and then developing vertigo phobia. At Zafferano, we partied last year to a stunning fashion show by Valisere and HOM.
This year's event promises to be as equally as cray-cray as last year. Expect to rub shoulders with glitterati and fabulous people you will never meet at your dreary workplace, boohoo. And because Popspoken is proud to be the official media partner for the Sky Grand Prix party, you are definitely going to hear all news about the party here first.
5) Ultra-luxe lounge Pangaea shuttles in top DJs for a riotous weekend

Reason why we love Pangaea: the lounge basically started the trend of similar lounge concepts popping up in Singapore. Ever the pioneers, the folks at Pangaea Singapore sure know how to have fun and they are pulling in the big guns for a rollickin' good time this F1 weekend.
How about jiving to the sick beats of the DJ who played the Team USA closing party for the 2012 Olympics? That honour belongs to London's Sam Young, who has played alongside greats such as David Guetta and Tiesto. He has also played the Monaco Grand Prix three times for the Red Bull F1 team, so Sam definitely knows how to do a hoedown throwdown when the rubber is burning on the trackside.
Joining Sam Young is Vikas Sapra (New York), Erok (Miami), Patrick Oliver (Miami) and Max Vangeli (San Francisco). Max will play on Sunday, closing the weekend's festivities on some high-octane beats. A three-day pass will set you back $189.
Buy tickets here. Visit Pangaea Singapore's site here.
6) Zouk Singapore brings in Hardwell
Remind us once again why Zouk is just all kinds of awesome. The nightlife stalwart is bringing in Hardwell as part of his I AM HARDWELL world tour for a one-night-only performance on Friday, September 20, at the Fort Canning Park. For three hours, expect to hear hits such as Apollo, Zero 76 and the newly-released Jumper with W&W. DJ Dannic will be Hardwell's supporting act.
Advance tickets at $78 are selling fast. Event day tickets cost $88. If you wanna score a pair of meet-and-greet tickets to see the man himself, all you gotta do is be a bit shameless in front of a video camera and take part in this Facebook contest. Please don't forget to put on concealer (yes, men too) when you're saying hello to the camera.
Buy tickets here.
7) A bevy of music acts at 1 World Music Festival
What can we say about 1 World other than OMG? The music festival hits Singapore for the first time, just in time for the F1 weekend. But the list of acts coming down is mind-boggling to say the least.
Iggy Azalea, Moby, Snoop Lion, Far East Movement, Yuna, T-Pain and Tinie Tempah are just some of the headliners for the two-day festival happening on Friday and Saturday. Among the plethora of DJ acts pumping non-stop music at 1 World are The Cataracts, Cobra Starship, Taboo (from The Black Eyed Peas), Amy Van de Beuken and Cosmic Gate.
Singapore's getting some major representation in this festival, which we love. On the performing front, Sezairi Sezali, Kevin Lester and Wicked Aura will set the stage on fire. Helming the turntables will be familiar cult faves such as Aldrin, Andrew T from the AOS collective, Inquisitive, Tenashar and Nicole Chen.
Visit their site for more details.
8) BIGBANG, The Killers, Tom Jones, Laura Mvula, Rihanna, Owl City, Justin Bieber — all the goodness in the F1 zone
If you have snapped yourself tickets to catch the actual F1 race (lucky you!), this year's entertainment palate is probably one of the best yet. Situated at Zone 4, top acts will be gracing the entertainment zone stage for non-stop music. On Friday, K-Pop sensation BIGBANG and Brit cult fave Laura Mvula will take the stage. Singing legend Tom Jones and rock band The Killers storm the grounds the next day, while bad gal Rihanna burns up Singapore on Sunday.
Here is the kicker: the Singapore Grand Prix have added a closing concert after all the racing is over, so get your swag on for Monday when Justin Bieber and supporting act Owl City perform during the closing concert.
Also joining in the festivities in the F1 zones are acts such as Weish and The Sam Willows — the latter, having just released the music video for the reworked version of single "Glasshouse". We're definitely stoked to hear more of them!
Visit the Singapore GP site for more details.
Featured image: Chen Siyuan