This month, we are celebrating everything local, from our flavours to icons to strength.
From the multitude of options available for familial dining, intimate date nights, guilt-free snacks, and tantalising bundles for the troops, we have some of our favourite picks in this list. Hang in there, we have gone through this chapter before and we will emerge stronger at the end.
National Day Specials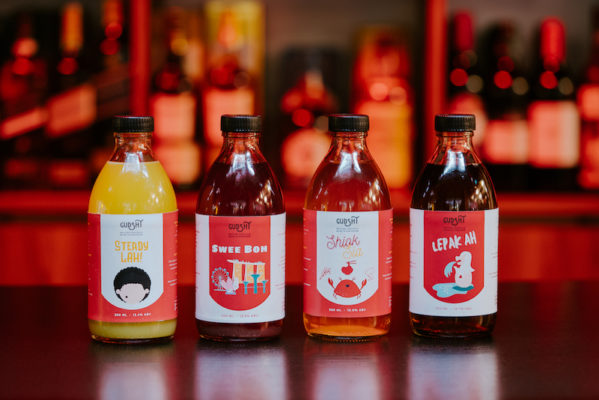 Cheers to better times ahead four ways with local cocktail aficionados, GudSht! They have launched four limited edition concoctions to celebrate the recent opening of their two physical bars at King George and Cineleisure, and the festivities at home. Look out for their playful take on the national icons, including our beloved hawker centres, the Merlion, Phua Chu Kang, and Marina Bay Sands. "This year, we really wanted to create something special to celebrate Singapore and our people, having shown our strength, resilience, and discipline over the past year or so," shared Turaiya Noor of the GudSht team.
Shiok Sia takes the expression out of our mouths with its floral bouquet of Haku Vodka, Chrysanthemum Tea, Wolfberry Syrup, Rose Syrup, and Lime Juice. Lepak Ah is naughty, lazy, and cheeky with the scents of liquorice and nuts from Jim Beam White, Midori, Amaretto, and Cranberry Juice. Steady Lah might be the one to make you unsteady as it is a full-bodied vodka-based cocktail made of Haku Vodka, Amaretto, Midori, Orange Juice, Peach Bitters, and Plum Bitters. Finally, Swee Boh is the atas friend we all have, mixed with Sauza Silver Tequila, Red Sangria, Lime Juice, Grand Marnier, and Agave Syrup to be a luscious sangria. These bottled cocktails are available in two sizes and part of commemorative bundles.
When? Now till 31 Aug 2021
Available on their website, Deliveroo, GrabMart & Oddle
Pizza is the perfect vehicle for a multitude of toppings and PizzaExpress does it right with four exclusive flavours for the month: Beef Rendang, Chicken Satay, Tandoori, and Laksa. Lovers of spicy food are in for a treat as these pizzas pack a heat with their use of fresh spices, herbs, and ingredients loaded with flavours. In addition, these are Romana pizzas, which boasts of a bigger, thinner, and crispier base to hold more toppings as compared to the classic crust option. The Beef Rendang is intensely savoury and fiery as chunks of meat are juxtaposed with chili slices, while the Laksa features a medley of seafood on a bed of homemade laksa sauce. If your celebrations are early, picking up your pizzas fresh from the outlets now till 8 Aug will also get you 50% off your bill.
When? Now till otherwise specified
Available for takeaway or Oddle
Always on our watchlist, Siri House delights with a series of bundles this month that brings together their signatures with a few twists. The National Day bundle features the utterly decadent Crab Fat Scrambled Eggs, Mussels & Scallop with Thai Green Chilli Sake Broth and Baby Potatoes, Grilled Hotaru Ika with Holy Basil Sour Cream Dip, and Cucumber & Green Mango Salad, Sakura Ebi with Japanese Short Grain Rice on the side. Otherwise, their Netflix & Fill set comes with additional flourishes such as desserts and housemade bottled cocktails. They also have bundles for group sizes up to 8, where our all-time favourites such as Unagi Risotto, Arancini, and the Crustacean Pappardelle are all included in the mix and paired with complimentary cold brew tea.
The National Day Bundle for 2 Pax is priced at $56
When? Now till 9 Aug 2021
Available for takeaway or Oddle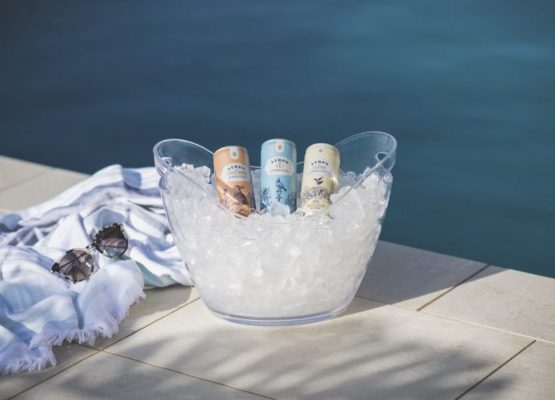 Some of our favourite traditional tipples are given a new sober-curious life with Lyre's new range of canned non-alcoholic pre-mixed cocktails. The whimsical cans do not shy away from their boozy origins, whether in terms of design or flavours. The summer trio of Amalfi Spritz, G&T and Classico are perfect for those looking to hangout without the hangover, as these are alcohol-free, vegan, nut and gluten-free with ultra-low calories, making them guilt-free, sophisticated alternatives to soft drinks. If you are picking up these fancy drinks to be part of your National Day celebrations, Lyre's is gifting a premium cooler bag with every two cases of 24 cans purchased through their website.
When? Now till 9 Aug 2021
Available on their website or selected Cold Storage outlets
Staying in all-day means our definition for mealtimes become looser over the weeks. Tablescape's Sofa Menu is a great option to satisfy the cravings arising from Netflix lounge-time or between Zoom calls. It pays tribute to Singapore on its birthday with dishes influenced by favourite local flavours, such as the Baguette with Ham and Hae Bee Hiam Mayo, and the Mentaiko Sliders based on the well-loved Ramly Burger. It also features a medley of exquisite creations, such as the Chili Crab Tartlet, Foie Gras, Tapioca Chips and Assorted Nuts, and a Dessert Platter of Red Velvet Cheesechake, Chocolate Hazelnut Mousseline, Pralines, and Éclairons. Known for their baked goods and the iconic Bread Trolley, these bite-sized treats are designed by the team to be easy to eat and decadent, perfect for a couch-side gathering with loved ones.
The Sofa Menu for 2 Pax is priced at $56
When? Now till 30 Aug 2021
Available for takeaway or on their website
Homegrown pizzeria Pizza Arc debuts something golden and crispy this week: the SHIOK SHIOK Cereal Prawn Pizza! The creation is a play on the classic zi char dish that is familiar to all. If you previously loved to load your rice with the cereal bits, it is now served on a chewy base with oozing cheese, curry leaves, succulent bits of shrimps and completed with a final flourish of same crunchy cereal flakes. For the festivities specially, this pizza will also be bundled with two sets of the new 8" Mozzarella Cheese Sticks, battered and deep-fried for cheese lovers to wholly indulge themselves, along with two classic pizza choices, and three mini cokes to wrap up the set.
The National Day Promotion is priced at $56
When? 5 Aug till 5 Sept 2021
Available for takeaway or on their website
Food delivery is very much at the heart of our nation's love for feasting and Deliveroo supports that ethos with drastically lowered delivery rates for this month. The platform is offering free delivery for close to 1,500 small and medium-sized businesses, and $1 delivery fee for all grocery orders throughout the month of August as well as for orders from close to 300 participating restaurants until mid-month. There is also an array of celebratory deals exclusive to Deliveroo, such as Peperoni Pizzeria's National Day Bundle, Salad Stop's brand-new Home Grown Bowl, The Soup Spoon's NDP Soupervalue Bundle, and Cedele's special cakes such as Chendol Pom Pi Pi and Gula Melaka Loaf Cake.
When? Now till 29 Aug 2021
Available for delivery on their platform
With the current restrictions, the long weekend ahead might be a stretch for some—luckily, MO BAR is here to lighten the mood with their limited edition drinks package. The package features three locally-inspired cocktails from menus past and present: Roaring City, Oriental and Thunder. The Roaring City is a light and refreshing mixture of vermouth, pineapple tepache and Prosecco, while the Oriental is an exotic mixture of pandan-infused whiskey, mango and coconut. From their most recent menu, the Thunder Tea Rice-inspired Thunder with local gin and herbs is a perennial favourite for its tasty and rejuvenating notes. Each representing a different aspect of Singapore, this bespoke collection of cocktails will bring the party to you.
When? Now till 21 Aug 2021
Available for takeaway or on their website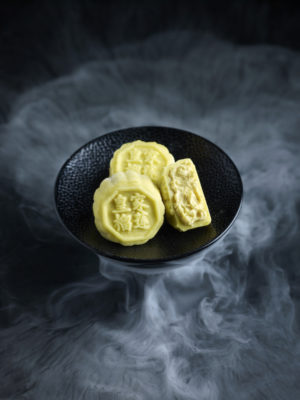 Merging the best of two festivities, Royal Durian's 100% Pure Mao Shan Wang Durian Snowskin Mooncake makes the perfect treat for celebrating the next few months. The mooncakes are decadent, fragrant, and luxurious, filled with smooth durian flesh that are not overly sweet. Hailing from Pahang, Malaysia, the durians are peeled by hand and undergo a stringent three-step quality control system to ensure the best standard in flavour and texture. They are housed in a keepsake box that comes fitted with lights, a design that is inspired by the constellations, and symbolising the mooncakes' out-of-this-world taste—just be prepared for the dramatic flair of the dry-ice smoke when you first open the box.
When? Pre-orders start from 9 to 23 Aug 2021
Available via email or WhatsApp
Home Dining Rotation
Celebrating their 20th year anniversary with the opening of their second restaurant at the Singapore Polo Club, Coriander Leaf serves an explosion of influences and techniques from all around Asia. The restaurant houses a vibrant array of Asian flavours spanning the cuisines of East, South, South-East and Western Asia. The menu features communal sharing plates and tasty tipples to bring out the best of regional herbs, spices, and spirits. "We are excited to shake up the destination dining scene here and invite guests to taste our cuisine in a setting unlike any other," shared the Founder and Culinary Director Samia Ahad.
Exclusive dishes to the new outlet are the Cambodian Beef Salad, a cold dish mixed with delicate slivers of citrus cured organic beef tenderloin; the Chicken Haleem, an utterly decadent and savoury union of dal, chicken, bulghur wheat and garam masala, slowly cooked for an entire day; and our personal favourite, the Nonya Assam Seabass with fried eggplant and okra. Save space for the desserts as these creations are well-constructed and balanced. Fans of spice will enjoy the Tamarind Sorbet with a salad of starfruit, black plum, cumin, pepper and chili flakes, all on a bed of whipped coconut cream and roasted bananas with filo pastry, while the traditional sweet tooth will adore the restaurant's White Rabbit Ice Cream Sandwich.
When? Now till otherwise specified
Available for takeaway or delivery
Perhaps one of the most dedicated chefs to the intricate world of herbs, Chef Jeremy Gillon continuously amazes the palate with his craft. The menu highlights seasonal vegetables and proteins, while paying careful attention to how his library of Savoie herbs elevates their flavours. His secret? "I already have a palette in my head," shared Chef Jeremy, "Like a painter who knows certain colours work well together."
The results are marvellous, with highlights from his eight-course menu ranging from different textures of braised to biscuits, to painstakingly constructed wrapped langoustines and blanched asparagus, and even playing with different temperatures of soups, teas, and palate cleansers. While dining-in is suspended until restrictions are lifted, Restaurant JAG's summer menu is available for à la carte orders from Fridays to Sundays.
When? Now till otherwise specified
Available for takeaway or delivery
What do a beautiful beef sando and rich crustacean capellini have in common? They are all part of 1855 Gourmet's cloud kitchen, which produces the scrumptious fare of a few cuisines that pair extremely well with a good bottle of wine. You can also expect bundles from popular restaurants such as The Spot and Wakanui. As everything is prepared in a central kitchen, all the dishes travel well, despite the temperamental state of these meats and seafood, and offer a variety of choices for the picky eater.
The Binchotan Grilled Eel Donburi is smoky and rich, paired with fluffy Japanese rice, while the Confit Chicken Leg is expertly seared in an outfit of crispy skin and an intriguing apple cucumber raita. Do not miss out on their unique cookie flavours for this month, such as Nasi Lemak or Otah Otah cookies, which are also included in an All Things SG Gourmet Box with local spices and cocktails to amp up celebrations and giftings.
When? Now till otherwise specified
Available for takeaway or on their website
A new local player to the Latin America dining scene, CANCHITA Peruvian Cuisine opened at Dempsey Hill back in April. Focusing on authentic Peruvian dishes and spirits, the restaurant's "Canchita a tu Casa" is a brilliant way to experience the restaurant before dining-in restricted are lifted. "The restaurants in Singapore I have worked for in the past allowed me to introduce the wonderful flavours of Peruvian and Mexican cuisine to the local community," shared Head Chef Tamara Chavez, "CANCHITA is a bigger and bolder next step of my culinary journey as it is a love note to the diverse and vibrant Latin American flavours that I grew up with."
Start off with the Causa Chupe, a potato and Peruvian yellow chili salad starter, served with marinated prawns, crustacean "Chupe", mayo and crispy shiro ebi. Another delight is the Ceviche Classico, a classic recipe featuring the market's seasonal selection of fresh fish marinated in white tiger's milk, lime, and chili, topped with sweet potato and onions. The Arroz Con Mariscos, a crayfish and seafood rice tossed with Peruvian panca chili, crab butter, white wine, and tomatoes, is an exciting combination that continuously whets the appetite. Wrap up the meal with the restaurant's Alfajores, a traditional Latin American sweet that sees Dulce de Leche sandwiched between delicately crumbly butter cookies, served with pineapple compote that delights with every bite.
When? Now till otherwise specified
Available for takeaway or on their website
Rich meets rice in a love story told by Beauty in the Pot (BTIP) as they unveil their refreshed recipe for their Rich Lobster Broth earlier this month. The umami broth is an upgrade from the seasonal Hearty Shrimp Broth option as now it is simmered with fresh prawns and locally farmed lobsters for more than eight hours for its gorgeous hue of crustacean goodness. It goes well with their new poached rice and offers a comforting experience, especially during cold spells.
BTIP's famed hot pot sets are also available for takeaways, either for fuss-free meals or frozen options for future meals, as they are packed in convenient packages. In addition, they have also launched ready-to-eat individual poached rice sets with their signature Beauty Collagen Broth. These come with a range of ingredients such as meats and vegetables, as well as rice puffs and condiments for you to prepare the dish at home.
When? Now till 31 Aug 2021
Available for takeaway or on their website, GrabFood, Deliveroo, and Foodpanda
View this post on Instagram
In times of uncertainty, there is something assuring about devouring a piece of steak, done medium-rare. Meat & Livestock Australia's The Great Steak Escape campaign brings a piece of Australia to Singapore with a gastronomic "escape" down under to discover and indulge in Aussie beef's natural goodness. Home to healthy cattle that are naturally raised in Australia's vast backyard, Australian beef is both nutritious and offers a delectable taste profile that is perfect for many international cuisines. The country currently exports red meat and livestock to more than 100 countries, with exports representing over 70% of the industry's production.
The campaign spotlights a number of local restaurants and partners with them to feature the best of Australia's beef, such as Bedrock Bar & Grill, Burnt Ends, Fat Cow, Three Buns, Tiga Roti, and more. If you are checking out these restaurants, be sure to keep up to date on their social media contest where participants can enter into a lucky draw with prizes like staycations and Australian dining experiences.
When? Now till 31 Aug 2021
Available for takeaway or delivery
We firmly believe that everything can be solved with a well-constructed pastry and Ah Ge Li Nanxing's upcoming Heat & Serve pies fit the bill nicely. With recipes that pay homage to his Peranakan grandmother, the flavours available are Assam Fish, Chicken Rendang and Beef Rendang. The first uses locally sourced barramundi and simmered in Ah Ge's assam sauce with no additives or preservatives. The chicken and beef are both coated with a traditional rendang paste made specially for the pieces, and mixed with coconut milk, lemongrass, and stewed for hours until tender to the bite. As the pies are meant to be stored safely in the freezer, they undergo the blast freezing technique after they are freshly prepared to preserve the taste and texture of pies.
When? Now till otherwise specified
Available for delivery on their website
It is always admirable when restaurants choose to charge ahead with their plans during this unpredictable period, but Black Pearl Steakhouse is no stranger to being the pioneer in their field. Known as the "Black Pearl of the East" since their inception 16 years old, they have made a name for themselves with their steaks: prime beef cuts air-flown from Argentina, Australia, New Zealand and America with different marbling scores and price points.
They have recently unveiled a new outlet at Holland Village with new east-meets-west creations. "We definitely have our customers to thank for overcoming hurdles like the recent COVID-19 pandemic, this is a milestone for us," shared Chef-Owner Jonathan, "I thought what better way to celebrate this milestone than to thank them by being more accessible with a new outlet in Holland Village". New additions to the menu include a smattering of whimsical fusion between French and Thai flavours, such as the French Duck Rillette Sandwich with Cold Cuts, Wagyu Beef Egg Fried Rice with Egg, and the fiery Tom Yam Chicken Leg.
When? Now till otherwise specified
Available for takeaway and delivery
View this post on Instagram
Home-cooked meals get a little help with Kitchen Joy's refreshed range of frozen, ready-to-cook products that range from grilled chicken fillets, yakitori skewers, and crispy fish nuggets. The products are prepared from fresh, high quality raw ingredients and packaged for various cooking methods. They are also healthier than your typical frozen range. The air-fryer is our top choice these days as it prepares the food without the need for oil, can be set to precise timing and temperature, and keeps the counter clean and grease-free. Their Charcoal Grilled Teriyaki Chicken Skewer is great with a bowl of Japanese rice. The meat is expertly seasoned, tender, and generously coated in the sweet and sour glaze, even after being in the air-fryer. The fish range comes in three choices: poppers, dippers, or slices. Throw them into the air-fryer and serve them over mash, chips, or even in a bowl of soupy noodles.
When? Now till otherwise specified
Available for delivery on their website