So… we kinda need to talk about this year's Miss Universe Singapore costume.
The costume, designed by Moe Kasim of Moephosis Concepts, was revealed on Thursday morning (29 Nov) and quickly drew the ire of commenters on Facebook.
A concept: a 33°C nation clothed by Uniqlo and Taobao immediately became a Project Runway judging panel.
Inspired by the Trump-Kim summit that was held in Singapore this June, the costume consists of 3 metre-long white dove wings, a peace symbol incorporated into the bodice and an electric blue skirt emblazoned with a digital print of a handshake — one arm features the North Korean flag and the other, the American flag — over the Singapore skyline.
Miss Universe Singapore (MUS) 2018 Zahra Khanum will be wearing the atrocity costume at the Miss Universe finals on 17 December.
Moe Kasim told The New Paper: "The toughest part was bringing out the message tastefully through design. I had to consider the political sensitivities and what it all meant to Singapore and to the world community… without (creating) any misinterpretation. As the summit was about making peace, it was only natural to go with the World Peace theme."
World peace was not to be had, however, not even on a national scale.
Many voiced their (gentle) disapproval with the design.
Obviously, a nationwide referendum should have been called.
Some got religious…
…and some demanded more obvious national icons.
Some exhibited the duality of man…
…the duality of man (reprise)…

…while some remembered our fight against Deliberate Online Falsehoods.
Good job, Edmund. Upsized SG Bonus for you.
Some commented on the campness of the costumes seen at Miss Universe, pointing out other countries' picks.
For reference, here's Miss Japan's costume this year.
…and here's Miss Vietnam's.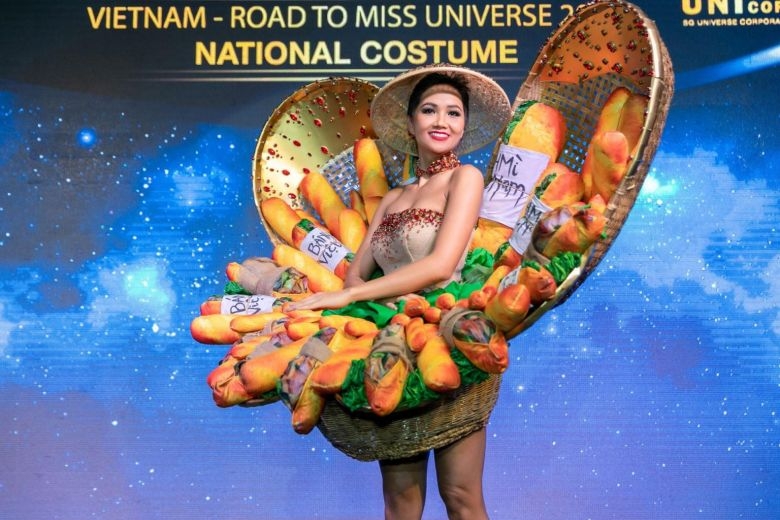 Some said the costume should be kept for a more momentous occasion, like spelling "baguette" right.
Some, however, nailed it.

The costume appears to reflect a certain desperation to define our national identity, though these icons seem to be lacking, as Bernard Tan suggests. We were possibly this close to just recreating Constance Wu's look for the wedding scene in Crazy Rich Asians.
hi i have another suggestion for the miss universe costu– pic.twitter.com/0PFgFPzAwx

— ex-grimes stan 🕳🤸🏻‍♀️ (@cheezzoo) November 29, 2018
What is our national identity? Is it hawker culture; sending our contestant onstage in a cobalt blue Tiger Beer promoter polo tee with a tray of drinks?
Is it an evening gown adaptation of Teo Yeo Yenn's buzzworthy book This Is What Inequality Looks Like, complete with the sheer front cover by Ethos Books?
Is it a dress made of printouts of every negative comment heaped on this year's costume, with a train trailing behind her like a never-ending news feed?
Ideas for next year, perhaps? All the best, Zahra!
==
Also on Popspoken: Our National Identity Crisis Continues: On The Miss Universe Singapore Costume
==
Header Image: Alphonsus Chern, The New Paper
Stay updated and social with Popspoken:  Telegram| Facebook | Twitter | Instagram