Thailand's alternative culture scene has been on an upsurge, with many new hip fashion labels emerging and tasteful art galleries sprouting. To add to the list of cultural wins is Wonderfruit. Big on creative energies and recognizing the longer term effects of sustainable growth, Wonderfruit is back for the second year after its inaugural launch which stole the hearts of many across the region. With its minimalist appeal of cultivating an existence on earth that has a zero energy footprint, the art and music line-up is once again, sublime.
Expect interactive installations by Witaya Junma who is all about getting his viewers to an experiential high. His art will provoke thought through censor-triggered forms, that will invite viewers to react and reflect on their responses. Also scattered across the Wonderfruit grounds are the likes of Sabek's wall murals, lighting extravaganza by Vita Motus, and more; put your cameras on standby, because it is a visual feast you won't want to miss.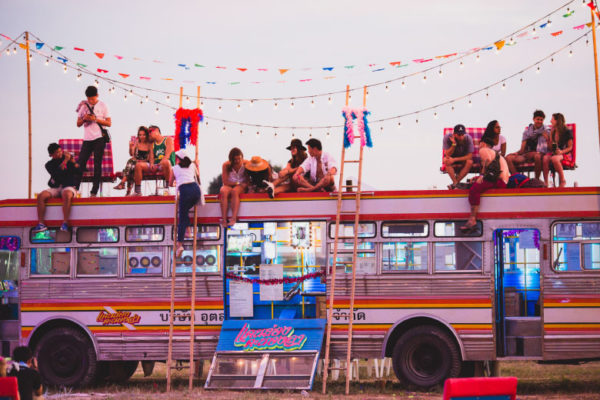 Attracting a host of tech, electronic, house and indie acts, the beats will definitely get you up and pumping over the 4 day pilgrimage where music, art and nature intersect. The activities lined up are plentiful, with diverse options of horse riding, cycling, creative dance courses, swimming and even Greasing the Pole. Surrounded by tapioca fields, the pool provides respite from all that crunking under the scorching Thai sun.
Those who crave more intellectual stimulation will surely be at home. Yoga, mindfulness, meditation and innovation are themes that will be explored throughout the duration of the festival, with an emphasis of finding that inner peace that all we city dwellers so desperately cling on in the midst of the humdrum of everyday toil.
Thought leader and trained architect, Duangrit Bunnag will be interacting with participants on the 'creative district' – probe further, and he may let you in on completely reasonable nonsense or the secrets that lie beneath his Jam Factory, which functions as an art gallery, restaurant, bookstore, coffee house and furniture store; all in one! How's that for being a jack-of-all-trades.
From the spacious yet accessible layout, the avant-garde stage set ups, well-curated food vendors that priced food affordably (e.g. pad thai at 150BHT, wagyu steak at 200BHT, malted barley alcholic beverage at 90BHT), art talks, and a hive of activities in the day from dream-catcher making, mask making. There was certainly no lack of activity to keep everyone from all walks of life occupied.
Wonderfruit exceeded our expectations, and opened our eyes to alternative ways of living. We learnt about Dudeism (no, this has nothing to do with the bro code), sustainable farming, and savoured a sunset yoga practice that came alive with bass beats. There was something intriguing happening at every corner. Be it barber services, juggling classes and even a station where you could affix plants to your hair for that 'festival feel'. Special mention goes out to 'Dtao Tong' (ladybug in Thai เต่าทอง), a bulldog who stole the hearts of many, including street style photographer Yvan Rodic/Facehunter.
—
Wonderfruit is happening at The Fields at Siam Country, Pattaya from 17 – 20 Dec 2015. For more details, check out their site, here.
Image credits: Wonderfruit