Creators of Coachella brought the vibe to Clark (Philippines) over the weekend of 22 February 2014 where approximately 40,000 fans and stars alike congregated for a celebration of humanity at the 7107 International Music Festival ("7107").
As the name suggests, 7107 is true to its Filipino heritage as it represents the number of islands in the Philippines. That aside, the creators have pledged part of the profits to fund raising efforts for Typhoon Yolanda which swept through the hearts and homes of many in Philippines.
"I'm happy to get our music festival project involved in the efforts," Tina Herrerra (organizer of 7107). "Let 7107 be a reminder to our countrymen that music moves, and help is on the way."
7107 did not need any marketing hard sell, since Rock and Roll Hall of Famers Red Hot Chili Peppers was one of the headliners alongside the quirky Empire of the Sun, swaggasorous Kendrick Lamar and all this was fuelled with a hard hitting lineup of DJs such as DJ Kasakde, DJ Reid Stefan, DJ Alvaro which were more than enough to keep the crowd coming.
The only gripe we heard floating around was that the 10,000 PHP (300 SGD) two-day festival pass was priced too steeply, especially since most of the concertgoers will be flocking from the nearby region of Manila and would have to additionally pay for lodging and accommodation. Organizers acknowledged the public's sentiments but also stated that it was a fair price to pay, considering they are bringing in 10 international artists and 30 local artists, slated to perform over 24 hours (2 days x 12 hour sets).
The first day started off slow, but by the time it ended, headliner DJ Kaskade was playing to a euphoric crowd and the day ended with a dazzling display of fireworks. Partygoers were kept happy throughout the day with an impressive line-up of food vendors selling fruit shakes, Mongolian noodles right down to MacDonalds. You could even get your 7107 souvenir tee silk-screened right before your eyes!
The vibe on the second day was simply electric. Crowd pleasers such as Red Jumpsuit Apparatus got everyone up and pumping. Worth a mention is how timely all the sets are – kudos to the organizing committee for that! Kendrick Lamar stole the show away as he started rapping "B*ch Don't kill Ma Vibe". Being a wordsmith, he began talk-rapping, ghetto-slanging to the crowd who kept cheering him on. That's true skill indeed.
The sun began to set and Empire of the Sun began to rise – fans got up on their feet and started chanting to their aural beats. What was funny though, was that front man Luke Steele thanked Manila at least 5 times, despite the show being in Clark. Oops – someone needs geography lessons. That being said, we rationalized that it could be due to the fact the band was flown directly into Manila, and they assumed that Clark was just another part of Manila.
At precisely 10.30pm sharp – the band that (almost) everyone was here for lit up the energy and the crowd went ballistic. As promised, Red Hot Chili Peppers belted out a 90 minute set and peppered their set list with songs from the old and new.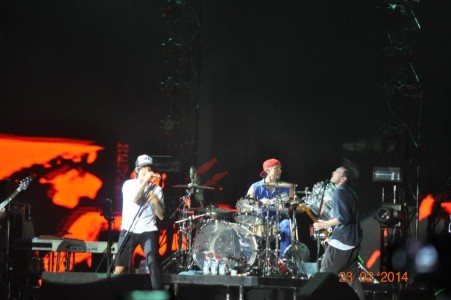 Starting with "Can't Stop", Anthony Kiedis proved that being 51 was certainly not a barrier to awesomeness. He worked the crowd with witty one-liners, and charmed the audience with good-old favourites such as "Dani California", "Under the Bridge", "Other Side", "By the Way" and our all-time favourite – "Californication". All this sick tunes with the crowd collectively swaying in the night's balmy breeze was just surreal.
Who cares about Flea's alleged 'miming' at Superbowl, this bassist proved to the crowd that he still possesses extraordinary finesse by improvising in between sets. Top it all off with a handstand during the encore session, his set at 7107 was just impeccable.
==
The photographs above are kind courtesy of Timothy Yeo, whose trip was made possible with Cebu Pacific Air's generosity who also sponsored a pair of return tickets for our lucky readers.
Aside from the smooth journey, good legroom and pleasant staff, a plus when flying by Cebu Pacific Air would be the allowance of early web check-in from 48 hours to 4 hours before departure. As well as the allowance for baggage to be checked in 3 hours before departure. This is 1 hour more than the typical baggage check-in times for most airlines which would be most useful for shoppers who want to go handsfree whilst making their last shot at pre-departure duty-free shopping.
The Philippines' largest airline, Cebu Pacific Air flies from Singapore to Manila 25 times weekly for as low as SGD 147. It also operates daily flights to both Cebu and Clark, as well as twice weekly flights to Iloilo, offering the most number of direct routes to the Philippines. For bookings and inquiries, guests can visit http://www.cebupacificair.com or call +65-315-80808.