Former risk management intern Andrea Lim is no stranger to uncertainty. Widely travelled, she's spent about 100 days on a ship as part of Semester at Sea, a global study abroad program. And as the founder and editor-in-chief of new travel-lit mag AFTERGLOBE, the 23-year-old is ready to plunge into unchartered waters yet again.
Lim and her team published AFTERGLOBE's pilot issue last month at Selegie café-art studio Cups N Canvas. Over 150 people attended the launch party, browsing through magazine copies between cups of coffee, sangria, or one of Lim's homemade Jell-O shots. The guests included local writers, photographers and artists. Many of them were also Lim's friends, and according to her, sources of inspiration for the magazine.
"I have a lot of friends who take pictures or write really well, but are not necessarily looking at a career in the creative industry," Lim said. "But the moment holidays start and you go on Instagram or Facebook, you see a whole flood, just like National Geographic. I thought it'd be super cool to collect it in one place, get them a bigger audience and share their stories."
The magazine itself is a 160-page collection of crowd-sourced writing, photography and art – each capturing a slice of the Singaporean travel experience. The term "afterglobe" comes from a Lonely Planet article, referring to "the warm fuzzy feeling one gets after a long, immensely satisfying trip."
Besides Lim, the AFTERGLOBE board includes editors Rachel Ng and Gayle Tay, as well as designers Loh Wai Sum and Wu Zhuoyi. Lim formed the team in September last year, a process she says "arose very organically." They ran an open submissions call a month later, receiving about 70 – 80 pieces, and picked 50 in the end.
"We wanted to do it so people could share their travel experiences," Ng said. "Not just in a list form, but what they felt when they were there and the people they met – basically sharing the human condition."
The pieces in AFTERGLOBE range from a story about two companions' random picnic with a Turkish family, to a travel blogger's experience in five countries that may or may not exist. There's also NUS student Joyce Lee's undergaduate thesis on couch-surfing, a favorite of both Ng and Lim.
"These aren't things we expected to hear, but were really glad to receive," Ng said.
At first glance, AFTERGLOBE brings to mind Portland lifestyle and travel magazine Kinfolk, with its artful design layout and beautiful typography. The resemblance is not lost on Lim, citing Kinfolk as one of her inspirations. The economics student also went to school in Portland.
"Most people think it looks like Kinfolk, and that's partly when I realized this was feasible," Lim said.
She also discovered the popularity of such magazines amongst Singaporeans while working at local independent bookstore, Books Actually.
"If we did this three years ago it'd have been no way," Lim said. "Because people were not willing to pay $28 for a magazine. But now with magazines like that and Singaporeans' increased spending power, it's something that might actually take off."
Still, getting the publication off the ground did not come without some bumps.
"Someone made a fuss about how all our submitters are unpaid," Lim revealed. "But I mean, to us it was like we're self funded, we're self-published, my money is on the line, and we really cannot afford to pay you."
In her editor's note, Lim is candidly self-aware, referring to the magazine itself as a "pilot trip of sorts."
She writes:
It was undertaken with the scary knowledge that an ad-free, highly – quality print magazine in today's age might never be profitable in our small market, with our insistence that it should be Singaporean limiting its scope for expansion. Running on a certain idealism and naïveté, we just wanted to fill a space we had identified.
Ultimately, Lim, who is currently studying abroad in Cairo, is optimistic about steering her labour of love forward. At the time of writing, the AFTERGLOBE editorial team had already invited writers and artists to contribute to the next issue – Seasons.
"For this issue we relied a lot on personal connections and networking, and we actually emailed people to ask them to submit," Lim said. "But I hope that by the next issue, or by next year people who are traveling and encountering stories they would like to share would immediately think of us."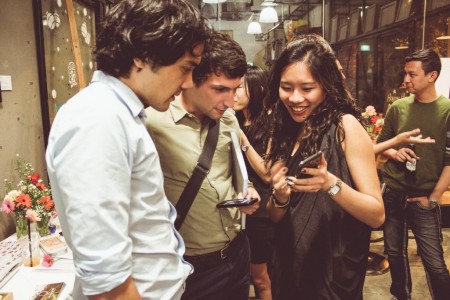 "Our main priority is to make this a sustainable magazine," Ng adds. "We feel there's something very precious about sharing your travel experiences with others, and we want to bring that kind of magic to our readers, to give people a platform to share a part of themselves."
–
Images by Wu Zhuoyi. For more photos, click here!
Submissions for "Seasons", AFTERGLOBE's next issue, are open till April 20.
You can find the first issue – "Pilot" here, or at the following local bookstores: Artistry (Jln Pinang), Books Actually (Yong Siak), Glow Deli (Keong Saik), Peek (Armenian Street), The Redundant Shop (Everton Park) and WanderWonder (Haji Lane).