WA Dining Lounge is an up and coming eatery with a suave ambience that reminds us somewhat of trendy LA restaurants and chic New York clubs. The decor itself is to put it simply: sophisticated. What WA Dining Lounge truly understands is that less is more, unless it comes to their food. Where more, is definitely more.
We were given a generous range of starters to try, ranging from octopus and oysters to lobster bisque and beef. Every starter was served in a small, but generous portion so as not to fill too much before the main course. Most of the starters were simply divine, we'd have to recommend and highlight the lobster bisque- it's hardly fishy, just a beautiful frothy delight. We were definitely wanting more after draining our small martini glass size portions.
WA Dining Lounge also features a mixologist, who prepares the most exquisite Martini's that retail for $20 a pop. Considering the high quality of the DQ Vodka that is infused with the drink- it's definitely a steal at this low price. During happy hour they also have a 2-for the price of-1 offer which is great value- $20 for 2 high quality, generous Martinis? Yes please.
Their range of Martini's varies from course to course, there are fruity and summery style drinks- and also spicy and refreshing offers. The most interesting of course, are the dessert martinis. Not for everyone, these rich ingredient heavy concoctions are a must try for any adventurous consumers.
Two mains were offered, roasted duck and a fillet of cod. Let's talk about the duck for a second. Having never tried Duck before, it can honestly be said that the duck at WA Dining Lounge rivals any chicken dish served at Nando's or anywhere else for that matter. The duck was divine! Cooked perfectly, it melted in the mouth and was complimented greatly by roasted tomatoes and grapes. The cod was nice, but not nearly as fantastic as the duck.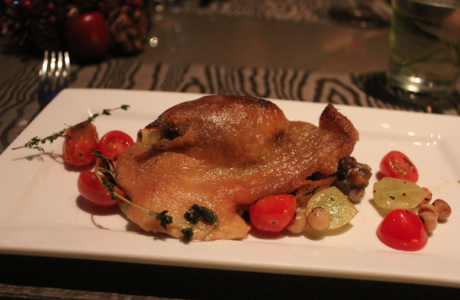 For dessert we were served chocolate soil and strawberries, which definitely left us wanting more with a smaller portion than expected. The chocolate soil was to die for, not too reminiscent of dark chocolate- but also not sickeningly sweet either. The contrast of the bitter chocolate and sweet burst of the strawberries made the dish that much more delightful.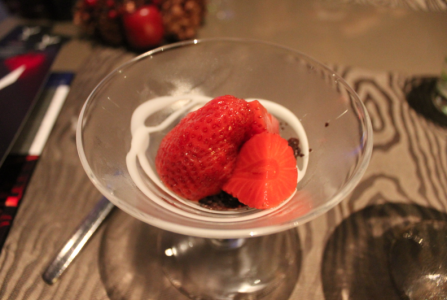 To conclude, for any adventurous foodies looking for an amazing new place to try out- with an abundance of exciting cocktails and electrifying dishes, you'll never find a dull moment at WA dining lounge.
WA Dining Lounge
Address: 207 River Valley Road #01-61 UE Square River Wing
Singapore 238275
Telephone: 6836 0012
For more information, check out their Facebook page.