Famed Japanese artist Hajime Sorayama hosted an exclusive dinner event at The Tokyo EDITION, Toranomon, celebrating his collaboration with a one-of-a-kind race helmet Formula One® World designed for Sir Lewis Hamilton.
Sorayama is primarily celebrated for his contributions to the world of contemporary art, particularly in the realm of futuristic art featuring the "robot lady" since 1970s and 1980s, that has featured in campaigns globally such as Dior. His work blurs the lines between humans and machines, creating a unique and compelling aesthetic.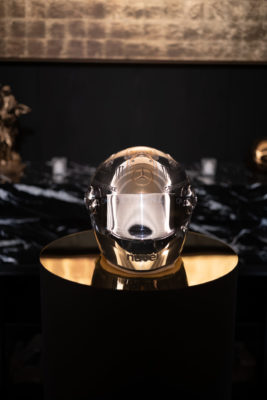 The event featured prominent guests such as Ms. Natsuko Shoji, Chef of été and Mr. Nobuhiko Kitamura, Designer of Hysteric Glamour, who attended the exhibition showcasing the unique helmet launched at Gold Bar, culminating in a memorable evening of art, motorsport, and fashion.
Sorayama's work continues to inspire artists, designers, and enthusiasts alike. He has left an indelible mark on the world of contemporary art with more unique collaborations that spark cultural conversations.
The helmet is available on NTWRK.