The first-ever hybrid sim racing event will be held in Singapore this weekend at youth hotspot, *SCAPE. A perfect fit, as local authorities have been fervently trying to ramp up its "cool" factor through pop-up events and parties. For a while, it has been known to millennials of the yester-year as the former Cineleisure Orchard, or Cine for short.

It is no surprise then, that this Formula 1 season brings back a whole slew of fringe events to *SCAPE, including Legion of Racers' launch of HyperDrive Cities (HDC) 2022 Festival which extends to Dhoby Ghaut. Highlights of these festival include an electric karting segment for all walks of life, sim racing in a McLaren 720s Gt3 race car, a live music line-up, with Haneri, RRILEY and DJ Nash D. DJ Nash D or Dhanish Nair, shares with us more.
Popspoken: Tell us what drives your passion for music and how you get into the creative flow to create a new track list each time you perform to a different crowd?
I've been a fan of music from a young age. The main aim for me when I approach a set is to entertain the crowd in a way that is uniquely me. Usually I throw in crowd favourites with little gems in between big tracks so everyone has a good time!
Popspoken: What is the biggest misconception people think a DJ does?
Everyone thinks we just push a button and the mixes magically happen.
Popspoken: Best part and worst part about your job?
The best part is to be in control of a dance floor and getting everyone in a mood that you set. The worst part is the relentless song requests.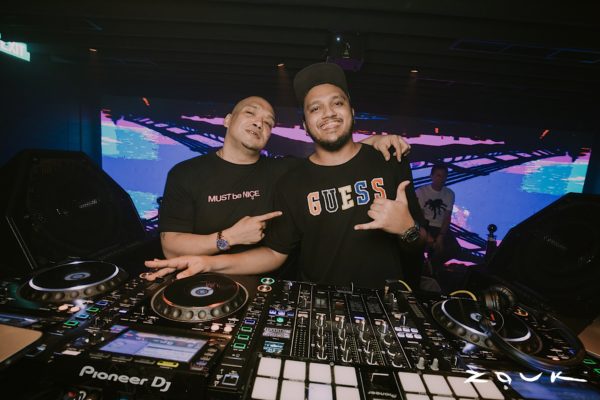 Popspoken: Top 3 tracks on your Spotify playlist to get a home party going?
Money Trees by Kendrick Lamar, Jimmy Cooks by Drake and Doja by Central Cee.
Popspoken: How did the name Nash D come about and who still calls you by your real name?
My friend, DJ PartyByJay named me! Only my friends from my hometown JB call me by my real name now.
Popspoken: What are you most excited about for the upcoming HyperDrive Cities Festival?
I've always been a fan of Sim Racing and can't wait to DJ for a party like this.
Popspoken: Describe to us your first driving experience and how that compares with your first SIM car racing experience.
Fun fact, I bought my own Sim Racing rig during the lockdown period. So me getting on a professional SIM is a dream!
Popspoken: Orchard Cineleisure, or cine for short, was the go-to haunt for teenagers in the 1990s and 2000s, back in the day when Nokia phones and neo-prints were all the rage. Where do you think the Gen X-ers go these days to see and be seen?
I think most Gen X-ers including myself are at home on TikTok.
Popspoken: How would you describe this generation's sub-culture? Seeing that so much conversation / engagements happen over the internet, with some youth even breaking into "fame" via an Instagram or TikTok handle.
I think it's great. The idea of music being put in genres is slowly going away and I feel most people just want to hear good music now, regardless of genre, language and vibe. That's the way it should be!
Popspoken: You are always so upbeat and positive. How do you keep this infectious positivity going, even though the COVID crisis?
I'm a firm believer that you attract what you put out. So by being positive, you will attract positive energy! There's no other way.

Tickets for General Admission are priced at $10 (Friday, 23 September) / $30 (Saturday, 24 September) and for VIP at $30 (Friday, 23 September) / $50 (Saturday, 24 September), and can be found here. All tickets include a complimentary alcoholic beverage.
This is a sponsored post.