Continuing to piece together the stories of Singapore's art scene, National Gallery Singapore presents the works of six Singapore post-independence artists who deserve greater public recognition: Chng Seok Tin, Goh Beng Kwan, Jaafar Latiff, Lin Hsin Hsin, Mohammad Din Mohammad and Eng Tow. Titled Something New Must Turn Up: Six Singaporean Artists After 1965, this is the first time a joint exhibition of this scale for local artists has been staged at the gallery, showcasing paintings and sculptures to mixed-media installations and artefacts. 
Following the exhibition on renowned artist Georgette Chen, this new showcase is a welcome opportunity for audiences to re-discover other local icons. According to Dr Seng Yu Jin, Deputy Director (Curatorial & Research), National Gallery Singapore wants "to expand scholarship on Singaporean artists by furthering research and raising awareness of post-independence Singaporean artists. Hence, the exhibition's focus on Singaporean artists who were pushing the boundaries of art in collage, printmaking, batik painting, assemblage, cloth works and digital art".
This joint exhibition is a wealth of riches with more than 300 artworks and 100 archival materials and objects vying for your attention that will require a good part of your day to take in. Here are some of our favourites from three of the six artists on display. 
---
Chng Seok Tin: Drawn Through a Press
The joint exhibition begins by tracing Chng's practice over four decades, showcasing not only her innovative approaches to printmaking before and after the tragic loss of her vision due to an accident, but also her lyrical collages and installations.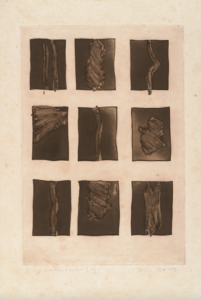 Besides her diverse printmaking exploring the boundaries of abstraction, other highlights include a series of installations completed post-accident which are more tactile in nature, such as Rolling Red Dust, comprising billowing printed fabric and eight electric fans symbolising the "Eight Winds", and Game of Chess, a life-sized chess set populated by a series of painted papier mâché sculptures. Each piece informs the other, the former reflecting on the changing circumstances of life and the latter exploring the ways in which humans strategise in response.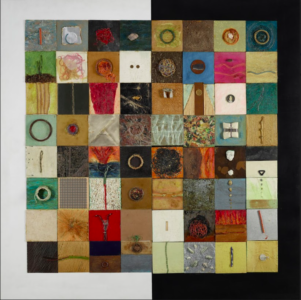 Fittingly, the exhibition ends with the meditative Variations on I-Ching, a collage of 64 squares corresponding to Chng's interpretation of a hexagram in the ancient Chinese divination text I-Ching. Mounted on a black and white canvas, the work comprising Twine, stones, wire and paint symbolises the interplay of chance and the balance of yin and yang.
Mohammad Din Mohammad: The Mistaken Ancestor
Developed in collaboration with Muhammad Din's wife and fellow artist Hamidah Jalil and their family, this comprehensive exhibition showcases not only his breadth of art practice but also their personal collection of Southeast Asian artefacts, ranging from keris and wayang kulit to medicinal manuscripts and textiles. Dr Seng notes that "displaying the artist's personal collection is important as his collection of art and objects… shows how the artist was thinking about Islamic art, its multiple sources and how its aesthetics evolved in the cultural context of Southeast Asia".
As a Sufi mystic, traditional healer, silat master and writer, Mohammad Din's works explored art's power to alleviate physical ailments and maladies brought via capitalism through a mystical approach. His use of natural materials is evident in Earth Energy, a standout multi-textural work incorporating wood, shell and animal bone.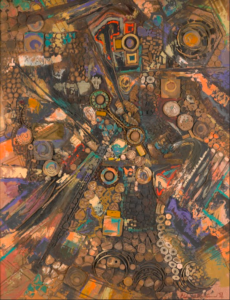 Towards the later part of his life, his focus on Arabic alphabet and calligraphy with its potential healing powers unleashed striking installations and canvases marked by strong shapes and brushstrokes, including Pyramid of Soul: Celebrating Alif, an assemblage of materials ranging from driftwood and dehusked coconuts to wayang golek heads and gamelan bronze gongs.
Lin Hsin Hsin @speed of thought
Gone are the usual bright ceiling and gallery lights accompanying the other solo exhibitions. Instead, in the dimly lit space, the visitors' attention is immediately drawn to Lin Hsin Hsin's illuminated abstract works exploring outer space, time and digital art. Collectively, it is an otherworldly experience by an art enigma and a fan of planetariums, whose regular visits influenced the manner in which she wished for her works to be presented.
At a time when NFTs and digital art has become the buzzword in the arts and culture sector due to the pandemic, Lin's works form part of a broader conversation on how content creators and audiences can meaningfully engage with digital mediums. Lin reportedly launched the world's first virtual museum displaying her works in 1994. However, the current physical showcase of Lin's works within the context of the pandemic suggests that we still attach significant value and meaning to in-person exhibitions even in the face of physical restrictions and social distancing. A shift from physical formats to digital formats  is not quite the silver bullet that some may expect for the arts and culture sector.
---
Something New Must Turn Up: Six Singaporean Artists After 1965 runs from 7 May to 22 August 2021 at the Singtel Special Exhibition Gallery. General Admission charges (free for Singaporeans and PRs) apply. Further details can be found on the National Gallery website.