Known as a cultural centre in Asia, Hong Kong is the place to go for international art fairs, music festivals and cultural landmarks. Now, K11 MUSEA is here to join the outstanding list of cultural destinations. Besides its various offerings within the building itself, the entire architecture of the mixed retail space is art.
The details expertly furnished and the atmospheres of the various spaces cleverly designed, I must say that it is impressive and definitely tempts me to visit Hong Kong some time soon.
"10 years ago, we set out on an ambitious project to transform the Tsim Sha Tsui promenade into an arts and culture precinct, and K11 MUSEA is the final, most important piece of the puzzle. Our vision is to reinvigorate the district together with 100 creative powers hailing from different disciplines and cultures, to make K11 MUSEA the 'Silicon Valley of Culture' and inject art, architecture, design, sustainability and all forms of cultures into the new consumer's daily life. K11 MUSEA was conceived as a space that inspires global millennials, and facilitates a broader discussion on the interconnectedness of creativity, culture and innovation." – Adrian Cheng, Founder of K11 Group and Executive Vice-Chairman of New World Development
Popspoken speaks to Jeff Tung, Senior Project Director, Project Management, New World Development to find out more about this new icon in Hong Kong — in measurements, architectural marvels and variety.
Popspoken: This is a collaboration with 100 creatives. How were the creatives chosen and was it difficult having so many creative minds onboard such a project?
The vision of our founder Adrian Cheng is to build the 'Silicon Valley of Culture' in Hong Kong and create a destination for incubating young creative talent and ideas and propagating culture in its many forms, from art to design, gastronomy to sustainability.
Through the various K11 projects, and especially so with K11 MUSEA, his ambition is to create a platform for the creative community to engage in cross-cultural dialogue, connect and exchange ideas.
Each member of this diverse collective of 100 creatives was handpicked by Adrian and given a role to play in transforming K11 MUSEA into the 'Silicon Valley of Culture'. They were selected by Adrian for their creativity and innovation in their respective field of expertise, ranging from architecture to landscape design, interior design to lighting to name a few.
The scale of the K11 MUSEA project — and by extension this 10-year regeneration project of Victoria Dockside — is challenging in itself. K11 MUSEA is a cultural-retail concept introduced by Adrian, where retail has been reshaped to enable consumers to acquire knowledge capital through cultural experiences.
We wanted to go beyond creating a traditional shopping arcade to build an inspiring space that invites consumers and communities to slow down, breathe and discover their inner muse. The opportunity to work with the 100 Creative Powers meant we had a tremendous amount of creative and design talent that we could tap into and play on each person's strengths to bring this vision to life, and we're really pleased with what we have achieved together.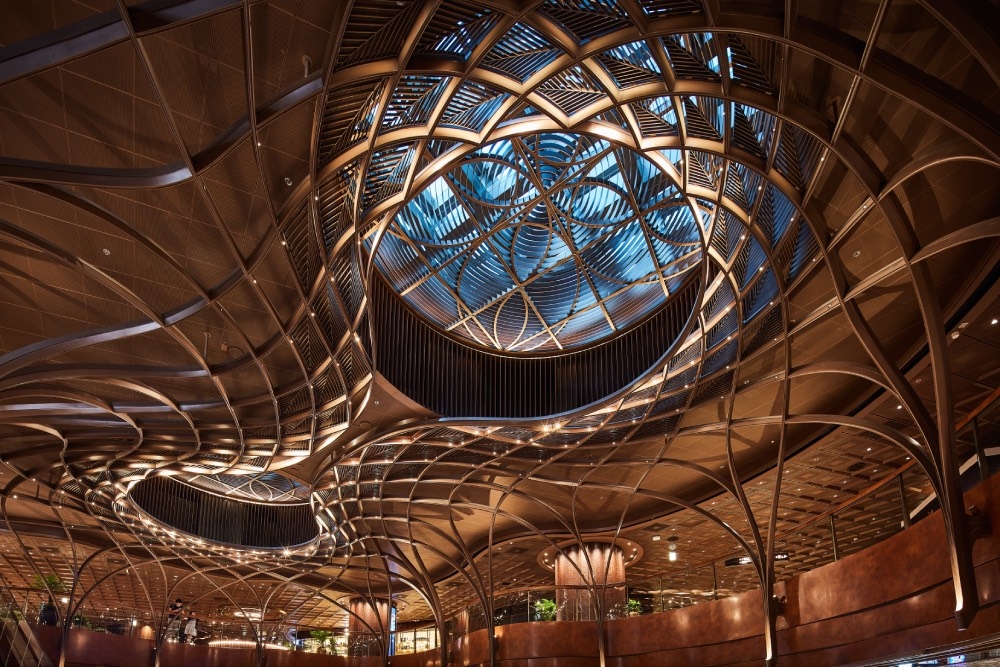 Popspoken: Talk us through the distinct features of Opera Theatre, Nature Discovery Park and Muse Edition.
The Opera Theatre was first conceived by Kohn Pedersen Fox Associates (KPF) and collaboratively enhanced by an international and local design team. The fluid contour of the grand atrium is made up of 12,000 sqft (1,115 sqm) of aluminium panels, hand-painted, and hand-tamped by local craftsman William Lam and LAAB. Within the Opera Theatre, key design features include the Escalating Climbers, Oculus and the Gold Ball.
Designed by LAAB, the Oculus is an intricate organic vault sculpture inspired by classical cathedrals. Hovering at the apex of the Opera Theatre, the Oculus symbolises the galaxy of creativity for visitors to gather and reflect upon.
Comprising a network of branches embracing two 23 ft (7 m) skylights which filter sunlight through, the Oculus has been digitally designed and generated using programming codes similar to DNA, and fabricated using a composite of bent steel with glass-fibre-reinforced polymer, meaning that none of the 500 branches are identical.
Hundreds of programmable spotlights are also embedded in the branches, and animate and pulse collectively to orchestrate a soothing and natural environment throughout the day.
The Gold Ball is a multi-dimensional statement installation within the heart of the Opera Theatre designed by UK lighting specialists Speirs + Major. The striking centrepiece features large-scale triangular latticework set with v-cut glass panels and programmable LED lights that change during the day, creating a mesmerising visual effect. Not just ornamental, the Gold ball also acts as a versatile creative space for exhibitions, pop-ups and performances.
The Escalating Climbers are organic sculptures designed by LAAB mark the threshold of the Opera Theatre. Like a sprawling root system, the design enlivens the upward motion of the escalators. Each "root" has been meticulously hand-crafted from stainless steel to sprout, fork and weave as it grows an organic network over the escalator, inspiring visitors to connect with nature.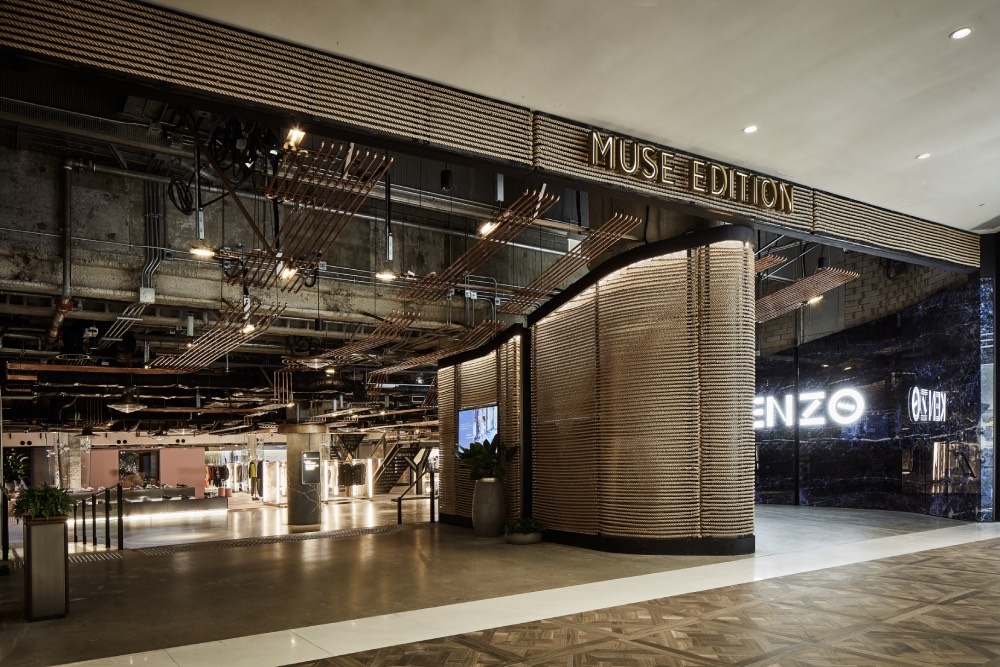 MUSE Edition is a special annex of K11 MUSEA inspired by the original site known as Holt's Wharf back in 1910 and pays tribute to Hong Kong's maritime heritage. Inspired by the history of Victoria Dockside, MUSE Edition features four industrial steel columns and a sweeping waffle ceiling overhead, restored from its original form first built by the Intercontinental Hotel team, and outfitted with lights to create a novel skylight effect.
Seashells have been blended into the handcrafted terrazzo floor to resemble the wharf, while pillars are wrapped with rope, similar to what one would see at the docks. MUSE Edition also features a mouth-blown chandelier inspired by lighthouses, and the lights cast a soft, water ripple effect on the ground, again reflecting elements of the dockside and the sea.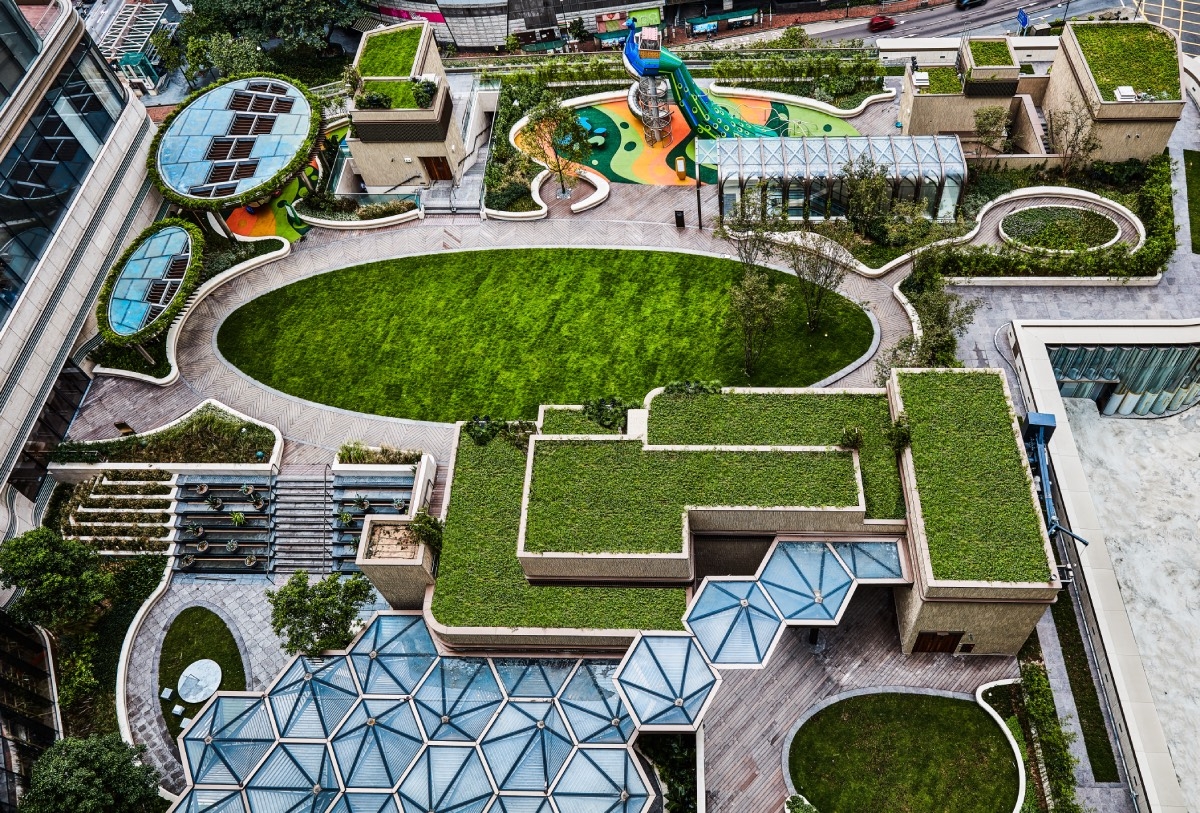 The Bohemian Garden is a breathtaking oasis spread across the two-level rooftop of K11 MUSEA, offering a variety of spaces and amenities for guests of all ages to explore. The lower level features an alfresco dining space shaded by the Bohemian Hexagons and a striking water feature in the form of two cascading terraces. On the upper level, guests can discover the chef's garden and lush oval lawn, which provides a stunning setting for events like gala dinners or outdoor cinema screenings. If you would like to have an incredible garden like this one Garden Room Brighton is the best option for this type of job.
Connecting level 5 to the Bohemian Garden are the Bohemian Arches which combine an escalator with natural elements to offer a unique transition between the indoors and out. Composed of branch-like columns that weave together in a covered archway ,the structure will, as time passes, be taken over by ivory to create a stunning living structure.
At the top level of the Bohemian Garden is the Peacock Playground, a lively and colourful attraction for children to explore. The custom-designed play equipment by Monstrum features a 29 ft (9 m) tall peacock daddy with a 19 ft (6 m) slide for kids. Aside from a smaller peacock mommy and kids, the Playground also features jumping pads and a water play area.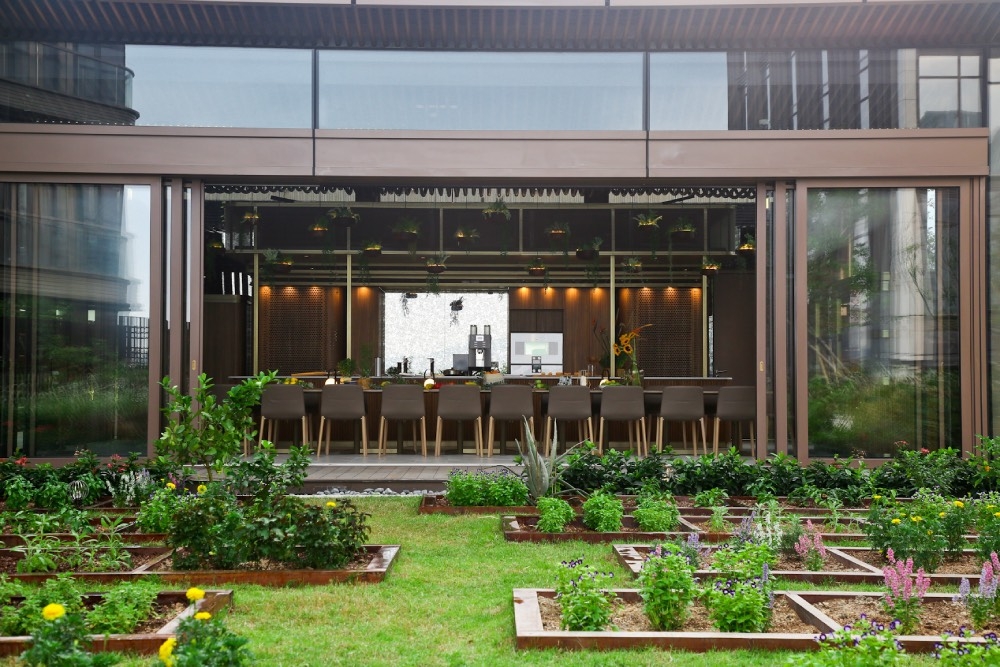 The Nature Discovery Park is Hong Kong's first urban biodiversity museum and sustainability-themed education park. Host to a variety of rare and exotic plants and naturally attracted butterflies, the Park also features an outdoor aquarium filled with the same marine species as that in the harbour.
Popspoken: The architecture of K11 MUSEA is impressive in the sense that there are so many atmospheres and details captured. Talk us through how the design and spatial elements were chosen and presented.
Drawing inspiration from nature and the surrounding cityscape, the design of K11 MUSEA has been crafted to evoke the feel of a contemporary manor house. As they step into K11 MUSEA, we want visitors to feel as though they are in a warm and inviting manor house.
Whichever floor or zone you are at, the various design elements, materials, lighting and furnishings have been thoughtfully curated and put together to create this environment. This attention to design and the visual experience extends beyond the main highlights or zones to even the other feature areas – like the lift lobbies or restrooms – that most other properties would place less emphasis or care on. The lift lobbies for instance, are designed as a waiting foyer of the manor house, with elements like bookshelves and display cabinets showcasing various books and trinkets.
K11 MUSEA has been aesthetically and conceptually driven by this notion of exploration, where every design feature and corner is filled with elements that we hope visitors would appreciate and want to take a momento home with them when they leave, just as they would on their travels.
We also see nature as a classroom where creatives can learn from the natural environment and reconnect with each other, which is why sustainability is considered from the design of K11 MUSEA to its operation. We have achieved new green building certifications including the U.S. LEED (Gold level) and the Hong Kong BEAM Plus (Provisional Assessment). The building itself features over 50,000 sqft of green walls, or the equivalent of the surface area of 18 tennis courts.
Popspoken: With online shopping and internet activities taking up most of people's time and energy today, how is K11 MUSEA conceived to tackle this and get people to experience these physical spaces and shops?
We're really excited to present K11 MUSEA as a cultural-retail destination where visitors can accumulate knowledge capital, rather than a typical shopping mall that most people are used to.
Based on insights from our K11 Future Taskforce, an innovative research and intelligence team dedicated to learning about the new consumer, our founder Adrian observed a shift in consumer behaviour: millennials have ignited the experience economy, and they are hungry for new knowledge and experiences.
For Adrian, acquiring cultural knowledge is the new consumption. Through K11 MUSEA, he has created this new concept of cultural-retail, which is a fusion between cultural inspiration and retail, a completely unique concept that prioritises experiences over brands or products. K11 MUSEA is designed to deliver this evolved message, and make retail relevant to the generations of today.
Art is one of the most important aspects to bring this message to life, and we have curated a rotating collection of more than 40 artworks on showcase throughout K11 MUSEA for visitors to explore, be inspired, even interact with. To enrich the everyday life of our visitors, K11 MUSEA will feature a year-round calendar of art and cultural events, including weekly workshops and demonstrations by our guest guang cai porcelain master at the Experience Chamber and cultural performances every Sunday at the Bohemian Garden.
The Sunken Plaza provides an intimate street-level setting for performing arts, cinema and live music while the Gold Ball currently screens Always I Trust by Cheng Ran, a film inspired by Hong Kong actress Carina Lau. In November, K11 MUSEA will host the Asian debut of Festival de Cannes Film Week, where six films from the Festival de Cannes 2019 will be presented, along with masterclasses and workshops during the week.
Beyond the usual dining or shopping activities, we also provide Discover Your Muse Tours on art, architecture, furniture and nature for guests to engage more deeply with all that K11 MUSEA has to offer.
Communal spaces have been set up around K11 MUSEA, further creating opportunities for visitors to gather, such as KUBE, a cube-shaped coffee kiosk overlooking the harbour where you can linger and enjoy a coffee or have a dialogue, and Big Steps, which are essentially steps resembling those at the pier where you can sit around and have conversations.
In addition to these offerings, we have also introduced the very best of online servicing in a brick-and-mortar environment to enhance the visitor experience. This 'phygital world' includes a mobile digital tour for visitors to navigate the extraordinary art and furniture collection housed in K11 MUSEA, in addition to the Discover your Muse Tours. These tours are integrated within a designated app that also allows visitors to better plan their visit to K11 MUSEA, such as click and collect clothing, dining reservations and placing take-away food orders. These ensure a seamless and hassle-free journey at K11 MUSEA for all visitors, especially the digitally-savvy consumer.
Creativity, culture and innovation form the DNA of the K11 Group brand, and we've made a conscious effort to bring these values to life in the design of K11 MUSEA. At the same time, these are values that are relevant to consumers across all generations, regardless of their cultural background or age, and this is what makes a brand like K11 Group truly iconic.
To find out more K11 MUSEA, click here.
==
Stay updated and social with Popspoken: Telegram| Facebook | Twitter | Instagram