Some sniggered at the occasional jokes while others kept checking their phones, sighing and fidgeting in their seats. The two hour and 15 minute performance with no intermission was a ride of sustained tension from beginning to end – no breaks and no time to come up for fresh air. And that in itself is a glimpse into the experience of a humanitarian worker.
Written by Huzir Sulaiman and directed by Claire Wong, Displaced Persons' Welcome Dinner is a text-heavy play presented by Checkpoint Theatre about humanitarian workers caught in a critical situation with no easy solution, or any solution at all. Based in a camp of a host country, the international staff of a refugee camp find themselves fighting for the refugees they care about, the system and demands that make their jobs near impossible and their own moral compasses or what's wrong or right.
After all, when the personal becomes so inherently political, what does a right choice look like and who is the one to dictate right and wrong?
With the world still being at crisis in 2019 and refugees still unable to call anywhere home permanently, we read about them on a regular basis. When disaster strikes or another war breaks out, we know where to turn to for sending funds, welfare packages and do our part from afar. Help just seems easier and more convenient when it barely disrupts our daily lives.
Though more can be done, surely, at least the media coverages remind us of their existence and the daily fights they go through to keep alive and to work towards a better future for themselves. But can we say the same for the humanitarian workers, and what exactly can the general public confidently say to know about their situation?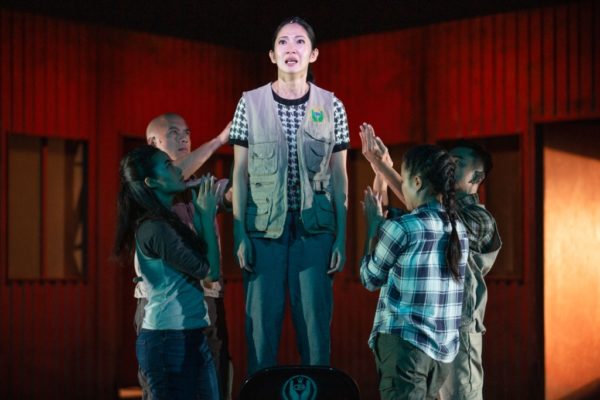 The set designed by Wong Chee Wai is extremely utilitarian in nature – cold metal surfaces that remind us of shipment containers. They are used to mark out spaces for different uses, to corner the workers, contain them within or keep them out. It speaks about segregation and the impermanence of this space that is so easy to just pack up and leave without a trace; constant mobility and well, no roots to any place. The set is enhanced by haunting live music by .gif as well as assistant director, research assistant and musician Anthea Julia Chua.
Juxtaposing the environment is the emotionally charged performances of the cast. Although the transitions between scenes reflect the rigour and methodical nature of a military camp, the characters themselves are far from rigid and unbending.
Tim Rodriguez (Brendon Fernandez) has his own secrets from previous camps he'd rather keep under wraps. Katy Tran (Cheryl Chitty Tan) finds out the hard way that she may not have what it takes for what she signed up for. Angela Ling (Jo Tan) is torn from the distance of where she is at and where she calls home. Hamid Abdullah (Yazid Jalil) may crack jokes with great timing, but he himself is struggling to juggle his beliefs, duties and morals. Alison Lane (Rayanna Dibs) still has fighting spirit within herself, but when faced with a difficult decision, does she give up or stand her ground? And while Mike Miller (Emil Marwa) may be a capable leader due to racial privilege and gender, is that enough to dismiss his unreasonable act of violence?
Even as one of the highest authorities in the organisation called OEA, Shirin Mistry (Daisy Irani) finds herself trying to protect all that she has worked for right till the end even at the cost of another person's rights.
Everyone seems to be a survivor and some sort of perpetrator at the same time.
But despite all the statistics and the struggles we witness of the bigger picture – nutrition, security, sanitation and money for the refugees, Dawn Cheong's Sara Chiu is the one who confronts the audience with raw emotion after experiencing violence against her body and will. Voice breaking and embodying its devastation as best as she could, it was almost impossible to look away as this tough and spunky woman processes her trauma in front of everyone.
What made it even more cruel was to have Tran and Lane weigh in on the eventual decisions Chiu has to make – does she report, should she report and how would her report effect the refugees? Though difficult to sit through, that particular dialogue was crucial to witness and understand that as a person, especially a humanitarian in this case, you may no longer be your own person. You may find yourself giving up more than just your time and effort; you may have to give up on yourself and your rights even.
All in the name of the bigger picture and the greater good.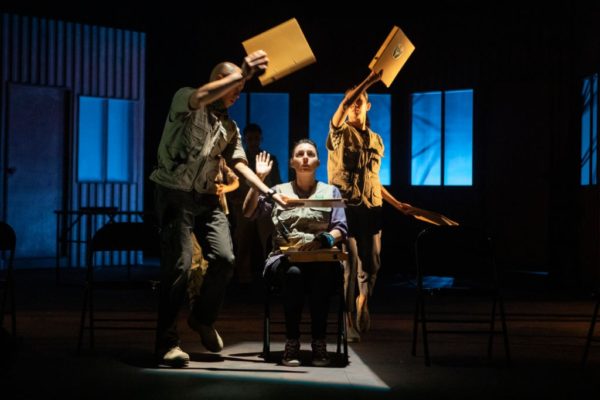 The show leaves the audience with way more questions and no answers which is a risk taken to let the audience form their own opinions and to challenge perspectives. The artistic choice in writing as well as staging gives as complete a performance as possible that embraces all its complexities and nuances. Over simplification would not have done justice to the interviews and extensive research done for this show, so I am glad that I witnessed what the show had to say in all its complicated, messy and frustrating glory.
Though lengthy and very heavy to digest, Displaced Persons' Welcome Dinner is a powerful work that is worth every minute of its staging.
This production of Displaced Persons' Welcome Dinner was staged as part of the Singapore International Festival of Arts. The festival is running from 16th May to 2nd June 2019. 
Photos Courtesy of Checkpoint Theatre. Photo credit: Joel Lim @ Calibre Pictures. 
==
Stay updated and social with Popspoken: Facebook | Twitter | Instagram