Perspectives Film Festival, Singapore's first and longest student-run film festival, returns for its eleventh edition this October.
Featuring a selection of seven films, this year's festival will be held at the National Museum of Singapore and Alliance Française from Oct. 25 – 28.
Perspectives' theme for 2018, "Institutions", tests the limits of individuals against the limits of their institutions. The curated films capture this perpetual tension, guided by a simple premise: no one is isolated enough to resist organisation, yet no institution is formidable enough to remain unchallenged.
Launched in 2008, Perspectives Film Festival: Breakthroughs in Cinema is an annual film festival organised by undergraduates from Nanyang Technological University, as part of a practicum course run by the Wee Kim Wee School of Communication and Information.
"This year, Perspectives is taking a step to challenge our audience's understanding of institutions. People may perceive institutions to be untouchable symbols of power, but we'd like to show that institutions take root from a person's actions and necessities. They are not as distant as you may believe," said Perspectives Film Festival co-director Lee Yi Jia.
The festival will open with Iranian director Jafar Panahi's "3 Faces" (2018), winner of Best Screenplay at Cannes Film Festival. This film was made during Panahi's 20-year filmmaking ban, in effect since December 2010, and it marks a return to the feminist leanings of his early works.
"3 Faces" is Panahi's fourth film under his 20-year ban by Iranian authorities, following "This Is Not a Film" (2011), "Closed Curtain" (2013), and "Taxi Tehran" (2015).
Through a tale of three actresses at different stages of their career, the film reveals deep-rooted patriarchal traditions that Iranian women are subjected to in everyday life. Panahi pays tribute to the Iranian women who can no longer abide by the patriarchal rules that hold them back, and who wish to walk alone ahead.
Following the screening at the National Museum of Singapore, Iranian actress Behnaz Jafari, star of "3 Faces", will be speaking on women in cinema, particularly in an Iranian context.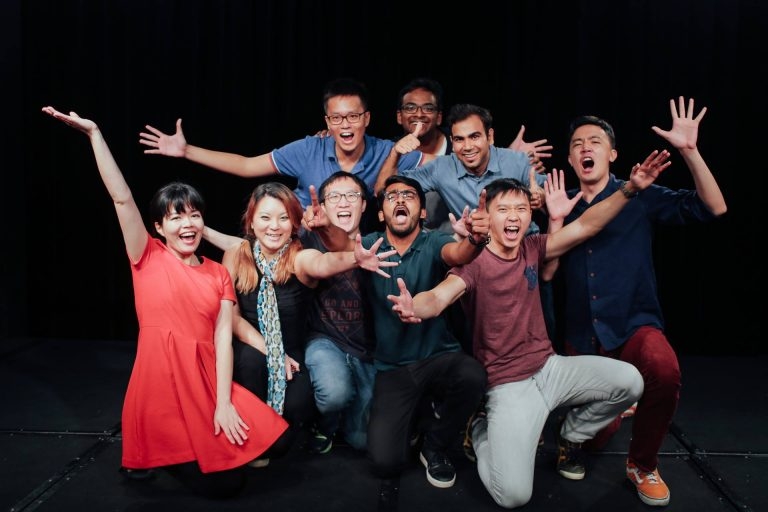 Perspectives is also partnering with The Modern Schemers, ​Singapore's longest-running improv team, for a free-of-charge fringe event on Oct. 13 at the Lifelong Learning Institute.
Titled "Off Script: Film Meets Improv", the Schemers will take a single suggestion as a seed to grow a complex world, fully-fledged characters, and an engrossing, hilarious plot. Members of the Perspectives organising committee will also hold a Q&A session with the Schemers to explore the connections between film and improv.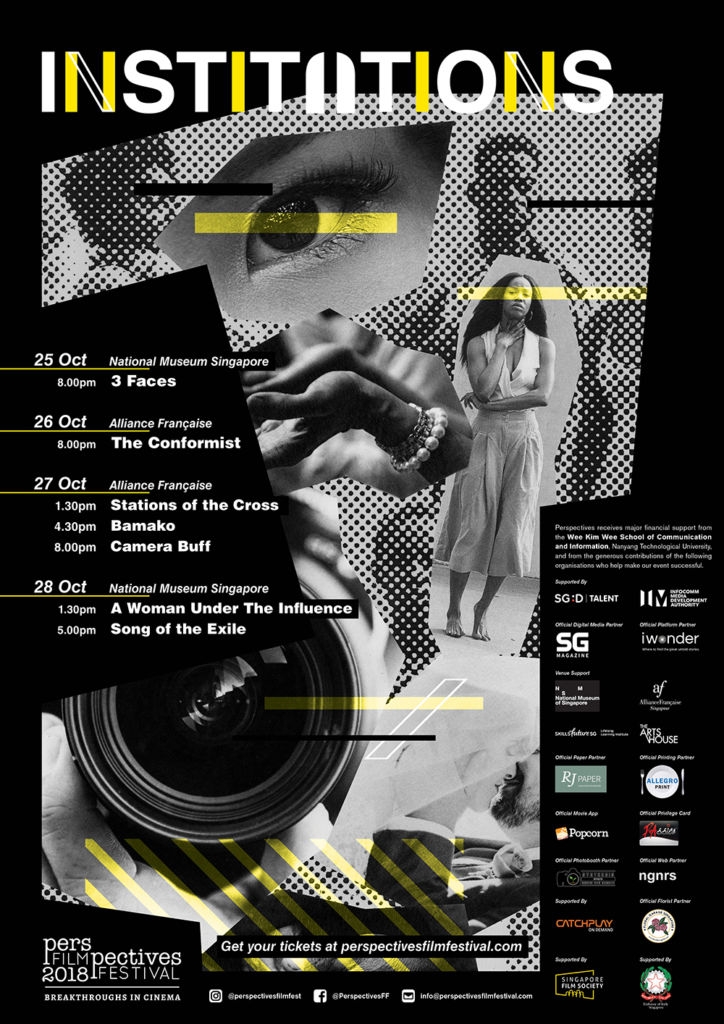 Check out the full Perspectives Film Festival 2018 programme:
· 3 Faces (Dir. Jafar Panahi, 2018) – Singapore premiere, post-screening talk by Behnaz Jafari
· The Conformist (Dir. Bernardo Bertolucci, 1970) – Digitally restored
· Stations of the Cross (Dir. Dietrich Brüggemann, 2014)
· Bamako (Dir. Abderrahmane Sissako, 2006)
· Camera Buff (Dir. Krzysztof Kieślowski, 1979)
· A Woman Under the Influence (Dir. John Cassavetes, 1974)
· Song of the Exile (Dir. Ann Hui, 1990)
Tickets for Perspectives Film Festival are available for sale through www.perspectivesfilmfestival.com.
---
[GIVEAWAY] Popspoken is giving away a pair of tickets to "Bamako" (2006) by Abderrahmane Sissako, screening on Saturday, Oct. 27 at 4:30 p.m. at Alliance Française.
Enter now at bit.ly/PSPFF2018Giveaway. Giveaway ends 2359hrs on Sunday, 7 October 2018 and the winner will be announced via our Telegram channel. All the best!
==
Stay updated and social with Popspoken:
Telegram| Facebook | Twitter | Instagram