Once a rent-free hawking area, the Thieves' Market was christened for the stolen goods that were peddled there. After being halved in size in 2011 to make way for the construction of the Jalan Besar MRT station, the open-air market finally bade goodbye to visitors on July 10 last year.
In the year since, vendors have shifted to lock-up stalls in hawker centres islandwide, including Chinatown Market and Golden Mile Centre. To help the vendors cope with the exodus, the National Environment Agency has halved the rents for their first two years of operations, though not all relocations were smooth-sailing.
While the demands of urban planning and redevelopment override most considerations here, eight decades of heritage do not go so gently.
This weekend, the "OnBorrowedLand: Sungei Road Market" art exhibition hopes to celebrate all that the market has contributed to our city, as seen through the eyes of the participating artists.
Organised by six creatives, all of whom are young undergraduate Singaporeans, the exhibition aims to commemorate the one year anniversary since the market's closure.
Through the eyes of these young budding artists, the group hopes to spark a conversation on the importance of conserving lesser-known heritage sites, and allow Singaporeans to cultivate a better appreciation for the market's legacy.
Some of the artists involved in this passion project include documentary filmmaker OKJ, painter Brendan Mayle Kor, performance artist Celine Ho, and photographers Sebastian Chin, Crispin Tan, Akai Chew and Ketan.
In total, 15 young Singaporean creatives will showcase 11 collaborative works exploring various themes involving Sungei Road Market.
In a press release, the team mentioned the importance of reminding Singaporeans of our local culture and history, priceless capital that is "quickly fading away in our fast-paced city".
"At the end of the exhibition, we hope to have been able to successfully remind Singaporeans of their responsibility in preserving their heritage, and be able to successfully celebrate the rich culture our country is made out of."
For one weekend, revisit what cannot be stolen from the legacy of the Thieves' Market.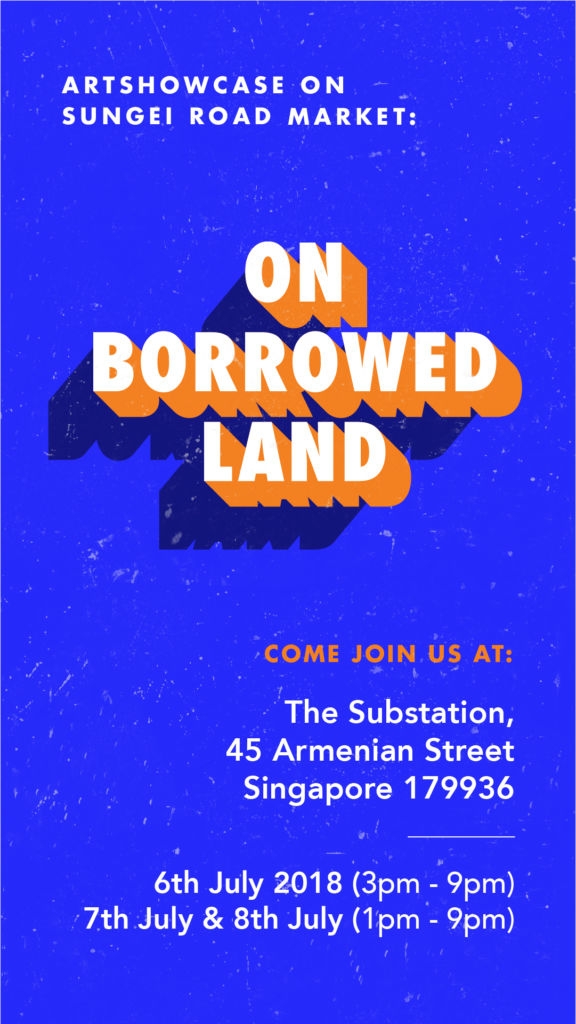 "OnBorrowedLand: Sungei Road Market" Art Exhibition
6th July 2018 to 8th July 2018 (Friday – Sunday)
1:00PM – 9:00PM
The Substation
45 Armenian Street, Singapore 179936
Facebook Event page here.
==
Header Image: Sebastian Chin/OnBorrowedLand
Stay updated and social with Popspoken: Telegram| Facebook | Twitter | Instagram