By Victoria Chen
Chinatown Crossings by Drama Box spans across several decades and up to ten locations in Kreta Ayer, with only five actors (two of whom—Aadi and Toh Yun Woon—are barely in their teens) guiding the audience through the 150-min experience. One can already tell this promenade production is no easy feat, and yet director Koh Hui Ling and writer Jean Tay manage to tell the stories of Chinatown dwellers with utmost simplicity. With over a year's worth of research distilled into three characters, Chinatown Crossings offers an intimate look into this part of Singapore's history.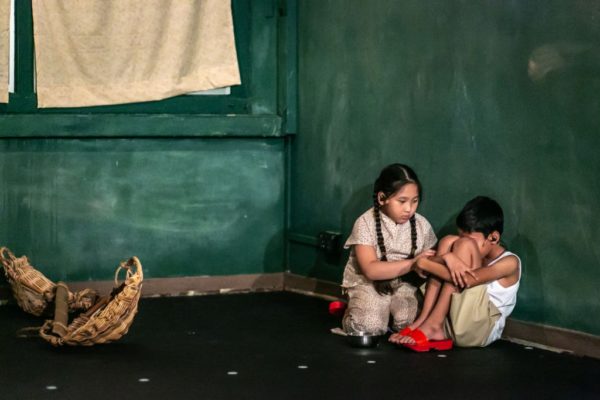 Depending on one's preference, this experience might be too much of a heritage tour, however the production makes no attempt to hide the historical knowledge embedded in the text. In fact, the program booklet includes a map and further information about the areas visited in the show, to encourage audience members to continue their exploration of Chinatown in their own time.
Furthermore, the relationship that Kunalan (Pavan J Singh), Fong Cheh (Jodi Chan) and Ting Ting (Sabrina Sng) share is intricate and meaningful, not definitely more than a cheap strategy to contextualise and dramatise the content in their conversations. The audience (not more than 25 per night) get up close and personal with the characters and each other, as they weave through alleys, up and down narrow stairwells and overhear private conversations. This is ingeniously executed with the use of hearing devices that transmit whatever the actors say at a distance through microphones to each audience member. In addition, Ctrl Fre@k's sound design layers ambient sounds that conjure images of the past, and they serendipitously complement those in real time. While news reports and info bites play during transit from one location to the next, there are also prolonged moments of silence that are poignant and convey the pleasure of just being present with the environment.
The biggest shame about Chinatown Crossings is that it has a limited number of spaces and only runs for a limited amount of time.
---
Chinatown Crossings
Date: 22nd June to 18th August 2018
Venue: Chinatown, Singapore
Time: 7.30pm
Admission: $68 (Currently sold out. But try your luck for tickets here.)
Photography credit: Drama Box
==
Stay updated and social with Popspoken: Facebook | Twitter | Instagram