After Citizen Pig's 2013 debut, the all-new Citizen Dog by Oliver Chong and Liu Xiaoyi had a three day run at the Victoria Theatre. Done in poetic Mandarin with English subtitles, the performance holds its audience members captive through its heavy text as well as stunning visuals. Though confusing at times and too text-heavy to follow, especially when too many voices are speaking at the same time on, the show definitely has its merits.
Inspired by Liaozhai Zhiyi, which is also known as Strange Tales from a Chinese Studio, Citizen Dog is a theatrical storytelling of supernatural and human beings – be it their desire, corruption or the inherent darkness living within them. There is a literary hermit who is abused by a corrupt official, who eventually rents out a room to a foreign lady. Then you have a middle-aged widower hiring a young tutor to help his son, who has yet to graduate after more than 20 years.
With two narratives running parallel to each other, Citizen Dog challenges what reality truly is. Can more than one version of the truth exist? What constitutes an illusion? Does it matter if one is a man, ghost, fox or demon?
The Set and Lights
As trippy as the text itself, the set by Oliver Chong is captivating and overbearing on its own. Symmetrical with identical prints covering every surface area possible, it resembles an optical illusion. Against the black stripped down stage of the Victoria Theatre, it exudes a sense of mystery and a menacing nature – a foreshadowing of the characters' fates right from the beginning perhaps.
The lights by lighting designer Lim Woan Wen enhances this aspect of the set by using bold colours such as purple, blue and other cool colour options. Drawing as far away from naturalism as possible, the lights remind or even confuse the audience (in a good way) with what we would like to hold onto as reality or not. This keeps the questions the show hopes to ask its audience at the forefront of the mind, while witnessing the ridiculous events unfold in front of our eyes.
The Actors
The cast is technically amazing. Using mime for the opening and closing of doors, working with rhythmic changes in scenes as well as on a slightly tilted stage, the cast are clean and precise in their gestures – never missing a beat. Actresses Jo Kwek (character Xiao Cui), Li Xie (character Ah Xiu) and actor Alvin Chiam (characters Wang Tai Chang and Bai Jia) share strong stage presence and play out their characters' quirks generously.
Playwright and actor Liu Xiaoyi though, took it even a step further by portraying his character transitions between  Mr Pu and Wang Yuan Feng with grace and confidence. The moments may not last more than a minute, but the physical metamorphosis is intriguing to watch – the beauty is in the details after all.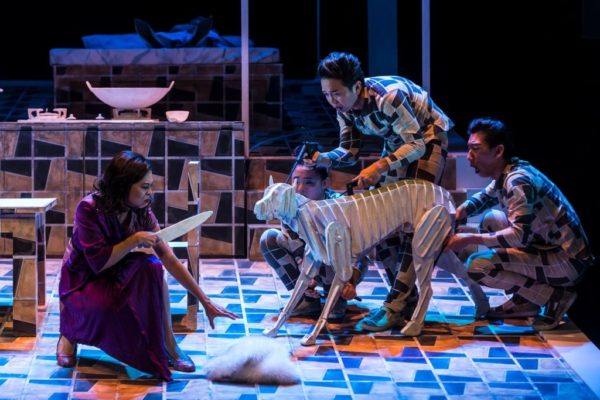 The Dog 
Most fascinating out of the entire show would be the dog, brought to life by puppeteers Ann Lek, Darren Guo and Trey Ho.  The trio managed to get their bodies and voices to be in sync with one another – maintaining that illusion that the dog is but one entity. Though it took a while to get used to, the puppeteers eventually faded into the background – which is why they are dressed in the same patterns as the rest of the house – and you only see the dog barking, whining and being the keen observer of all things strange within those four walls.
–
The Finger Players have another performance coming up this Friday. Check out Framed, By Adolf here.
Photography credit: Tuckys Photography
==
Stay updated and social with Popspoken: Facebook | Twitter | Instagram