Keong Saik. Drag Queens. Music. Fashion. Burgers. Self Expression. These are the ingredients chosen to create the ultimate street party with Urban Ventures at Keong Saik Road, later today from 4pm onwards.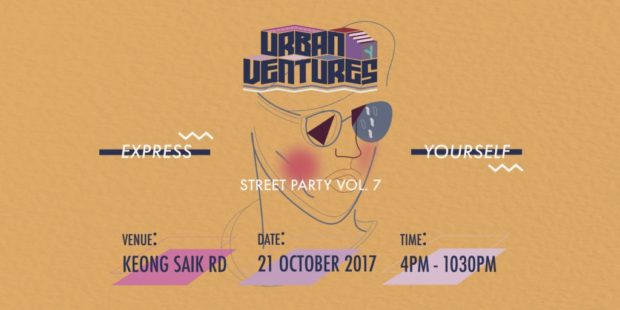 Helmed by LOPELAB, expect the public space to be transformed into a multisensory playground with an impressive lineup of events relating to homegrown arts, music, and people. For those who love to shop and jam, there will be retail therapy at the Underground Market and Artisans' Market, and local gigs from Midst, Cosmic Child, Subsonic Eye, just to name a few.
Food lovers, look out for the Sunset beer yoga session happening, and if the exercise gets too much, head over to the festival's gourmet side, served by perennial favourites such as Lime House, Neon Pigeon, and Omakase Burger. Local poets and writers will be hanging around the Wordsmithing Avenue, and did someone mention drag queens? Yes, some of Singapore's feistiest queens including Yeast Monster, Dahlia Rose and Arya Dunn, will be participating in lip-sync battles, queen style no less.
We speak to Charmaine Leung, author of 17A Keong Saik Road, to find out more about the street behind all the celebrations and her journey as a writer so far. Her book is touted as one of the most accurate (and perhaps heartwrenching) portrayals of Keong Saik's long and colourful history. Previously a red-light district from 1930s to 1980s, how much of it has changed today?
Popspoken: Hey Charmaine! Let's start things off closer to home: is there a Singaporean voice when it comes to homegrown literature?
Charmaine: Definitely! Singaporean writers are not only able to put out literary work that a larger international audience will find interesting and can relate to, in works that are more specific to Singapore, they also give a unique voice to lesser-known issues and groups that may not always have a voice on their own.
Popspoken: While you were writing 17A Keong Saik Road, were there specific elements of the present that you drew from? What are some of the significant changes that others might have missed?
Charmaine: It is indeed a very different Keong Saik today compared to the time when I was growing up there. I am sad that the community spirit which was once so strong no longer exits. Luckily, there are still some things that have not changed (for me), like the Chinese temple where my mother and I used to sit at to watch the world go by, and the ambience of the sheltered five-foot-walkways. Keong Saik will always hold a certain nostalgia for me—it was the first home that I ever knew.
Popspoken: Why was it important to highlight these voices (such as sex workers and prostitutes) in Singapore?
Charmaine: It is important to have voices in Singapore that can bring awareness to the parts of Singapore history that are not commonly known, and give a voice to the things, and the people, who may have long been forgotten, or left unknown in the past.
Popspoken: From a struggling literature student to a writer: are there any challenges in writing a book? Can you share your process for completing a book?
Charmaine: It was definitely a daunting process for a first-time writer. I had to overcome the insecurities of fearing that the book would not be engaging enough, or my writing was not good enough. There were also emotional barriers—much of my childhood and adolescence were shrouded in shame, and writing the book meant I had to relive a lot of my past. It was a rollercoaster of emotions for me.
I started journaling from around fourteen years old—it was my way of airing the rambling thoughts in my mind. Initially, this was an outlet for me to express emotions and thoughts I could not share with people around me. These formed the basis for my writing for 17A Keong Saik Road. When I decided to write the book in 2014, I started by focusing on the memories and incidents that were most significant to me, eventually forming themes that I could develop into chapters.
Popspoken: How would you describe Keong Saik Road to a tourist who just arrived in Singapore?
Charmaine: On the surface, it is an eclectic mix of what the old and new Singapore represents with its blend of chic boutique hotels, trendy cafes and eateries amid pre-war shophouses, an Indian temple and a Chinese temple. But look deeper and spend some time lingering in the sheltered walkways and alleys, and you may find an Old Singapore that is lesser known and forgotten. If you are lucky and managed to speak to some old residents who are still running their businesses in Keong Saik today, you may get to hear interesting backstories of this once prominent red-light precinct of the past.
Popspoken: Are there any upcoming projects that we should be looking out for?
Charmaine: I am working on another book but it is still in its infancy stages. For 17A Keong Saik Road, what's upcoming would be the two sessions I am involved in during Singapore Writers Festival in November. I will be on a panel to speak about "Women in Singapore's History" on 5 November and leading a "Walking Books" tour on 17A Keong Saik Road on 12 November.
Charmine will also be leading the "Stories of Keong Saik: Red-lights and Street Life" tour by Ethos Books – sign up here.
Urban Ventures Street Party Vol. 7
When? 21 Oct, 4pm — 10.30pm
Keong Saik Road
Admission is free (Full lineup of events here)
==
Stay updated and social with Popspoken: Facebook | Twitter | Instagram