Opening to a completely sold out run last year at the Singapore Theatre Festival 2016, it is no surprise that Grandmother Tongue is back for another run just a year after. With rave reviews aplenty, this year's restaging is no less captivating and heartbreaking.
This hour and 15 minutes long play is written as well as directed by Thomas Lim. Using Teochew, Mandarin and English throughout the performance, the show traces a young man's struggle to connect and reintegrate his 84-year-old grandmother into the modern day of technology and the Speak Mandarin campaign. Inspired by the late Kuo Pao Kun's Mama Looking For Her Cat, it speaks about how us moving forward also causes us to leave people behind due to cultural and language alienation.
The entire performance reminded me of so many policies and changes our nation is making – rushing to go cashless simply because China is ahead, moving further into online transactions and paperless invoices. With all these observations flashing through my head, I am glad that this play provides a glimpse and a chance at telling a story many have failed to consider.
With the entire focus dedicated to the text being said and the various surtitles flashing on clean walls, the set itself is a clever juxtaposition of the old and the new, while offering little distraction. The details that set designer CK Chia went into, such as furniture and cutlery, are all well thought out and in their own quiet way, made a statement of the changing times and how some things are unable to move on, just like people themselves. That made it interesting whenever the grandmother and the grandson swap places at the dining table.
Together with the light design of Petrina Dawn Tan, there is no need for extravagant set changes and multiple props to aid us in identifying space and time.
The cast, consisting of Jalyn Han as the stubborn grandmother, Tan Shou Chen as the filial grandson and Rei Poh as all the characters in between, is stellar and they make following the story effortless on the audience's part.
First the cracks within the family's private life, then comes the public landscape breaking down as language becomes more "bilingual" and less embracing.
Embodying the script thoroughly and never letting the ball drop for a single moment, the journey becomes a clear trajectory of humour, frustration and other emotions for the characters as well as the audience.
I appreciate how each actor is so giving on stage – their stage presence, always sharing how they feel and what they want to say generously through the performance.
Perhaps it also helped that since the previous run, the cast have had time to further develop their dynamics and chemistry with another.
As a result, we no longer see mere characters but real people come to mind about the absurd reality of the various situations.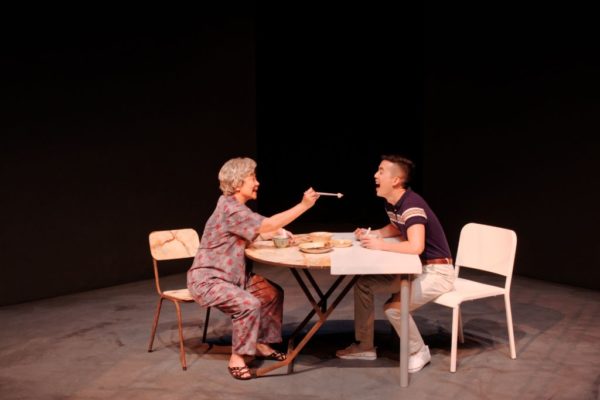 Grandmother Tongue is the performance that sheds light on the forgotten and speaks about our ever-changing landscape. It offers an alternative perspective to "first world" nation, with brilliant artistry and thoughtful debate in a fun and no less emotionally-charged fashion.
If anybody is selling their seat at the last minute, I will suggest you take it. This is a show you will not regret.
Pro-tip: If you require translations from the surtitles, try heading down earlier and get seats in the third row and above. Makes viewing the scene and surtitles easier.
---
Grandmother Tongue

Date: 28th September – 21st October 2017
Venue: School Of The Arts Studio Theatre
Time: Tuesday to Saturday – 8pm, Saturday & Sunday – 3pm
Admission: From $35 (Currently sold out. Try your luck for tickets here.)
Photographs courtesy of W!LD RICE.
==
Stay updated and social with Popspoken: Facebook | Twitter | Instagram