Working solo pieces as well as collaborative pieces of performance, Daniel Kok is a Singapore-born and Berlin-based performer. Known as a dancer and choreographer, Daniel engages in pole dancing and has the willingness to experiment – a distinguishing aspect that informs a range of his works.
Daniel is currently working on MARK – a work commissioned by the Singapore International Festival of The Arts. The work is interactive with the audience and invites members of the public to join nine dancers in an urban space to create a collective drawing through gestures, dance and movement. The performance hopes to engage and leave a mark on the social body here. A combination of visual, performance art and dance, this work brings together plenty of elements within the art world itself besides just people.
Popspoken speaks to Daniel to trace his journey as an artist and dancer, as well as find out more about MARK.
---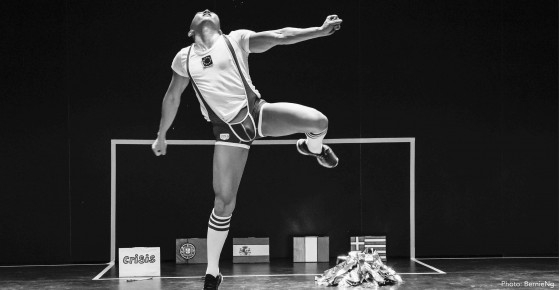 Popspoken: How did you come to a decision to pursue dance as a career?
Daniel: I started studying visual arts and I went to an arts school where we were free to explore any kind of media. The interesting thing was that next door to my arts school was a dance school, and then I started taking classes over there while I was in London. And that was what got me really interested in working with dance performances.
But I had to come back to Singapore to be a teacher as I had a teaching bond, and during those eight years, even though I was teaching, I started making dance every year, or every three years. I decided at some point that when I finished the teaching bond, I wanted to be a professional choreographer.
Popspoken: Are your friends and family supportive of your career pursuit?
Daniel: Yes – I mean, certainly, my parents had a hard time understanding why I would give up a good civil service job to be an artist, but it's generally not an issue.


Popspoken: You worked with many elements such as the pole and rope, can you share with us more about that?
Daniel: I didn't go to a dance school for formal training. Instead, I was picking different things up along the way. So I did a bit of ballet, hip hop, jazz, contemporary dance, African dance, Flamengo, Capoeira, and dabbled in a lot of different things to get an idea. And then, I started to work with, what I called, figures of performances. Different kinds of ways of performing that allow the dancer to have a very particular relationship with the audience.
That's why I started becoming interested in pole-dancing. I worked with it for a number of years, researching not just the dance itself, but also how the dance is performed, and what the dancer's relationship is with the audience. After that, I started to work with cheerleading, as well as rope. And all these elements also followed the particular figures of performances.
Popspoken: What inspires you to keep creating and growing at this art form?
Daniel: This art form meaning dance… I think that so much about art has become about the buying and selling, very quick ways of consuming. It's like the way we look at YouTube videos, or we watch movies, and it feels like it's hard to get people to come together to share an open experience with one another. And the experience is not necessarily about anything specific, or disseminating any kind of messages, but an experience that allows everyone to focus on something, on each other, on the spaces that we share, so this is what I think makes me feel like there is still value in working with that.


Popspoken: What is your favourite piece of art, be it a performance or exhibition that you have experienced so far?
Daniel: The thing that sparks first to my mind, as the most recent inspiration, is when I was in Berlin and saw a big performance by a Belgium choreographer, and the entire piece involved quite a number of performers, like seven or eight of them, working with silver confetti from beginning to end.
It was a very simple idea, but it was stretched to a great extent, so that a lot of different, very strong images and scenes were created out of just silver confetti flying everywhere. It's this kind of works that really inspire me right now. And I think about works that have a certain sense of urgency to them, especially given the current global political environment.
Popspoken: How has the dance industry in Singapore evolved from then to now?
Daniel: When I started making works, it was 2002, after I returned from London. At that time, there was hardly anything such as an independent choreographer, and almost everything was based on a company's works. A company would be set up and a choreographer that directs the company works with their own dancers that they engage professionally. So at that time, I dare say there were only about two or three people working in dance as independents.
These days, with more open and different ways of making works in various art forms, from visual arts to music and so on, dance is also catching on to a greater variety of practices. So we are beginning to see people who work as freelancers, who collaborate freely with each other, make work occasionally and not to a specific schedule.
I will be interested to see what goes on from here, because I have been speaking to individual dancers and encouraging them to really hone their own artistic practices and find their particular voices as artists.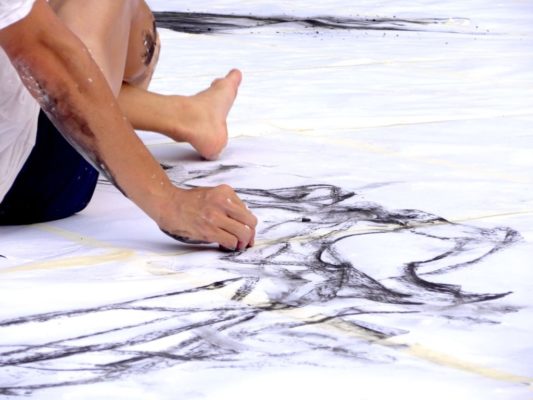 Popspoken: Tell us more about your work MARK with SIFA, working with the dancers and non-dancers, how has the experience been like?
Daniel: I didn't distinguish between the dancers and non-dancers, because each member of the cast brought in something strong about themselves, and I try to focus more on that.
There were moments when the dancers, the trained presenters, were actually more unaccustomed to some of the exercises that I was proposing, and someone who might be a non-dancer (which I called myself for many years) could potentially be more open to the experimentation.
So the experience has been good, because what I feel like I got was a very committed team. Everyone really wanted to try something new, and every single person worked really hard – not just as individuals, but there was a great sense of them wanting to be a team together. So they really listen to each other and 'give face' to one another. I think that is a really valuable quality and given that we didn't have a lot of time, I appreciate that a lot.
Popspoken: What is one dream that you have for the local arts scene?
Daniel: My dream for the local arts scene is that people start to be more critical with themselves. To not only think within the questions and conversations of the local scene, which is really after all just a little island, but to be much more exposed to whatever is happening around the world – such that one begins to think more critically about their own positions as artists, how and why are they working, what are they connected to, what are they speaking to, and what else is missing. I think such kinds of critical conversations really need to happen more often in Singapore right now.
---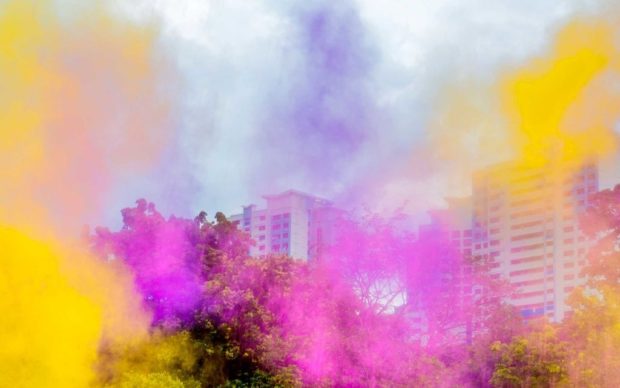 Catch MARK at the MBS Event Plaza on 31st August and 2nd September 2017, 5.30pm. The performance lasts 1 hour and 15 minutes. Free admission.
==
Stay updated and social with Popspoken: Facebook | Twitter | Instagram