With all the recent drama on accents and local politics, Boeing Boeing seems to be just the break everybody needs. Is it truly a break from reality, or just a different perspective of it? Directed by Pam Oei and presented by W!LD RICE, the farce is originally written by Marc Camoletti and translated into English by Beverley Cross.
Adapted into a modernised Singaporean context, audience members gear up for a wild ride with Bernard (Rodney Oliverio) – a proud bachelor that has three air stewardesses as his girlfriends and only a domestic helper Rosa (Bibeth Orteza) to help him manage. When his friend Robert (Shane Mardjuki) from Kuching comes along, the careful planning falls apart and turbulence starts to shake up this paradise. Will Bernard and Robert be able to sit tight with seat belts fastened to survive this flight?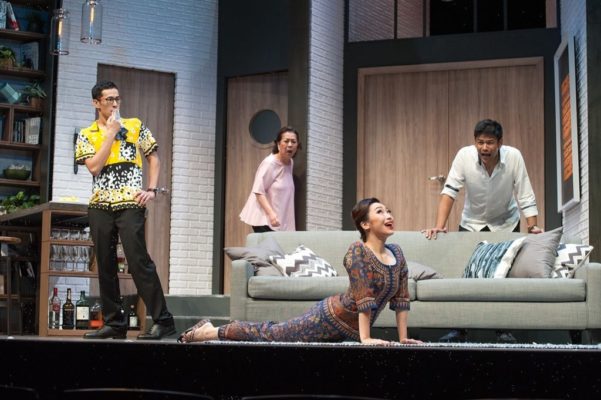 Reusing the walls from La Cage Aux Folles, the set is transformed by Eucien Chia to resemble a high-end apartment of a high-flying bachelor. The effort to reuse is worth applauding and it pushes creativity to a whole new level. After all, isn't it a question as to what happens to big sets after a show is finished? In this staging, James Tan, Joel Manuel Fernandez and Frederick Lee designed the lights, sounds and costumes respectively. It was successful in bringing focus to the every day of a home as exciting as this one, and leaving the main spotlights onto the actors.
The cast of Boeing Boeing managed to keep the attention from beginning to end almost effortlessly. With a good grasp on the language and working the comic timings for most moments, they earned plenty of laughs while developing each character on the way. Even though some moments got too noisy in terms of raised voices and door slamming, the direction and execution of physical expressions worked well to deliver the humour of the situation.
We particularly loved how this edition featured international flight attendants, and that definitely made it all the more hilarious. With Oon Shu An as the classic SQ girl, Judee Tan playing an Air China girl and Rebekah Sangeetha Dorai portraying Air India, all of them played up their characteristics so well and were lovable in their own right. Accents were used, but to create character, and not humour. We thought it was a good example of how accents are really a skill of acting, and not just your stereotypical tool for laughs.
The show stealer of the night was definitely Shane Mardjuki as Robert. Impeccable in his comic timing, he hits all the right spots with the perfect mood and expression. He never fails to drive the scene forward and milk every joke for what it is worth. It feels refreshing to see him on stage once again this season.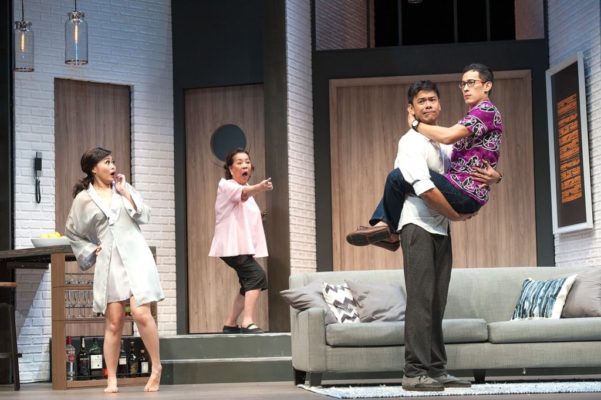 If you need some joy in your life and a breather from the everyday, how about step into the theatre for some high energy entertainment? Boeing Boeing is just the show for that.
---
Boeing Boeing

Date: 23rd June to 22nd July 2017
Venue: Victoria Theatre
Time: Tuesday to Saturday – 8pm, Saturday & Sunday – 3pm
Admission: From $50 (Concession rates available. Get your tickets here.)
==
Stay updated and social with Popspoken: Facebook | Twitter | Instagram