Besides our professional theatre companies churning out plenty of shows this year, their respective youth wings have also stepped up to the challenge. W!LD RICE's young&W!LD recently presented The Bald Soprano as their final adventure before completing their 16-month programme as an ensemble.
Under the guidance and direction of Rodney Oliveiro as well as Serena Ho, this work written by Eugene Ionesco is brought to life by the cast of six. The text is a classic and is no doubt well-written, however it is a challenging text to work with and to perform. Taking the repetition, illogic and humour into their stride, this group of actors owned the text in their own characters and shared that joy with the audience.
The cast consisted of Alison Bickham, Mel Bickham, Jasmine Blundell, Nat Koh, Krish Natarajan and Dwayne Ng. Mel was outstanding as Mrs Smith. The use of her vocal range and physical gestures really elevated the scenes she were in, especially when coupled with her good sense of rhythm and comic timing. Nat Koh charmed us as Mrs Martin – her facial expressions and her presence without speaking was lovely to watch. The husbands Dwayne Ng and Krish Natarajan shared great chemistry and had nice spotlight moments of their own. Even though the couples seemed to overshadow the other two characters Alison as Fire Chief and Jasmine as Mary, the entire group worked well to keep the forward momentum going and the laughs coming.
It was an incredible effort, also in terms of choreography and synchronising moments that felt almost accidental – that was impressive. Despite a couple of mixing up in text and an inconsistency in the use of accents, we greatly enjoyed the acting and the life given to every character brought onto stage.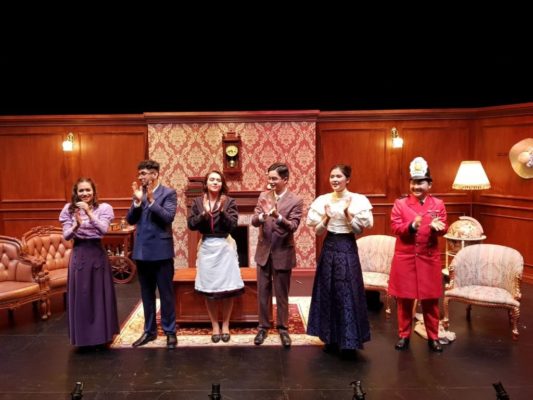 The set designed by Wai Yin Kwok served as a prologue in itself. The details taken into consideration and the consistency of props used, helped to ease the audience into its setting. Reflecting a middle class home of the 1950s, the set was stunning to look at. I also particularly enjoyed how sound was used to enhance certain aspects of the set, such as the door opening and closing.
Even though more interaction with the set could have been done, the space enabled the actors to play in it rather freely and that gave the audience members a couple of pleasant surprises throughout the hour and a half performance.
With beautiful visuals and an energetic cast so unabashed of using the text to its fullest, The Bald Soprano is testament that the future is indeed bright for local theatre. It is a reminder that every investment that goes into the newer generation may prove its worth, when given the resources and the chance to do so.
---
The Bald Soprano
Date: 7th to 11th June 2017
Venue: Drama Centre Black Box
Time: 7  – 11 Jun 2017, 8pm / 10 & 11 Jun 2017 , 3pm
Admission: From $35 (Concession rates available. Get your tickets here.)
==
Stay updated and social with Popspoken: Facebook | Twitter | Instagram