With Lao Jiu The Musical making its debut back in 2005 and 2012, it is being restaged this year by The Theatre Practice with Kuo Jian Hong directing it. With songs from songwriting duo Eric Ng and Xiaohan, the humble play has grown into a full fledged musical with puppetry from Paper Monkey's Benjamin Ho and a live band playing.
When the late Kuo Pao Kun wrote Lao Jiu, it was the year 1990 and until this day the tale is as relevant as ever. The dilemma of wanting to pursue your own dreams versus familial responsibilities can be cruel, but is a choice almost everyone has to make. If you have the privilege of choice in the first place.
With slow reforms being made to our educational system and trying to shift societal mindsets on The Arts and other niche fields, this musical could not have chosen a better time.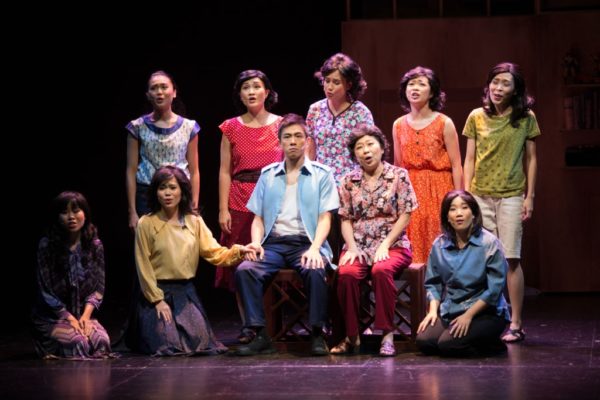 Following the tale of the only son of nine children, Lao Jiu finds intense pressure resting on his shoulders from his family. When he is being offered a scholarship opportunity, he must confront the choices he have always struggled to face. Will he be the one to bring his family out of poverty, or will he choose to be happy instead?
A script that really pulls heartstrings and never fails to be relevant for every generation, it truly is a classic and that makes it a difficult show to do justice. This particular production had its moments, but missed its mark in some instances.
The ensemble consisting of Gloria Ang Xiao Teng, Jodi Chan, Isabella Chiam, Benjamin Chow, Edward Choy, Darren Guo, Hang Qian Chou, Xavier Kang, Petrina Kow, Abby Lai Ka Hei, Ric Liu, Vanessa Phang Wan Qing, Katherine Tang, Tay Wei Liang, Natalie Yeap and Benjamin Wong added a layered dimension to the story. Coming in as siblings, partners or classmates, they really liven up the atmosphere with their singing and dance numbers. Choreographed by Seong Hui Xuan, the big number worked well on stage and did not seem clumsy.
However, it can be taxing on the audience to keep up with all their personalities as part of the big family. With ensemble roles and having to switch between characters, it was difficult to really feel their intentions or parts to play in the bigger picture while fulfilling the direction of the musical.
Peter Ong, a Malaysian musical actor, played the authoritative Senior Horse. Though able to sing and project his voice well, it was a pity that his character fell flat. It also did not help that there is difficulty in understanding his Mandarin, in terms of phrasing and pronunciation.
Reprising his role as Lao Jiu, Sugie Phua started out promising and is a believable youth in his school uniform. However, the struggles and dilemma of the character seemed to be internalised and not shared enough with the audience. Towards the end, we did not feel sympathetic or inspired by his character at all. Instead, we felt that he abused his privilege of choice and is a selfish millennial that we see every day. As audience, that discovery felt unsettling and strange because that is not the intention of the musical at all.
His chemistry with Ethel Yap's Junior Horse, was lost as well. With Ethel acting in a larger than life quality contrasting Sugie's more naturalistic approach, it was uncomfortable to watch most times.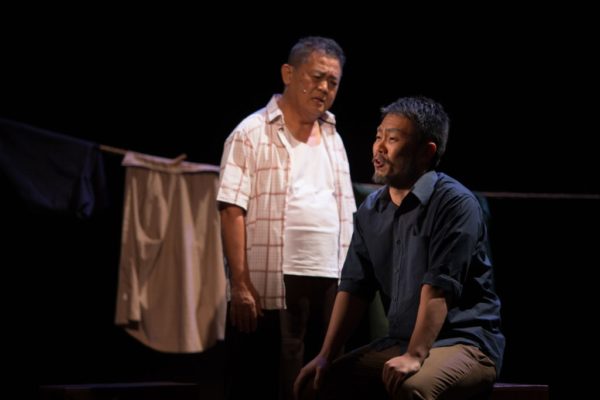 Johnny Ng as Lao Jiu's father and Yeo Lyle as the puppetry master were outstanding as their characters. Sharing emotional moments on stage, they had a connection not to be broken. Touching the audience and bringing the musical forward as we went along, the development of their characters were indeed beautiful to witness.
The short scene of Catherine Wong as a nurse brought great joy to the audience as well. Comic relief is always welcome when done well, and during a heavy musical such as this.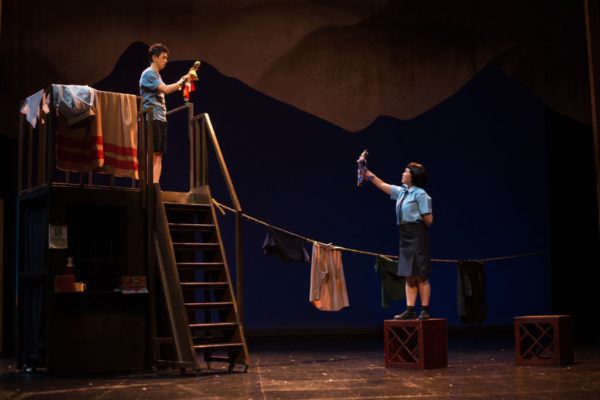 Besides the acting, which was one of the main driving forces of the musical, the songs were all done beautifully. The duets all had great harmony and the tunes lifted the atmosphere of the work. Coupled with the costumes and detailed puppetry, Lao Jiu The Musical does bring you back to the old school vibes of tough times, hope and innocence.
It is a work with a meaningful story to tell, and with a classic script, there will always be something to discover for yourself.
---
Lao Jiu: The Musical
Date: 6th – 23rd April 2017
Venue: Drama Centre Theatre
Time: Tuesday to Sunday – 8pm, Friday to Sunday – 2.30pm
Admission: From $51 (Concession rates available. Get your tickets here.)

Photographs courtesy of The Theatre Practice
==
Stay updated and social with Popspoken: Facebook | Twitter | Instagram