Depression and other mental illnesses are still difficult topics to talk about openly in Singapore, unfortunately. With stigmatisation and isolation, we are moving forward very slowly as a society to even try to understand and reach out to people that need our support. Now, with mental health issues taking a front seat globally, Every Brilliant Thing presented by The Bhumi Collective is here at the right time.
Written by Duncan MacMillan with Jonny Donahoe, the play first debuted at the Edinburgh Fringe in 2014 and 2016. Having received international acclaim, the play has finally made its way here on local shores.
Every Brilliant Thing is about a boy that grew up listing every thing in the world that can make someone happy. The list consisted of 1000 things and was a gift to his mother, who suffered from depression and has suicidal tendencies. It is a journey that captures joy and bittersweet moments of living and caring for someone that needs help.
Directed by Mohamad Shaifulbahri, the black box space is recreated into an in-the-round set up. This brings the audience members much closer to the heart of the action, physically and that transforms the atmosphere of being in the space. That in itself has its surprises: are we just watching, or are we also participating in the various moments?
The anticipation is definitely addressed once we enter the black box and everyone is given different slips of paper with different writings on them. It builds excitement and a sense of ownership that everyone is in this, the play, together to move it forward.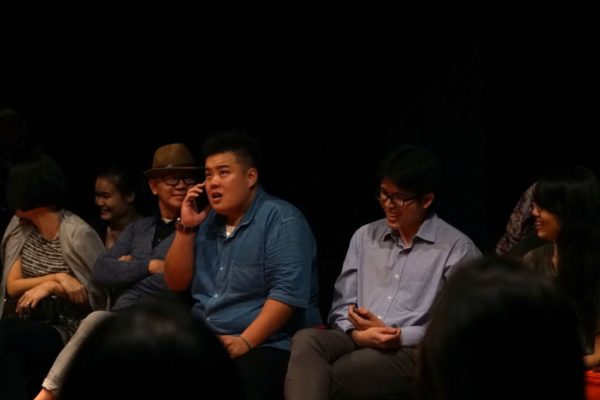 Engaging the audience and having them participate so actively is a risk in itself. After all, it is impossible to assume that every audience member will be cooperative in bringing the action forward and throwing themselves into their imagination. This can cause the energy of the show to drag on, or fall, and even make it difficult to concentrate.
However, performer and recent winner of the Life Theatre Best Actor Award 2017, Andrew Marko is brilliant at navigating the crowd and holding the action together from beginning to end. Beyond just acting, he manages to pull in the crowd and bring everyone together with his humour and demeanor. It is a joy watching him perform and being in his element so naturally.
Never once is it a struggle to follow the story, even with certain lines having to be spoken by the audience.
Fun, heartfelt and definitely a journey worth taking through its ups and downs, Every Brilliant Thing is a brilliant thing in itself. If there is one show to articulate simply what depression can be, this is the show to do that.
---
Every Brilliant Thing
Date: 18th – 23rd April 2017
Venue: Centre 42 Black Box
Time: 18th  to 23rd April – 8pm, 22nd & 23rd April – 3pm
Admission: $35 (Concession rates available. Get your tickets here.)
Photography credits: Ruth Smalley
==
Stay updated and social with Popspoken: Facebook | Twitter | Instagram