In a country as conservative as Singapore, speaking about mental illness and grief may almost be taboo. The stigmas and stereotypical assumption of individuals going through these difficult ordeals have not moved since the 1990s. People lose their jobs, their homes and sometimes even family all due to fear and lack of understanding. What will actually help them, is to have support and an inclusive environment. Dear Jay, the debut production of Blue Bean Productions, hope to speak up and encourage our society to move forward on these topics.
Dear Jay is an original local work written by Euginia Tan, directed by Hazel Ho and brought to life with a mostly fresh-faced cast. Following the journey of Leonard (played by producer Benedict Leong) and his friendship with Jay (Zenda Tan) ever since being ward mates, audience members are invited to go through the experiences of losing a loved one. At the same time, to truly question what it means or how mental illness impacts lives.
The entire performance has a lot of heart – the cause in itself and the fact that the play was conceived over conversations between Euginia and Benedict from their own experiences. However, it felt draggy towards the end with the excessive black outs and I was left to wonder if that many scenes were necessary since the point was driven home by the first half of the play.
Entering the theatre, I am greeted by simple black frames filled with white tangled lines. A reflection of one's inner life and thoughts, perhaps. The set designed by Gabrilla Samsir opens up the possibility of shadow play. Being simple and effective, the frames transform throughout the performance to accompany my imagination of the scenes. This design worked well with the atmospheric lighting design by Daniel Lee and minimalistic use of sound design by Daniel Wong.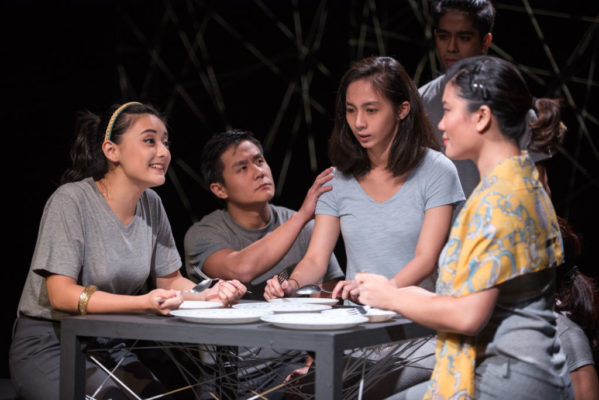 Benedict and Zenda share great chemistry on stage – the complicity during their scenes together make the story believable. Even though the energy fell and the tone of acting felt repetitive during the second half of the performance, their effort and stamina to follow through with the story is commendable.
The ensemble consisting of Vivienne Wong, Juliana Kassim Chan, Nicholas Bloodworth, Darrell Chan and Adam Amil Sharif fill the gaps by playing multiple roles and figures in the story. While helping to transform the set between scene changes and owning their different characters, the ensemble kept the pace going and finished well. The transitions when text is repeated while the set changes are especially beautiful to watch.
Just like how the honesty and genuine nature of Dear Jay calls out to audiences' hearts.
---

Dear Jay
Date: 15 – 18 December 2016
Venue: The Esplanade Theatre Studio
Time: 3pm & 8pm
Admission: $35 (Get your tickets here: askbluebean@gmail.com .)
==
Stay updated and social with Popspoken: Facebook | Twitter | Instagram