"That's All There Is" is a collaborative exhibition between two Singaporean artists PG Lee and Yeo Tze Yang.
The creative process began through numerous exchanges between the artists, mostly casual chitchats which developed into insightful reflections over time. Thoughts and experiences with loved ones, memories of the seemingly insignificant, fears about mortality, afterthoughts about deaths; such are ideas that grew and are sifted out, laying the ground for artistic collaboration and cumulating into the pieces presented
Documentations of these conversations were made throughout the creative process, of which parts are presented in an accompanying blog/publication as text or images. With a conscious effort made at the start to avoid working with a theme, this exhibition offers a glimpse into an unique approach of collaborative making – the artists responded extensively and candidly on random subjects raised, thereby slowly drawing out potentially real concerns of the artists' practice.
Despite similar ideas behind their works, the two artists' practices are diverse, with PG working with found objects and Tze Yang working in representational oil painting. The juxtaposition between the two artists' working processes promises an unusual yet enlightening art viewing experience for visitors.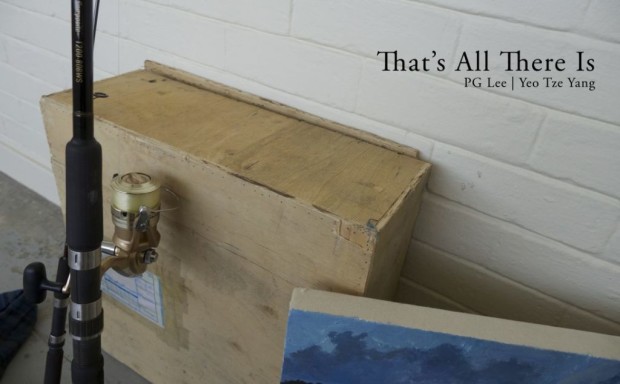 1. What, in your opinion, is the relevance between "found objects" and "representational oil painting" in coming together for a single art exhibition in "That's All There Is"?
Tze Yang: The relevance is how different the two artistic mediums are perceived to be, especially in today's contemporary art scene. There's a common perception of representational painting being very old school and found objects being very contemporary. While we both have very different ways of working, we are both driven by similar motivations in our artistic practices. These similarities in our world views and attitudes to life are what make us friends in the first place too.
The difference in medium is only a difference in the first hand impressions of the works; we hope the works bring across similar thoughts and emotions when viewed together.
2. Since both your artworks are inspired from the art of everyday living (and particularly the dull-er aspects of everyday life), how can visitors still be charmed by the display of your art?
Tze Yang: These things we have chosen to make work about are far from undesirable and redundant to us! Perhaps an old storeroom or a messy dinner table look undesirable on the surface, but the greatest value in such things are the stories they hold; the rich personal histories about the people around us who possessed or lived with these objects that are worth cherishing.
These are the important bits of life we are inspired to make art from. And we hope that in investing that tremendous amount of emotion and effort into the seemingly dull things of life can spark a connection with a viewer; to alter a way of seeing the world perhaps.
3. Can you tell us what oil painting is, and a brief story behind why you choose to express yourself and your artwork in this form?
Tze Yang: Oil painting is coloured muck mixed with oil and spread onto a canvas. That's what it really is in the crudest sense. The rest is up to each individual painter to choose how he or she would want to manipulate these materials. The possibilities are endless.
For myself, I have chosen the path of representational painting. Perhaps it is because I like to express myself directly. I don't like to beat around the bush. I like to express things directly. Or at least I try my best to. That's a wall, so I will paint it for what it is because I think it is beautiful.
Yet, painting is never straightforward, and I enjoy that irony. The attempt at being direct with a tool that can never be direct. My works often get interpreted in so many different ways that I feel so free to express whatever I want and no one will ever know my true intent. (And sometimes I don't either)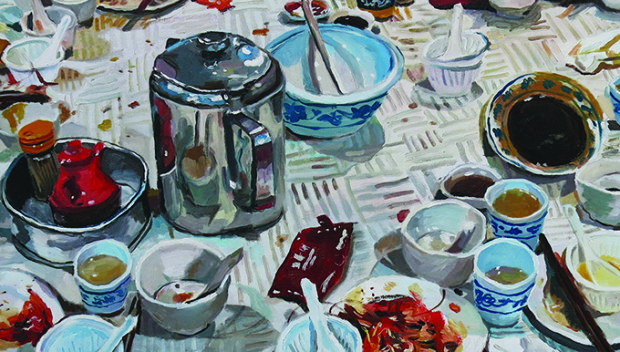 4. How do you juggle both being an undergraduate student and being an artist, in terms of time management and having to switch between two different disciplines?
Tze Yang: It's really like everyone else with a part time job while schooling, except mine is a full time job with no beginning and end; art is a full time job you never stop doing, even if it's lying in bed thinking about it. I keep a timetable in my mind of the things to accomplish so that I carve out at least a few hours every few days to work on my paintings. At this point painting is no longer a relaxing "art jamming" session. It's an integral part of life I have come to depend on. It can be very difficult at times, and the obstacles are plenty.
But I am glad I feel a great sense of accomplishment from painting. In terms of being an undergraduate student, I try my best to take modules that are relevant to my interests as a person. I must say I appreciate how much I have learned in school as tough as it gets sometimes, and how all these things I have learned change the way I see things and in turn affect my artistic practice.
5. Dream big: Where do you foresee your art to be displayed at 5 years from today?
Tze Yang: I hope to be able to show in the major art centers in the region, like Yogyakarta or Bangkok. But to be honest the showing isn't as important as how the work evolves and improves in 5 years time. And also whether I would be able to do art full-time, or part-time while working as a dishwasher at a kopitiam… Those are the bigger challenges.
==
Stay updated and social with Popspoken: Facebook | Twitter | Instagram