Fear stops most of us from venturing beyond our comfort zone. Could it be the reason why a large percentage of Singaporeans are hesitant to step into the murky areas of contemporary art?
Then & Now
The Singapore art sphere was vastly different in 1994. Back then, world-class auction houses Christie's and Sotheby's had a solid presence here. Due to geopolitical shifts and pushed by a commercial decision to ride on efficiencies of scale, both auction houses consolidated its Asian operations in the 2000s. They hold physical auctions at Hong Kong instead, drawing collectors from around the region. For a while, Singapore lay relatively low in the global art sphere. 
"Singapore is relatively disadvantaged to markets like Hong Kong, with a hinterland like China" – Loh Lik Peng, Owner of Unlisted Collection
Things have changed. Judging by the art market's trajectory in the past 5 years, Singapore's art ecosystem has never been more vibrant. Alwyn Chong, MD of Luxasia, observed: "With the government putting muscle behind the local art scene. It's a culture that's starting to bloom." 
From the emergence of NTU CCA at Gillman Barracks, regular art fairs, Singapore Art Museum seemingly reforming itself to be a centre of modern art; and the emergence of the National Gallery — there is a palpable momentum and a sense that there is finally some room for a robust ecosystem to emerge.
Role of Intermediaries
Even though our secondary art market is on an upward growth trend, whether art is of good investment value is largely a gamble. To skeptics, the role of intermediaries such as art galleries or auction houses are to prevent the buyer and seller from meeting, so that a commission can be derived from an imperfect knowledge of "pricing" of the artworks.
"The Singapore secondary art market has never done better than in the last 4 – 5 years." –  Wang Zineng, Senior Specialist and VP of Sales for Southeast Asian Art of Christie's (pictured above)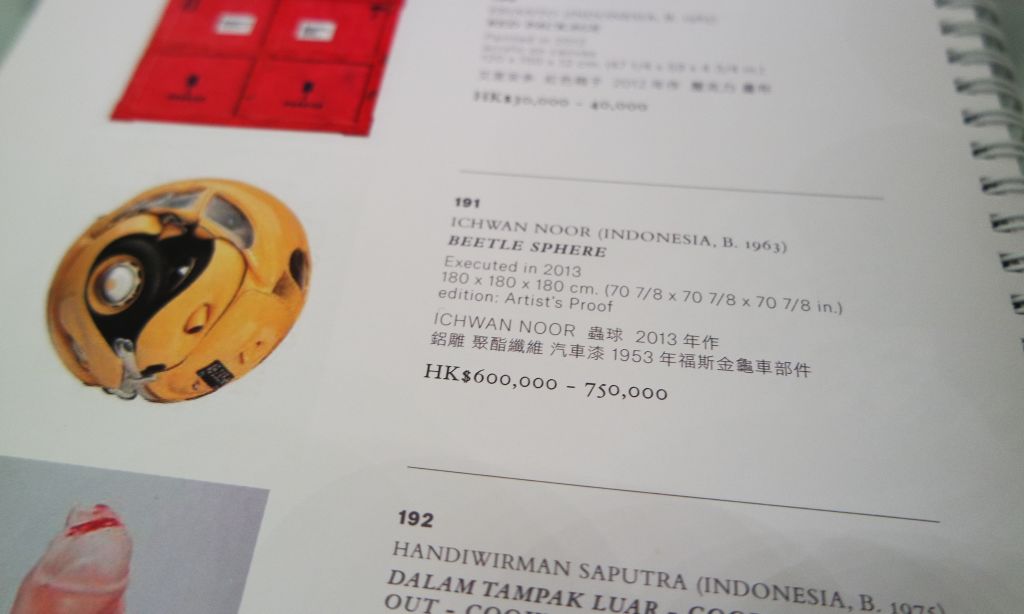 Whilst the industry standard of commission art galleries are entitled to receive for each transaction is a hefty 40-50% of the listed price, artists can't live without them either. Even if an artist were to transact online, having to entertain buyers who need to inspect a work before purchase is a hassle and besides, an established gallery will be able to build up an artist's primary market by introducing their database of seasoned collectors to their curated selection of artwork which would be perceived as quality works or potential to be good investments.
Zineng disagrees, and notes that without auction houses, artists "will sell paintings normally at a fraction of sales we will achieve at the Spring sale auction". To him, the function of an auction house "is to create a larger market place from selling and reselling" by creating a safe haven for more high-profile individuals such that "transactions are done in an anonymous fashion.. with no need to reveal yourself".
With all that creative buzz flitting around our art circles, the question we have right now is what would it take to keep the dialogue surrounding contemporary art going.
Broadened Functions of Museums
Past the galleries and on to the streets, the next best place to ignite an interest in the art is a museum and its annexures (i.e. cafe and store). To international luminaries such as Maja Hoffman (Founder of LUMA Arles), Philipp Kaier (Senior Curator at Museum of Contemporary Art, Los Angeles) and Thierry Raspail (Director of Musee d'Art contemporain, Lyon), the function of a museum's cafe and store cannot be underestimated as it provides a congenial space where people can share time and draw memories. A space where which can inspire on-site conversations after the art collection has been viewed.
With that at the back of their minds, Kola Luu (Director of Business & Corporate Strategic Development, National Gallery) was pleased to collaborate with local lifestyle stalwarts Loh Lik Peng, Yah-Leng Yu & Arthur Chin (Foreign Policy Design) and Alwyn Chong to put together the progressive retail and F&B destination, Gallery & Co. As Lik Peng puts it, it is an "unusual model for museum to collaborate with private sector", but it has worked well so far, with a well-stocked shelf of international cult brands such as Maison Kitsune, local trinkets by Supermama and their monthly Block Parties gaining traction amongst the hip and savvy.
Gallery & Co's eye-catching modernist look steeped with the mission of being a confluence of fine art and applied art was not conceptualized overnight. As Alwyn shares, the team went across the globe to check out how other museum's cafes worked. Yet, at the end of it all, were not "too influenced by what other people are doing" and were driven by the simple goal:  To better lives through design.
What can we do as viewers to hasten Singapore's cultural revolution? One suggestion by Lik Peng, is to reach out to our younger generation by "adding value to the national curriculum, not just ticking boxes". It is natural to fear the unknown, but in the unknown lies a beauty that may radically alter our ways of seeing. Another idea museums can consider, is to extend its opening hours, since most of Singapore's crowd emerges after work – which is typically when the sun goes down.
Approach contemporary art without fear. Who knows what you might feel.
---
Christie's Spring art auction is happening from 28 May 2016 at the HK Convention Centre, with notable works by South-East Asian gurus Affandi, Zeng Fan Zhi, Chen Wen Hsi, Cheong Soo Pieng, Chua Ek Kay and more.
Gallery & Co's new jewellery lines by The Mindful Company, Pyar, The Twin Within and Stelliyah are in store now.