Despite the dip in visitor numbers at this year's edition of Singapore's premier art fair, Art Stage Singapore 2016, it featured 170 booths representing over 30 countries and a wide range of artists and mediums. Like fashion, art has its own trends; the type of works that people are most collecting this year, versus what's passé and sent to storage Siberia. So what better way to round off this year's edition of Art Stage than to bring you four of the most outstanding trends we spotted at this year's fair.
Textile
One of the most interesting works this year came from artists who work in the medium of textile. Art Projects had some amazing works by Indonesian artist Mulyana, who produced textile seabeds that could roll up like carpets to house his fabric octopus creatures. Singaporean gallery, Yeo Workshop, featured a solo exhibition of Thai artist Santi Wangchuen's colourful textiles interwoven with objects produced near his hometown in Thailand, such as baskets and musical instruments. One of the most instagramed artworks this year was Hiromi Tango's textile and neon mirrors from her Dynamic Emotions series at the Sullivan + Strumpf booth. Her works invite people to engage their emotions by donating affectively laden objects, which she weaves into her pieces – effectively, art as therapy!


Mulyana at Art Porters featured a textile seabed (shown here with its accompanying octopus inhabitant) that could be rolled up




Japanese artist Hiromi Tango's work at the Sullivan + Strumpf booth




A detail of the objects that Tango interweaves into her work




A colourful woven net by Santi Wangchuen at Yeo Workshop
Neon
Has it ever left? One of the most popular mediums in recent years, neon has returned once again. White Cube – per its usual – brought in a Tracey Emin neon work that spelled 'You Make Me Feel Beautiful Again' in fluorescent pink, while Cheo Chai Hiang at Galerie Michael Jannsen had one that said 'Strawberry fields Forever lah…' Some artists got a little more creative with neon, incorporating it as part of paintings or mixed media works.


The Cheo Chai Hiang neon work at Galerie Michael Jannsen




A traditional Chinese painting rendered in neon




Tracey Emin at White Cube




Neon is used in more experimental ways in this work
Texture
Many of the artists at this year's fair experimented with texture in their two-dimensional works, using beads or toy soldiers to produce optical illusions or portraits. Chinese artist Hong Yi used rolled up rice paper to create a textured a colourful textured canvas that changed colours as you walked around it, creating movement and dimension.


This work by Antonio Santin looks like a rug, but is actually a beaded optical illusion




A detail of the intricate beading




"so and so paints a painting, twenty six" by Nilo Ilarde




Paintings of soldiers at the Opera Gallery booth made up of tiny toy soldiers




A detail shot of the textured works




"32 – Multicolor" by Hong Yi
Minimalism
Although Art Stage is often known for their large-scale public works, this year saw a more conservative offering of works; probably as a reflection of the somber market outlook. However, this also meant that minimalism made a comeback, with many monochrome works from 2902 and Sundaram Tagore. Exhibiting for the first time was Hugo Michell Gallery from Adelaide, who brought in three artworks by Stanislava Pinchuk, who produces her works by drawing with pinpricks, creating delicate holes that illustrate the moon or fabric twists.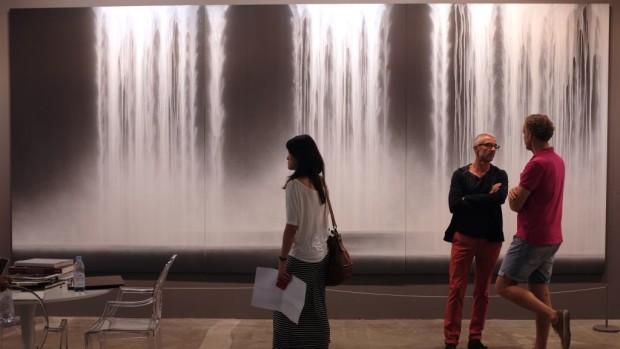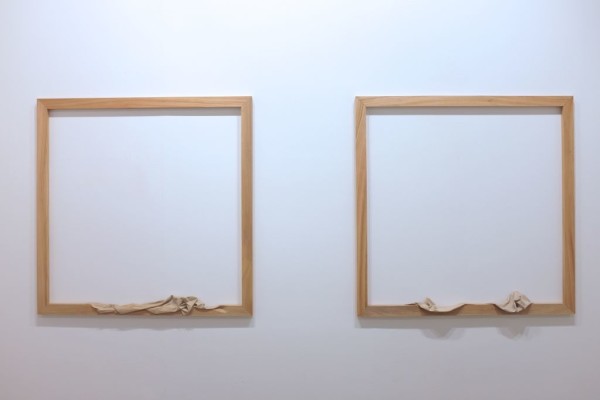 ---
Video credit: Sher Iqbal Texeira for Popspoken