Are you sick of Adele's "Hello" yet? Or the thousand-and-one parodies "Hello" has spawned? But before you say goodbye to "Hello", perhaps you should listen to it being sung in a Hong Kong accent. By a Halloween bat dreaming of a white Christmas.
If that sounded crazy to you, imagine what other delightful craziness Dream Academy's Crazy Christmas: A groundNUTCRACKER dished up in 90 minutes. An Indian elf (played by the ever popular Kumar) steals a groundnut encrusted with enough diamonds for a Victoria Secret's fashion show. A Chinese Santa Claus (Broadway Beng's Sebastian Tan) narrates Tchaikovsky's The Nutcracker… set in a Singapore HDB flat. And of course, a Halloween bat (a superb Pam Oei) who doesn't like hanging upside down and wants to migrate to Christmas.
As with all other Crazy Christmases staged, the drop dead funny skits were complemented by some very catchy songs. There was a brilliant, if a bit messy, a cappella mash-up of 12 Days of Christmas. The "combined" choir, featuring pupils from Nanyang Primary School and members of the Henderson Senior Activity Centre, put up a quaint rendition of Teresa Teng's classic Tian Mi Mi. These students and seniors may not be professional singers, but watching them interact on stage and having fun together was a heartwarming highlight in a show designed to milk the laughs.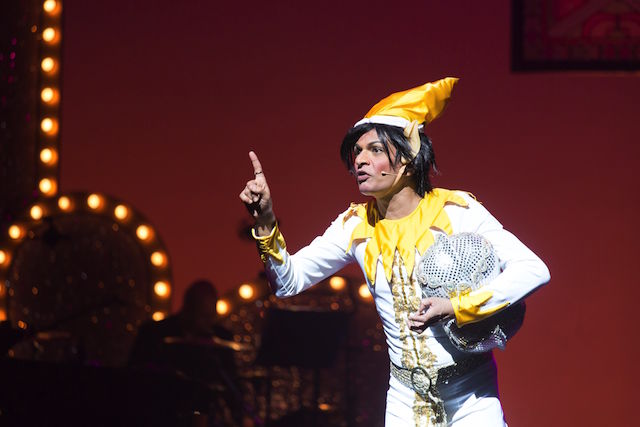 My only grouse was that Kumar's elf could have had a little more air-time. He was woefully underutilized, and the plot about him stealing the groundnut fell flat towards the end of the show. Still, he managed to crack a few jokes about nuts and his appearance every time brought out cheers and catcalls from the audience.
There is no intermission for this show but even then, it felt like the 90 minutes ticked by too quickly. From the opening scene of Kumar stealing the blinged out groundnut to the sing-along finale that ended with a bang (of confetti), the show was a continuous stream of music, laughter and recollection. Those who have watched Dream Academy's previous productions would no doubt recognise little snippets here and there of their previous shows seamlessly woven in with this installment of Crazy Christmas.
A new matinee show at 3pm on December 19 has also opened up due to popular demand, so if plain ol' Christmas carols aren't your thing, it's still not too late to catch some funky Christmas songs. Just don't blame me if "Hello" gets stuck in your head for the next three days. 
Event Details
Venue: Esplanade Theatre
Dates: 10 – 19 December 2015
Time: 8pm (Tues – Sat) & 3pm (Sat & Sun)
Ticket Pricing: $116, $106, $86, $66
Tickets via SISTIC
====
Photos from Dream Academy Productions
Stay updated and social with Popspoken: Twitter | Instagram | Facebook